You have all loved Anna's recipes so much (if you missed them make sure you check out her Greek Lamb Kleftiko and Oven Rosti recipes) that we've invited Anna back to share another tasty recipe from her repertoire with us, and you won't be disappointed – this time it's her delicious gingerbread cupcakes.
Want to skip straight to the recipe? Jump to Recipe.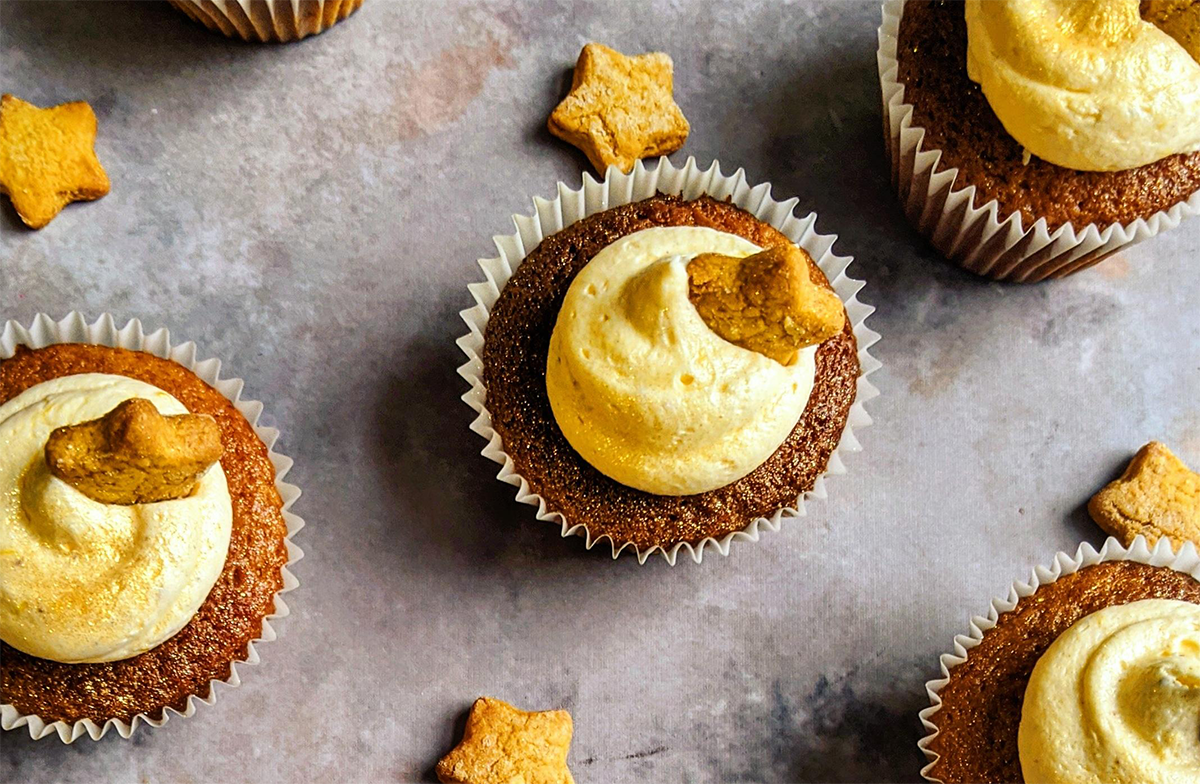 It's safe to say that one of the things we love most about Christmas is all the tasty treats we get to indulge in, and gingerbread is certainly at the top of the list! When we shared our Chewy Gingerbread Biscuit recipe last year you all loved it so when we first got a glimpse of Anna's recipe combining the tasty biscuit with a soft gingerbread cupcake and smooth lemon icing, we just knew we had to share it.
 We love Anna's choice of gingerbread stars to top the cupcakes, and you can make these either using our gingerbread recipe or you can find Anna's version here.
You will need
History of gingerbread
Although we often tuck into gingerbread around Christmas, its origins don't actually lie around the holiday season at all. It's thought that Queen Elizabeth I gave these to visiting dignataries when sweet treats were a popular show of wealth, and suggests why gingerbread men take the shape that we know and love today. Gingerbread men weren't just kept for the royals though, and instead were a tasty form of love token too.
Folk-medicine practitioners believed that should a young lady gift a man they loved with a gingerbread biscuit that had been made especially for them, upon taking a bite the gentleman would fall in love immediately with the young lady. Whether it worked or not we'll never know, but it's a sweet story nonetheless.
Printable recipe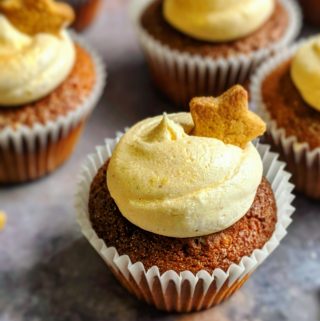 Gingerbread Cupcakes
Ingredients
For the cupcake
200

g

unsalted butter

150

g

dark brown sugar

300

g

golden syrup

350

g

self-raising flour

1

tsp

bicarbonate of soda

3

tsp

ground ginger

1

tsp

mixed spice

1

tsp

ground cinnamon

100

ml

semi-skimmed milk

2

medium

eggs
For the icing
200

g

unsalted butter

400

g

icing sugar

½

tsp

lemon juice

1

lemon (grated rind)

1

splash

semi-skimmed milk
Instructions
For the cupcakes
Preheat the oven to 170°C and line a cupcake tray with cupcake cases

Add the butter, brown sugar and golden syrup to a pan and melt gently on a medium heat, stirring constantly

In a large bowl sift the flour and bicarbonate of soda together, and add the spices

Add the wet ingredients to the flour mixture before stirring to combine

Add the eggs and milk and mix well

Fill each cupcake case until ⅔ full and bake for 12-15 minutes until golden brown

Leave to cool in the tin before removing to a cooling rack
For the icing
Using an electric mixer mix the butter for approximately 30 seconds until it becomes light and fluffy

Add the lemon juice and rind and mix together

Sift in the icing sugar along with 1 tbsp milk at a time to create a smooth icing. If it becomes lumpy, add another 1 tbsp milk to loosen

Using a piping bag, top each cupcake with icing and stick a small gingerbread star in the top