Packed full of flavour and simple to make, Kleftiko is a popular lamb dish that boasts a colourful history. A true crowd pleaser that requires very little effort, we're delighted to be sharing this delicious recipe from Instagrammer, Anna Christoforou with you. Want to skip the history and get straight to it? Jump to Recipe.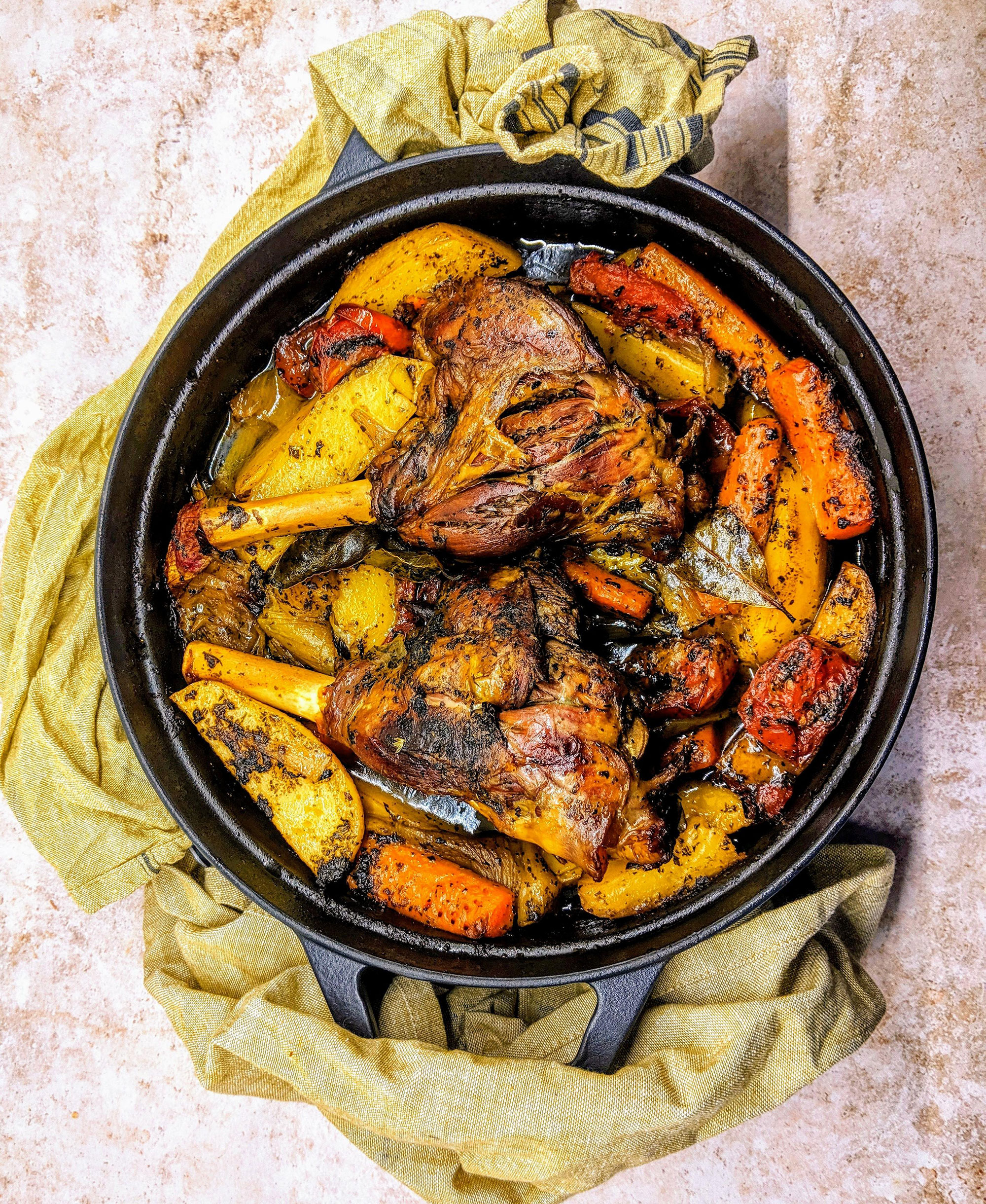 History of Kleftiko
A dish often found in the kitchens of Greece and Cyrprus that is enjoyed by both locals and holiday makers alike, you could be left wondering how it took a name that quite literally translates to 'stolen'. It is believed that Kleftiko takes its name from the Klephtes or Klephts, bandits who fought the Ottoman rule in Greece between the 14th and 19th century. As they moved around the moutains and countryside they would stay well-fed by stealing sheep from the local farmers, but it didn't take long before they hit a problem – how were they going to cook their stolen goods without revealing their location to onlookers? They went underground, digging deep pits so that the flames and smoke from their fires were well hidden.

Kleftiko today
Traditional recipes still follow a similar method, placing the meat into a clay pot and cooking the dish underground. Thankfully Anna's modern twist on the recipe doesn't require any underground cooking at all, and instead uses a cast iron casserole dish and your normal oven – you won't need to dig any holes in your garden for this one! Making this dish today is much simpler and is a great one to leave cooking on a Saturday afternoon, just check on it every hour or so as the meat becomes tender and takes on all those beautiful flavours.
What you will need
Here are Anna's top tips for cooking her Kleftiko recipe:
You can use any cuts of lamb for this recipe – I tend to use shanks as they're easier to serve, but bone on shoulder or a leg can be used too. For bigger cuts of meat just add an hour onto the cooking time.
Cooking for more than two? Increase the vegetables and seasoning in proportion to the number of extra shanks, use a slightly larger dish and for each shank add 100ml of water.
Greek cooking is all about flavour, anything that is cooked is cooked with passion and love so don't be afraid to experiment and make this recipe your own. You won't regret it!
Ovens vary so if your lamb is still a little tough just cook it for a bit longer until it is soft and tender.
Printable recipe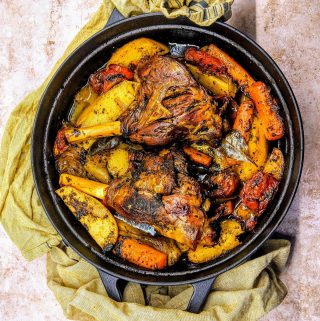 Greek Lamb Kleftiko
Equipment
Shallow cast iron casserole dish

Chefs knife

Salt and pepper mill

Oven gloves
Ingredients
2

lamb shanks

1

tsp

dried oregano

1

tsp

ground cinnamon

2

bay leaves

3

Cyprus potatoes

(cut into wedges)

1

small

onion

(halved, cut into slices)

2

tomatoes

(cut into quarters)

1

lemon

(juice)

1½

tbsp

mint

2

tbsp

olive oil

salt and pepper

(to taste)
Instructions
Preheat the oven to 220°C.

Add the olive oil, lemon juice, oregano, cinnamon, mint and bay leaves to a large bowl and mix together. Season with salt and pepper to taste.

Place the lamb shanks into the bowl and rub with the mix.

Transfer the two lamb shanks to your cast iron casserole dish before adding the potato wedges and onion to the mixing bowl. Coat in the mix and place in the casserole dish.

Add the tomatoes and 200ml of water to the casserole dish.

Cover with foil, place the lid on the dish and place in the oven.

Lower temperatute to 160°C and cook for 4 hours, checking every hour. If the lamb is browning too much, turn it over in the dish.

Remove the lid from the dish and cook uncovered for 15 minutes to allow the meat to brown slightly.

Remove from the oven, replace the lid and allow to rest for 10 minutes before serving.