Packed full of flavour, easy to make and delicious with two runny eggs and a handful of roast tomatoes, we can't get enough of this rösti by Instagrammer, Anna Christoforou (check out her amazing feed here). Anna has kindly allowed us to share her recipe so that you can make this at home and the best thing about it? You probably have everything you need in your cupboards already!
Want to skip straight to the recipe? Jump to Recipe.
With its origins in Switzerland, rösti's were originally a breakfast dish made from finely shredded potato and fried until crispy. Traditionally they would accompany other breakfast dishes such as spinach and fried eggs, but are now enjoyed across the globe for a variety of courses. Many versions you could encounter in restaurants today contain red onion, crumbled sausage or even maple smoked bacon but to stay true to the rösti there should be no additional ingredients beyond the potato and fat to bind it.
With delicious garlic, paprika and sweet potato flavours found in the rösti itself and both runny fried eggs AND roasted tomatoes on the top, this is a recipe we're happy to indulge in – even if it does break tradition!

The two things that will make or break this recipe is the sufficient removal of liquid, and using the right pan to bake it in. It's really important that you try and remove as much liquid and starch as possible from the potatoes for the best chances of that beautiful, crispy bite to your rösti otherwise you'll end up with a stodgy, dense potato pancake. Don't skip corners here, we urge you to use as much elbow grease as possible at this stage as it'll be too late once it is in the oven. Secondly, using a non-stick oven-safe dish will ensure the easy removal of your rösti once baked, and the round bottom of our paella pan is the perfect size and shape for Anna's recipe.
What you will need
Printable recipe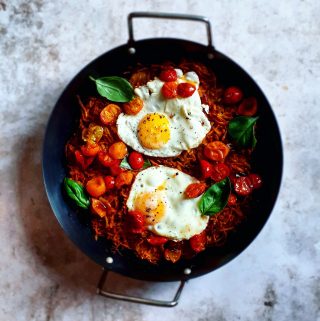 Oven Rösti with Eggs and Roast Tomatoes
Equipment
Paella pan

Grater

Sharp knife

Chopping board

Muslin cloth
Ingredients
1

sweet potato

2

white potatoes

1

carrot

1

onion

2

garlic cloves

(finely chopped)

1

tsp

smoked paprika

2

tbsp

olive oil

2

pinches

salt and pepper

1

handful

cherry tomatoes

(halved)

1

tbsp

balsamic vinegar

2

tsp

dried oregano

2

eggs

2

sprigs

parsley
Instructions
Preheat the oven to 190°C.

Grate the sweet potato, white potatoes, carrot and onion into a bowl and using a muslin cloth, squeeze out as much liquid as possible.

Add the finely chopped garlic cloves, smoked paprika, a pinch of salt and pepper and 1 tbsp of olive oil.

Mix together and press down into the ProCook Non-Stick Paella Pan.

Roast for 30-40 minutes until cooked through and crispy around the edges.

For the last 10 minutes add the halved tomatoes, 1 tbsp of olive oil, 1 tbsp balsamic vinegar, 1 pinch of salt and pepper and the oregano into an oven safe dish, mix and roast.

Once cooked remove from the oven, and fry the two eggs keeping the yolks runny and place on top of the rosti. Top with the tomato mix and the parsley sprigs before serving.