Over the last couple of weeks we have all been having our fair share of treats both savoury and sweet, and we've rediscovered our love of a classic comfort drink  – the humble hot chocolate. Still on the indulgence train, we decided to pimp up this family favourite and test a few luxury hot chocolate recipes we found on Pinterest. Out of the goodness of their own hearts, the team at ProCook HQ chose recipes that caught their eye, and set to rigorously testing them.
We tested 4 elements that go into the perfect luxury hot chocolate; easiness of recipe, consistency, flavour and overall yumminess. Sophisticated, we know. We then marked each recipe out of 5 for the yum factor. This highly scientific experiment(…) caused much controversy in the studio, and we were interrupted throughout the shoot by several people that mysteriously had arranged meetings in there or were searching for 'lost' saucepans. We knew their game.
Here are the results from the team – you can click on each link for the recipe. All you'll need for this is a good non-stick saucepan and a whisk! And of course, for the ultimate presentation our stunning double walled glass range will show off your creations to their very best.
RECIPE ONE: RED VELVET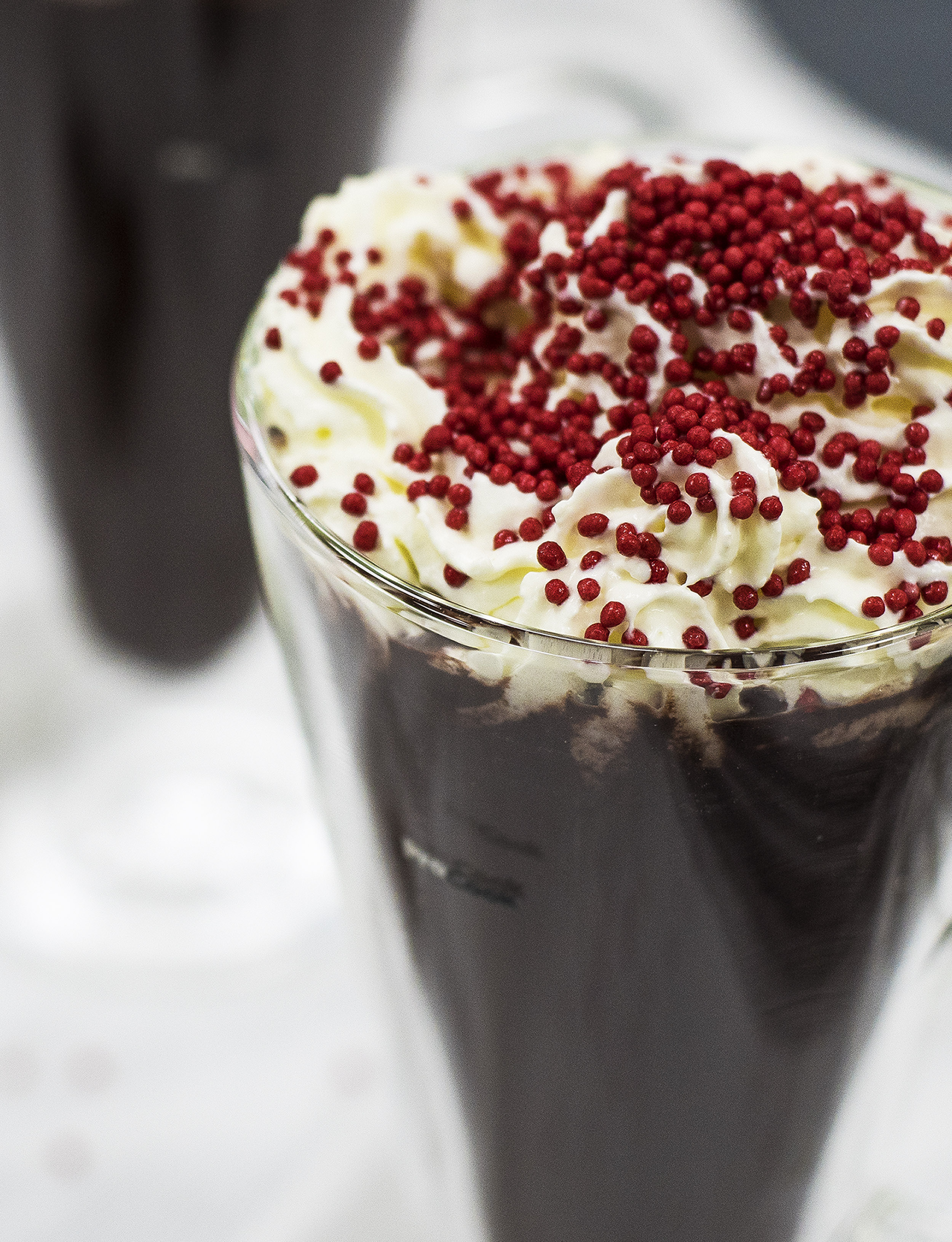 Conjuring up images of a decadent French patisserie, the name of this one sounded so indulgent we had to put it on the list. On further inspection of the recipe however, we realised there was nothing in particular that made it 'red velvet' apart from the red food dye. Our suspicions were raised.
The recipe was very easy to follow, but we were concerned that too much cocoa was going in – would it be a bit bitter? The other concern was the sheer volume of red food dye. The recipe recommended an entire bottle! Slightly worrying.
Once the recipe was completed we poured it into our glasses and topped with the mandatory whipped cream and red sprinkles.
One tester commented that the consistency and colour reminded them of mud pies and despite tipping an entire bottle of red food colouring in we could barely detect the all important red hue, just a very dark brown colour. Upon tasting things didn't get much better; the vast amount of cocoa powder made for a bitter taste, with a metallic tinge that we suspect came from the huge level of food colouring. We were worried about the colour of our insides so took just a few sips and the rest went down the sink. The only thing red was the sprinkles – this one was the definition of style over substance, and even fell short of that.
If you want to give it a go yourself you can find the recipe here.
The ProCook Verdict: 1/5
---
RECIPE TWO: NUTELLA

As huge Nutella fans (which you may have guessed from this post) we were biased going into this one but remained open-minded and cautious;  we were still slightly traumatised from the previous experiment.
Almost as soon as the milk hit the pan we were reassured as the smell of Nutella wafted towards us like a familiar homely memory. During 'assembly' the hot chocolate looked nice and frothy and very inviting and whilst pouring into the glass it had a smooth and silky finish. Our chosen topping was the whipped cream again (what is hot chocolate without it?) and some mixed chocolate shavings. The taste? Absolutely delicious – you just can't go wrong with Nutella and no, we aren't sponsored by them just the nutty spread's number one fan's!
Overall this one was yummy, yummy, yummy. We knocked off half a point for bias only.
If you want to try this one at home (and we really think you should…) you can find the recipe here.
The ProCook Verdict: 4.5/5
---
RECIPE THREE: WHITE HOT CHOCOLATE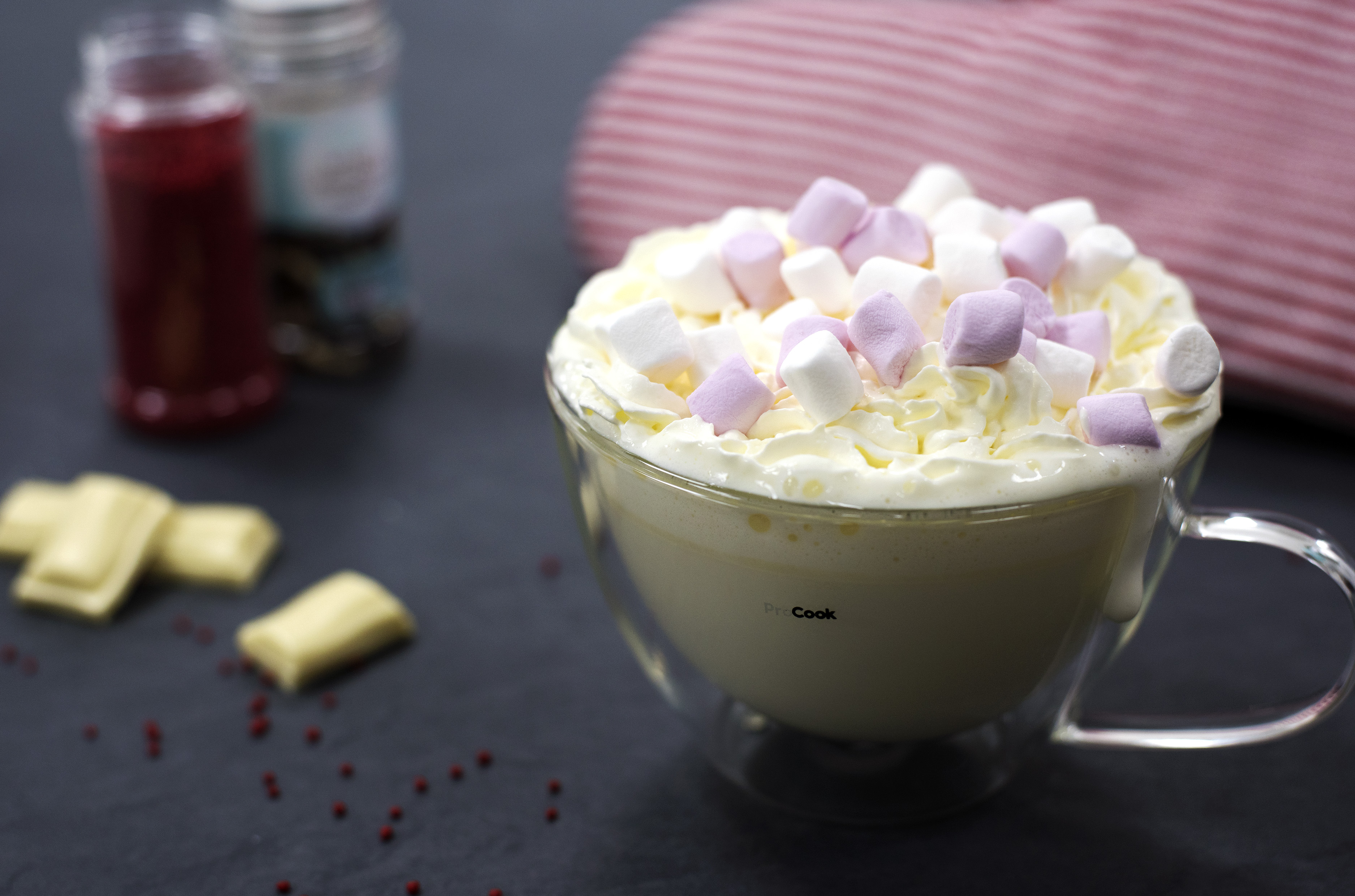 There are loads of white chocolate recipes out there and they style up beautifully for photographs, but our initial impression was that this one could get a bit sickly as it called for a large quantity of white chocolate. It also seemed like a lot of milk and we thought perhaps it would be a bit thin, but we continued with the recipe to the letter and gave it a fair chance.
It certainly smelled nice; a little milder than the last two recipes. Upon pouring the consistency was quite thin but frothed up nicely with a whisk. This one would be nice on its own without all the trimmings.  We thought it would be a lovely treat on a cold winters evening for the kids before bed (if they don't get too hyper from the sugar of course!).
We added the whipped cream and topped with marshmallows. This recipe was a perfect fit for our double walled tea cups, which are not just for tea!
The whipped cream and marshmallow combination on top worked well too much to our surprise as we thought all of this sweetness would be a challenge for even the most sweet-toothed out there, but we were pleasantly surprised at just how delicious this one actually was.
If this tickles your fancy, you can find the recipe here.
The ProCook Verdict: 4/5
---
RECIPE FOUR: SALTED CARAMEL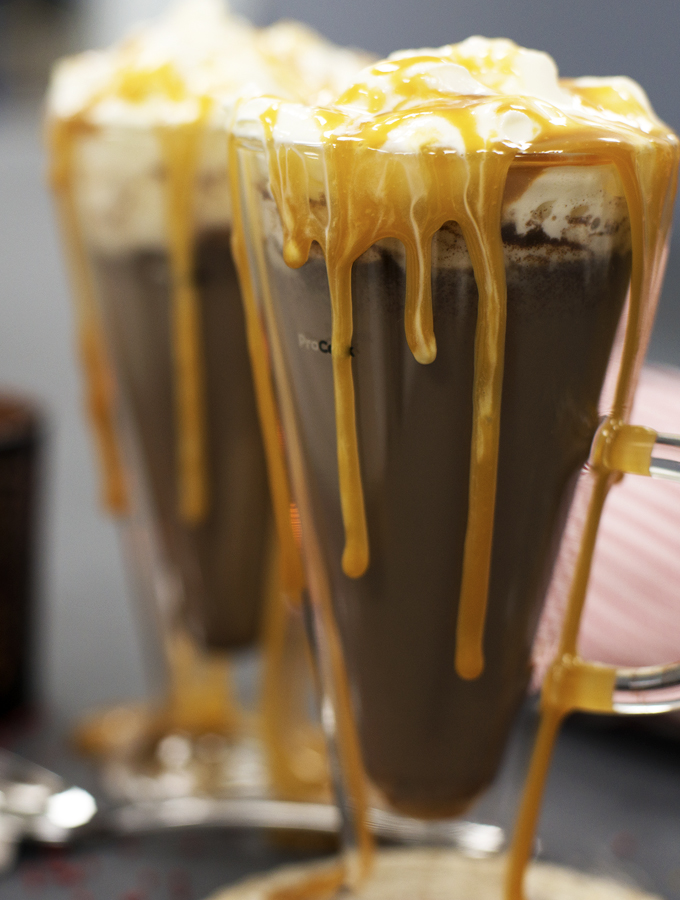 In recent years salted caramel has become quite the staple in cupboards of the sweet-toothed so it would be rude not to include a salted caramel hot chocolate. This recipe was definitely the most complicated of the 4 we tried, but was well worth the wait and gave us an opportunity to really go to town with the decorations.
Interestingly this was the recipe that attracted the most 'drifters' into the studio so we think this indicates (on a very scientific level) the universal appeal of salted caramel.
The feedback from our chief tester was that it had a lovely consistency and was smooth and thick. The flavour was very rich and possibly just on the edge of too sweet, but this was to be expected with salted caramel. Out of the 4 recipes, this one came out on top – just watch out for the toppings, as you can see from our pictures it can get a little messy!
You can find the recipe for this sweet and salty treat here.
The ProCook Verdict: 5/5
---
As you can see it turns out we're pretty big fans of hot chocolate with three out of four scoring highly, but it takes more than a smidge of food colouring to impress us! Do you have any unique twists on this cold weather classic? We would love to know so leave us a comment and hey, maybe we'll even try some of your recipes in the future too!