We can think of little that's more indulgent than our Nutella Stuffed Pancakes and it would seem you agree, it's our most watched video on YouTube with over 43,000 views! Perfect for a lazy Sunday morning treat these pancakes are easy to make and only need ingredients you probably already have in the cupboard. We love recipes that you can make on a whim, and with a gooey chocolate and hazlenut centre these are at the top of our list!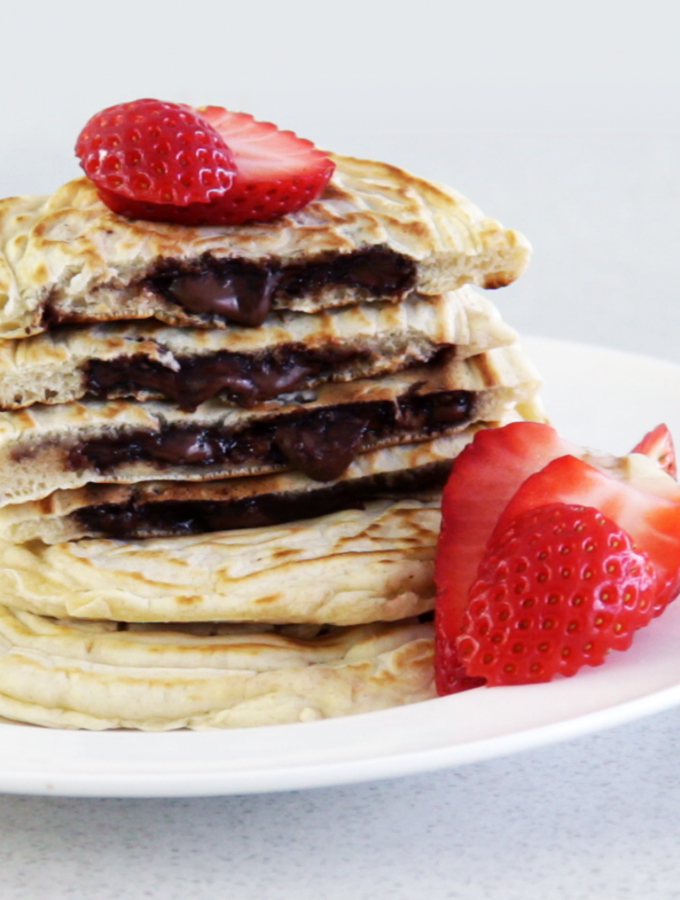 Did you know that on 5th February 2007 World Nutella Day was born? Started by Sara Russo, a food blogger who was dismayed by the lack of Nutella in the US after trying it in Italy, World Nutella Day seeks to not only celebrate the spread but also to introduce people to the many uses of the nutty ingredient. Founded in the 1940's by Italian pastry maker, Pietro Ferrero, Nutella was originally a solution to tackle the lack of cocoa following World War Two but it wasn't until the 1960's that Nutella became a creamy spread perfect for smothering toast with (or in our case, freezing and stuffing into pancakes!)*.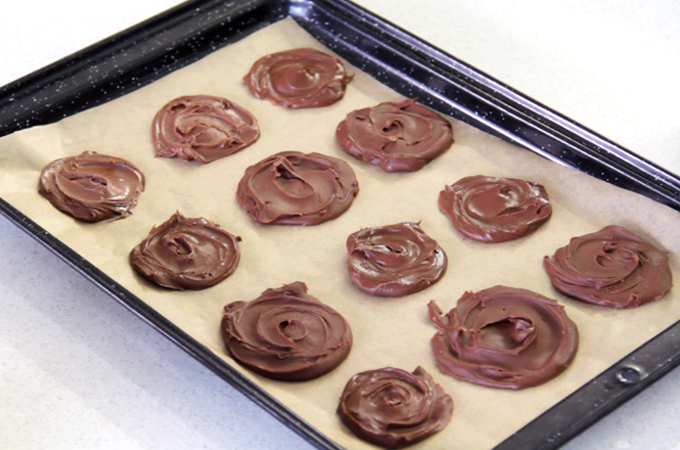 To make these tasty Nutela stuffed pancakes all you'll need is a baking tray, mixing bowl, sieve and either a non-stick frying pan or crepe pan. Oh, and access to a freezer for those Nutella discs that are almost too tempting to save for the pancakes! If you're looking to satisfy your sweet tooth but these aren't quite to your taste, how about trying one of our five Indulgent Doughnut recipes?
*Source: History of Nutella

280

g

plain flour

350

ml

milk

3

tsp

baking powder

2

free range eggs

8

tbsp

Nutella

1

punnet

fresh strawberries (to serve)

1

knob

butter (for greasing)
Scoop 1 tbsp of Nutella out of the jar and spread into 1.5" discs onto a sheet of greaseproof paper on a baking tray. Repeat 8 times (or more if you're wanting to make more pancakes!) before placing in the freezer until firm.

Sieve the flour and baking powder into a large mixing bowl before making a well in the centre and adding the eggs and a splash of milk.

Whisk until smooth, then add the remaining milk and whisk again.

Grease your frying pan or crepe pan with the butter over a medium heat.

Pour one ladle of batter into the centre of the pan, top with one of the frozen Nutella discs and top with more batter so the Nutella is fully covered.

Cook until both sides are golden brown and serve immediately with fresh strawberries.