As the temperatures climb and the days grow longer, we find ourselves reaching for our favourite summer cocktails to quench our thirst. No matter whether you're an experienced mixologist or an absolute beginner, mastering your go-to cocktail is easy and we think they make a great activity for a Zoom cocktail party if you're catching up with distant friends. All you need are your favourite glasses and the cocktail gift set that's been hiding in the cupboards over winter to get started… which will you pick first?

Each of the recipes we're sharing in this post only require a handful of ingredients but don't forget to fill and freeze your ice cube trays in advance as ice is a key ingredient in all our cocktails. Top tip – if the recipe calls for herbs it's important to use the fresh variety for maximum flavour. We've deliberately chosen cocktails that are easy to scale up and serve in a carafe if you're entertaining guests, just take care to follow the same proportions when increasing quantities.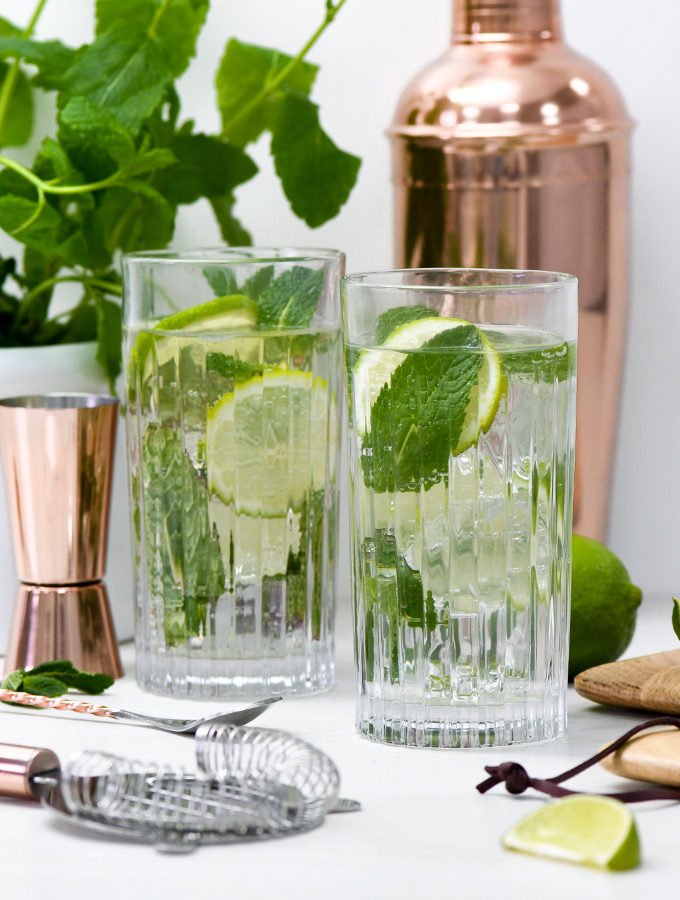 Recipe One: Classic Mojito
Serves 1
Ingredients
3 fresh mint leaves
½ lime, cut into wedges
2 tsp granulated sugar
Ice
50ml of white rum (a jigger helps!)
Soda water
Method
Add mint leaves, sugar and a few pieces of lime into your glass and muddle to release their flavours
Add a splash of soda water and fill the glasses with ice
Add the rum and top with remaining soda water
Stir gently before garnishing with a sprig of mint and a lime wedge
---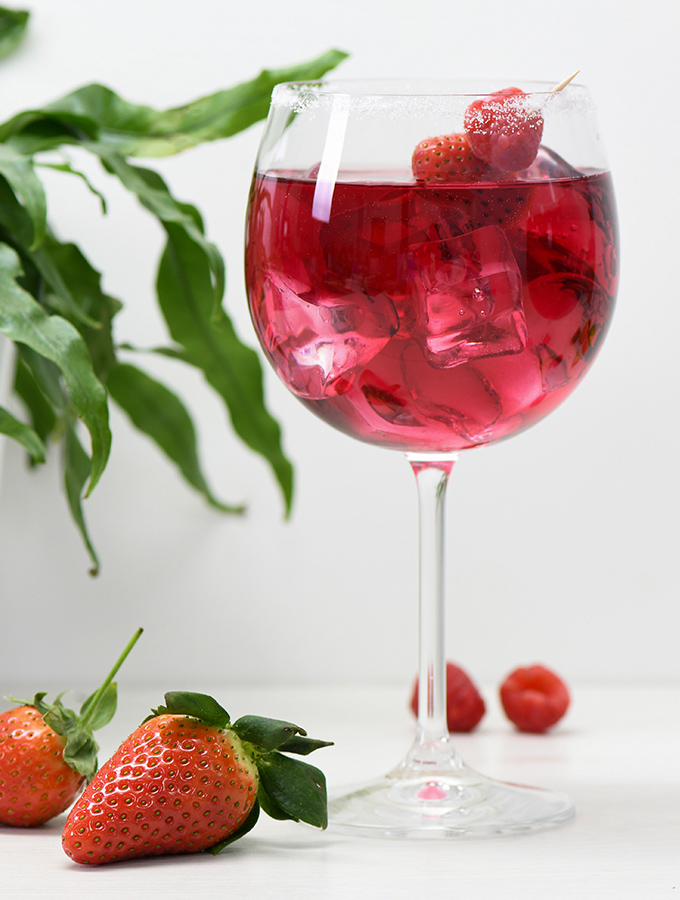 Recipe Two: Berry Blast
Serves 1
Ingredients
100g sugar
Ice cubes or crushed ice
25ml berry syrup of your choice
Juice of 1 lime
1 lime, cut into wedges
50ml Tequila
Fresh berries
Method
In a cocktail shaker (or large glass) add the ice cubes, Tequila, berry syrup and the lime juice. Shake well
Spread the sugar evenly on a plate. Dampen the rim of your glass and dip in the sufar to create a decorative rim
Pour the cocktail mixture into your glass and garnish with the fresh berries and a wedge of lime to serve
---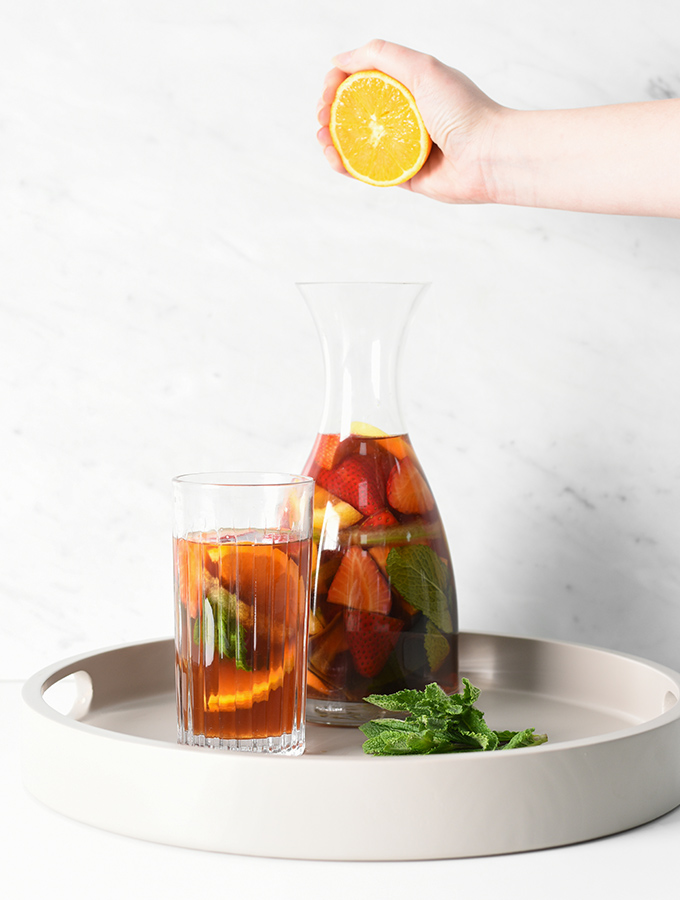 Recipe Three: Pimms Iced Tea
Serves 4
Ingredients
1 bottle of Pimms
2 oranges
1 handful of fresh mint
1 punnet of strawberries
2 lemons
1 cucumber
3 handfuls of ice cubes
3-5 teabags
Method
Bring a pan of water to a rapid boil and add the teabags. Turn off the heat and leave for 5 minutes.
Pour into a jug and allow to cool for 5 more minutes before topping with ice cold water.
Stir well and place in the fridge to cool completely for approximately 1 hour.
Once cooled, peel your cucumber into ribbons, chop 1 lemon and 1 orange into slices and de-stem and halve your strawberries.
Cut your remaining orange and lemon in half and juice.
Add the ice cubes to a carafe, before adding your fruit and fresh mint leaves and Pimms before topping with the ice tea you made earlier.
Stir well and serve immediately.
---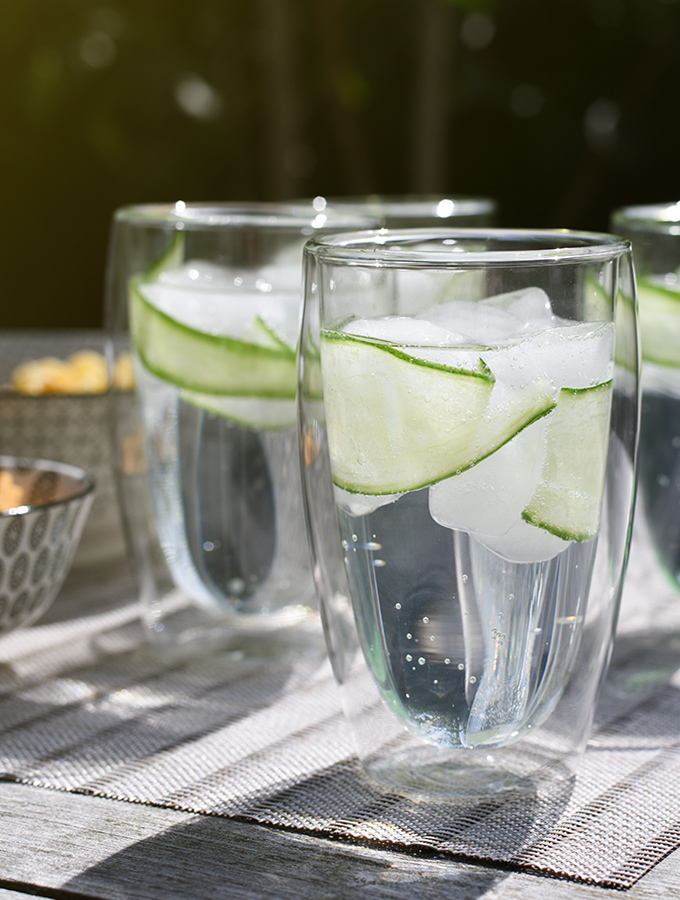 Recipe Four: Classic G&T
Serves 2
Ingredients
50ml gin
250ml tonic water
Juice of 1 lime
2 handfuls of ice
Method
Fill a highball glass with ice cubes
Using a jigger add 50ml of gin to your glass followed by the lime juice before topping with tonic water
Stir gently and garnish with lime wedges or a ribbon of cucumber
---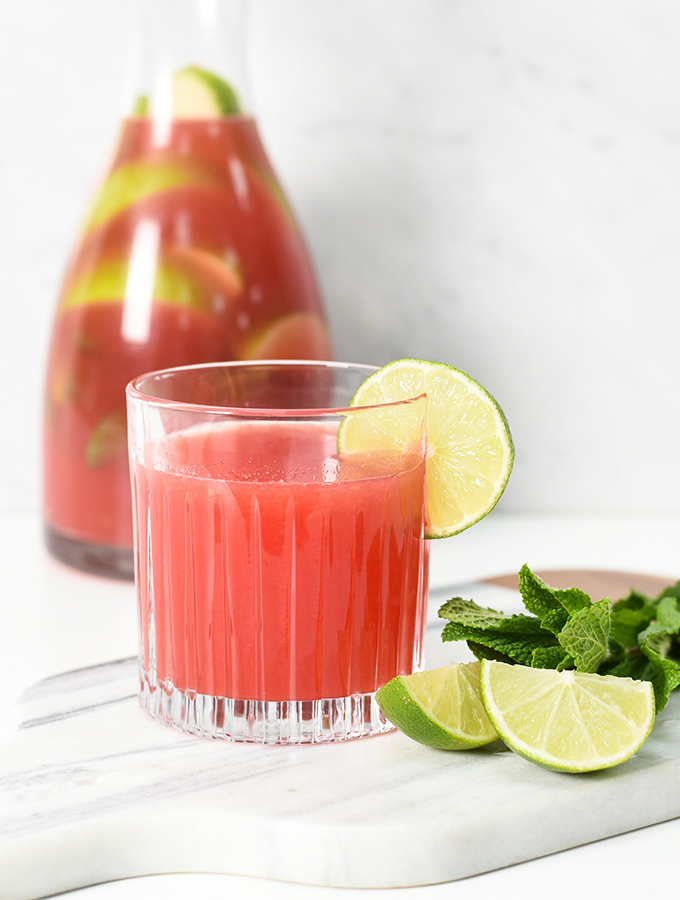 Recipe Five: Watermelon Sangria
Serves 4
Ingredients
1 watermelon, cubed and deseeded
1 green apple
2 tbsp granulated sugar
1 bottle of dry white wine
100ml brandy
1 handful mint leaves
½ lime, sliced
Method
Peel the apple and chop into bite-sized pieces. Add to the bottom of a carafe or pitcher along with ¼ of the watermelon cubes
Sprinkle with sugar, stir gently and leave to stand for 20 minutes
Add the remaining watermelon to a blender and pulse until smooth
Push through a strainer into the carafe and top with the wine, brandy, fresh mint and lime slices
Stir and refrigerate for 1-2 hours
Fill your glasses with ice and pour the sangria mix until full
Garnish with a slice of lime and fresh mint
Shop cocktail must-have's
Browse all our lifestyle posts for more tips and tricks and if you're looking for something different to cook this evening, why not check out our recipe section too?