There is something incredibly satisfying about a perfectly organised sharing or grazing board but if just the thought of putting one together fills you with fear, don't panic – we've got you covered. We're sharing our top tips from choosing your serving platter to selecting your snacks and even how to serve your cheese! Grazing boards have come a long way from a few crackers and a wedge of cheese and can now be tailored to a huge variety of events so whether you're catering for a kids party, brunch with friends or a big birthday celebration, we'll help you put a spread together that everyone will love.

What you'll need to build a sharing board
Choosing what to serve
Go bitesize. Keep things easy for your guests by trying to serve things that are easy to pick up and pop into your mouth. Olives, nuts, crackers and sliced meats are all great choices.
Dips that go with everything are ideal and they are easy to make at home. Our simple homemade hummus goes well with crisps, vegetable sticks and pitta bread just to name a few.
Try to pick things that can stay out for a little while such as cured meats, cheese and dried fruits so the guests that are last to your spread aren't left feeling underwhelmed by less than appetizing offerings.
Disrupt the eye and serve your picks in lots of different ways. Keep tomatoes on the vine, serve crisps in different sized bowls and lay crackers out in a ring surrounding your cheeses. It keeps the eye interested and will encourage guests to get involved with your whole spread.
Along with your meats, fruits, cheeses, and spreads do not forget to offer a selection of crackers or breads to make sure those tummies stay full.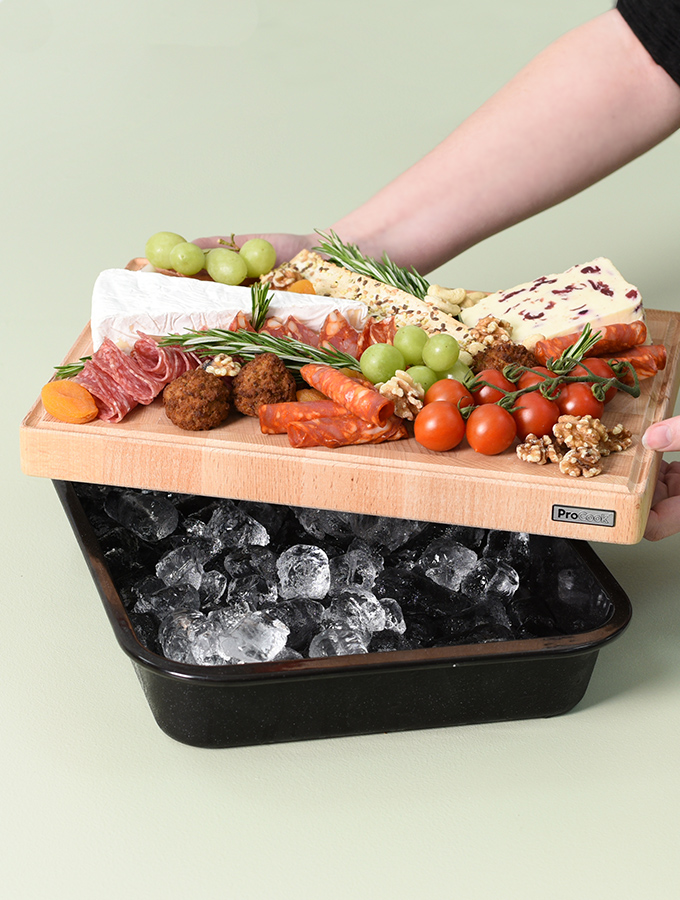 Picking a location for your sharing board
You should avoid moving your sharing board around too much once built so pick a spot for it that guests can easily access that is out of direct sunlight to keep food fresh for as long as possible. Planning to serve yours outdoors? Look for a shaded area where possible and place over a deep roasting tin filled halfway with ice to keep things cool.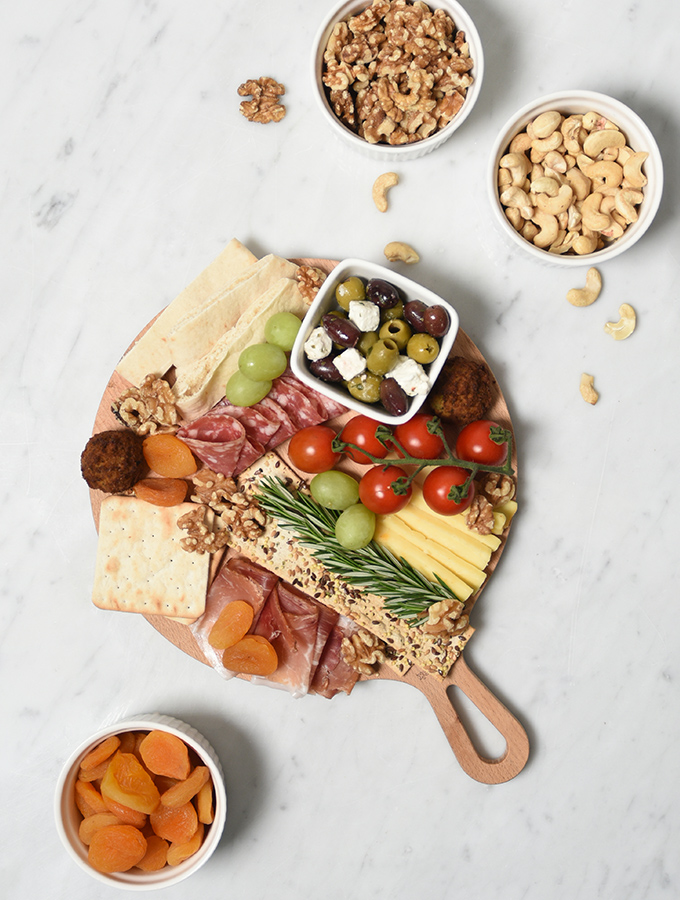 How to pick your serving pieces
So you don't have a huge serving board to serve your snacks, no problem – make use of what you already have in your kitchen! A baking tray is perfect thanks to its lipped edges, keeping things from rolling off the edge and a pizza stone is perfect for serving charcuterie meats or cheeses. Oven dishes are perfect for messier foods that may need containing and a cheese board or chopping board although more obvious, should not be forgotten about.
Top Sharing Board Tips to Remember
Don't forget to place utensils into dishes to prevent guests mixing these around too much, something that is particularly important if anyone has allergies.
Place cocktail sticks close to things such as olives that are marinated in oil to make sure guests can easily tuck in.
Replenish food throughout rather than trying to cram everything in at the start. This keeps food as fresh as can be and gives you plenty of room to display all your options.
Provide napkins for guests to wipe their hands or faces once finished, especially if you are serving oily foods such as olives or charcuterie meats.
---
Browse all our lifestyle posts for more tips and tricks and if you're looking for something different to cook this evening, why not check out our recipe section too?