When it comes to the summer there is little that is more enjoyable than tucking into a fruity dessert for a refreshing treat, and with a summer blessed with as much warm weather as we have experienced this year now is as good a time as any to find your signature pudding. Although something extravagant and avant-garde can be visually impressive we find that they are often lacking a little in the flavour department; serve up a British classic and everyone will be asking for seconds. Our favourite of them all? A delicious and fruity Eton Mess. We're delving into the ProCook archive with this one but as the old saying goes – "if it ain't broke, don't fix it".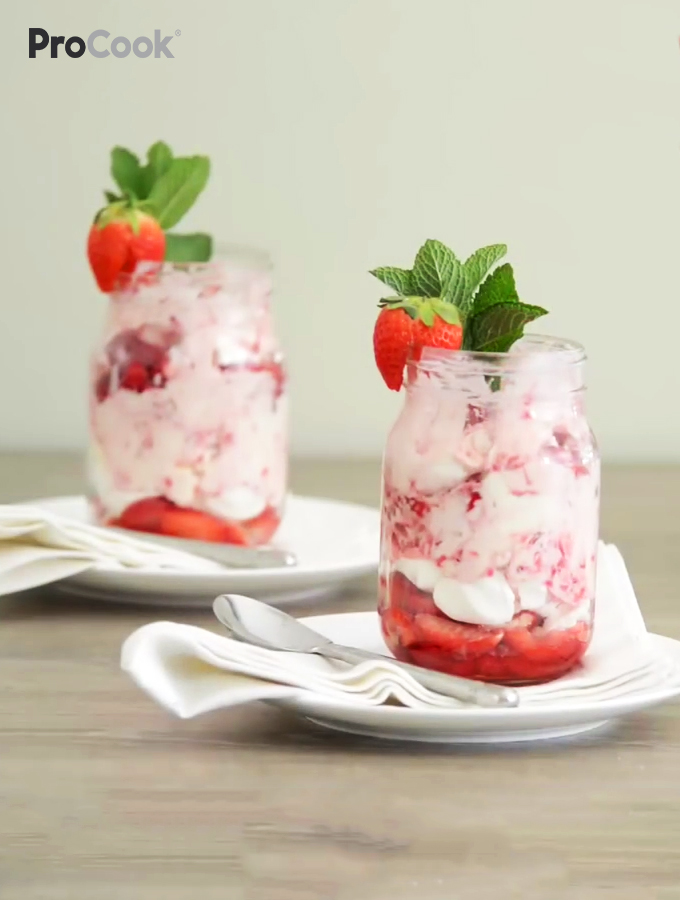 THE ORIGIN OF ETON MESS
Depending on who you listen to, the origin of what we recognise today as an Eton Mess can be accredited to either one of two things – a clumsy person or a clumsy dog. One story tells of Eton College's annual cricket match against Winchester College where someone dropped their meringue on the floor and decided to serve it in individual glasses instead. The other of an excitable Labrador who sat down on a picnic basket filled with meringue leaving well, somewhat of a mess. We'll leave it up to you to decide which story you want to believe but there is one thing that is for certain – if you want to recreate this traditional English dessert you will need next to no skill or experience in the kitchen to whip this up for your next summer gathering.
Shop the post
There are a few ways you can present your Eton Mess and although we chose to serve ours in mason jars you could instead use large meringues and top with the ingredients in this recipe to emulate more of a pavlova style dessert, or perhaps try layering small meringue nests on top of one another with layers of the berry cream and fresh fruit for a more formal serving. Us? We love the rough and readiness of the mason jar approach and we think it's an authentic way of serving this delicious dessert – it is called a mess after all!
If Eton Mess isn't quite taking your fancy but you're still looking for something sweet, how about our delicious chewy chocolate chip cookies, strawberries and cream shortbread or passion fruit custard pots instead?
300

ml

double cream

150

g

raspberries

150

g

strawberries

3

tbsp

caster sugar

4

meringue nests

1

handful

fresh mint

(to garnish)
Put 2 strawberries aside, de-stemming and chopping the remaining strawberries into small pieces. Place approximately a third of these into the bottom of 2 medium-sized mason jars.

Add a half of the remaining strawberry pieces to a small bowl, add the raspberries and sprinkle with 1 tbsp sugar. Using the back of a fork mash into a purée and set aside.

In a large bowl pour in the cream and add 2 tbsp sugar. Whisk until it forms soft peaks.

Fold in your berry purée ensuring it is thoroughly mixed and set aside.

In a medium-sized bowl crush your meringue nests into small but chunky pieces and split these between your two mason jars on top of the strawberries.

Spoon in your berry whipped cream mix into both mason jars, before topping with remaining chopped strawberry pieces.

Take the two strawberries put aside at the beginning of the recipe and place on a chopping board. Carefully slice them approx. two thirds of the way up and slide onto the rim of the mason jar. Place a sprig of fresh mint in both jars before serving.