There is nothing more satisfying than a warm, chewy chocolate chip cookie straight from the oven, and these ones are no exception! Getting the perfect balance between chewy and falling apart or overdone can sometimes be a bit hit and miss, but this recipe takes the guesswork out of it resulting in beautifully chewy Chocolate Chip Cookies every single time.
Best served warm with a glass of cold milk, our chocolate chip cookie recipe is easy to follow and a great recipe to get any eager little hands involved in too. Once you've mastered the basic recipe there's loads of opportunity to mix up your flavours (our personal favourite is adding a splash of salted caramel flavouring and a few chunks of fudge!) and create a cookie truly unique to you.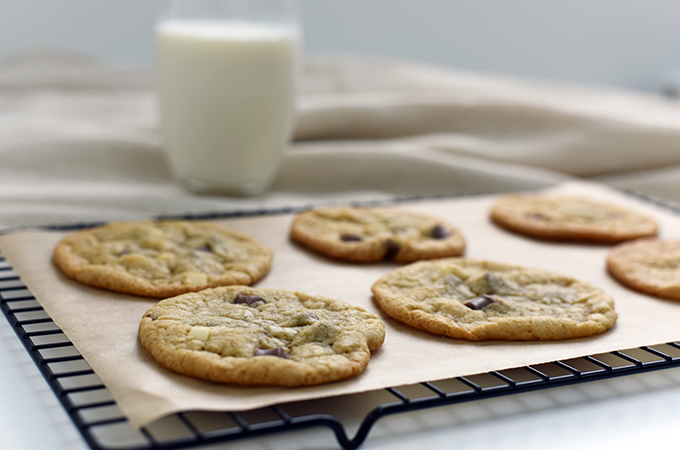 All you need to make a batch of these delicious cookies is a couple of mixing bowls, an ice cream scoop, a baking tray and a cooling rack.
Looking for something to satisfy your sweet tooth but cookies not tempting you?  We recommend one of our indulgent doughnuts instead, and with 5 different versions to try we're sure there will be one for you.
*This recipe has been adapted from a BBC Good Food recipe you can find here.
250

g

plain flour

2

g

baking soda

220

g

packed brown sugar

100

g

caster sugar

170

g

unsalted butter (melted)

1

egg

1

egg yolk

1

tsp

vanilla extract

100

g

white chocolate chips

100

g

milk chocolate chips
Preheat the oven to 165°C and line your baking tray with greaseproof paper.

In one mixing bowl sift the flour and baking soda together and set aside.

In a separate mixing bowl add the brown sugar, white sugar and melted butter and mix together thoroughly with a wooden spoon. Beat in the vanilla extract, eggs and yolk until light and creamy before adding in the sifted dry ingredients until well mixed.

Pour in the white and milk chocolate chips with a wooden spoon until they're evenly distributed throughout, you want every bite to have a chocolate chip!

Using an ice cream scoop, make balls of the cookie dough and spread six on a tray. Leave plenty of space between them to allow for spreading as they cook.

Bake for 13 minutes and remove from the oven. They may not look quite done but take them out and allow them to cool for a delicious chewy cookie.