One of our favourite things about this time of year is baking, roasting and tucking into lots of delicious food that we limit ourselves on the rest of the year, and this Rocky Road is up there as one of the easiest sweet treats to prepare for guests this Christmas. These are easy to tailor to your own taste and have an indulgent fudge-like texture making them the perfect treat for anyone with a sweet tooth.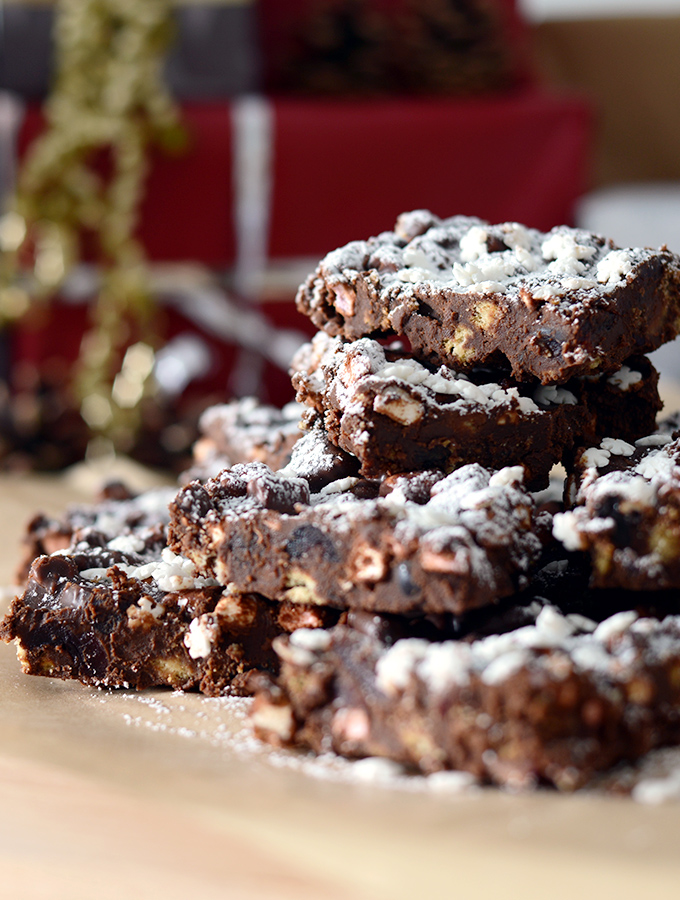 There is much debate about where the Rocky Road we know and love today comes from, with many trying to claim the crown, but the earliest mention of the tasty treat is in Australia during the 1800s. We did some research and found that Rocky Road originally was a way for people to sell spoilt confectionary from their long trip from Europe by hiding the taste with a smothering of local cheap chocolate and locally grown nuts, and that the name either comes from the long rocky roads that travellers had to tackle to get to the gold fields or from the long, rocky trip the travelers had made to get to Australia with the now spoilt confectionaries and sweets. Either way, regardless of how the dessert got  its name what we do know for sure is that it tastes amazing, and with the addition of some crumled biscuit, glacé cherries and dried cranberries ours is a version you definitely want to try.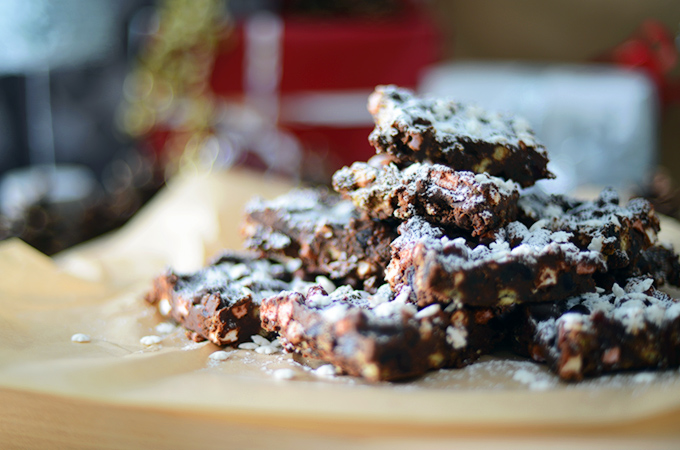 Whether you're a pro in the kitchen or this is one of your first culinary ventures, it's almost impossible to get this one wrong and their imperfect finish makes them a great recipe to attempt if you're new to baking. We love these wrapped in paper and tied with red twine for a delicious homemade gift so you really can impress your loved ones this Christmas! All you'll need to make these at home is a large saucepan, a baking sheet, a wooden spoon and a sharp knife to serve.
If you're looking for more Christmas recipes to try how about our chewy gingerbread, pigs in blankets wreath or delicious roast potatoes?
Scroll down to find a printable version of the recipe and an easy to follow how to video. This recipe has been adapted from Nigella Lawson's recipe that can be found here.

Printable recipe
250

g

dark chocolate

150

g

milk chocolate

115

g

unsalted butter

4

tbsp

golden syrup

50

g

mini marshmallows

150

g

glacé cherries

150

g

digestive biscuits

(crushed)

30

g

dried cranberries

30

g

white chocolate chips

30

g

raisins

4

tbsp

water

2

handfuls

sugar snowflakes

(to decorate)

2

tbsp

icing sugar

(to dust)
Add the chocolate, butter and golden syrup to a large saucepan and melt over a low heat until fully combined. Stir continuously to prevent burning.

Remove from the heat and stir in the biscuit, cranberries, white chocolate chips, raisins, glacé cherries and mini marshmallows until they're all coated with the chocolate mix. If the mixture is too thick add the water.

Pour into a baking tray and smooth with a wooden spoon.

*Optional* Sprinkle with sugar snowflakes for a festive touch.

Place in a fridge for 1.5 hours or until set.

Remove from the fridge and slice into three rows of four. Sprinkle with icing sugar and serve.