There's a lot of competition for the best roast potatoes – some swear by peeling only the very biggest Maris Pipers available, some say they must be cooked in a mixture of olive oil and butter, others throw caution to the wind and shove them in the oven hoping for the best. What we're getting at is that everyone has their own way of making this side dish, and we'd like to share ours with you. Inspired by this recipe from delicious. magazine, we have taken things to the next level by adding caramelised apples, a crushed bacon salt and a sprinkling of fresh herbs to make this a dish one that is sure to become a family favourite this Christmas.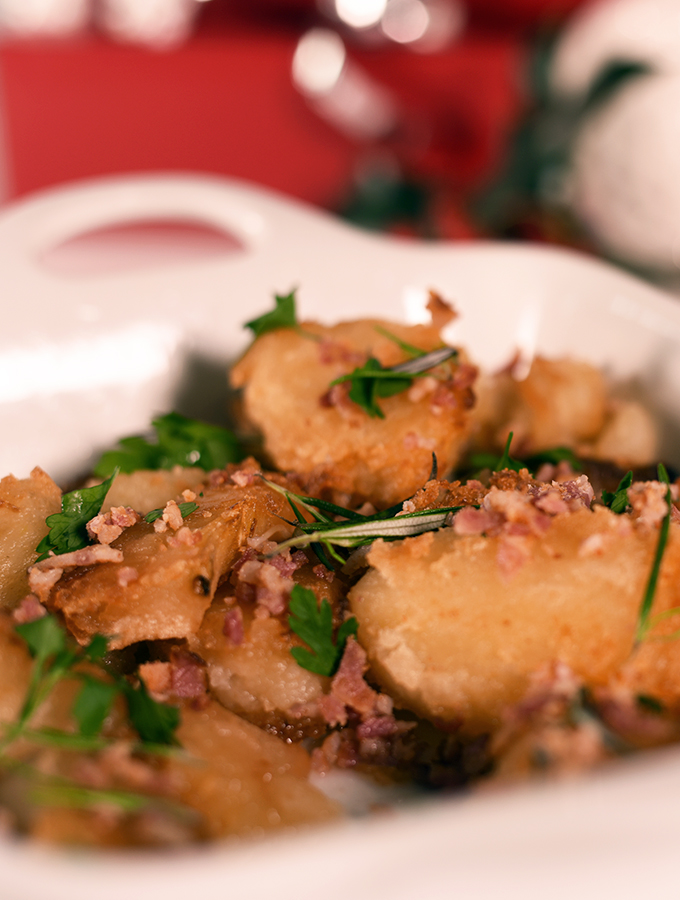 We chose to use Maris Pipers for our roast potatoes as we think they're the perfect light and fluffy potato for the job, and we picked Gala apples for the wedges but any eating apple will do in this dish. Remember, the longer you are willing to leave your potatoes boiling the crispier the edges will be but be warned – leave them too long and they'll begin to fall apart so keep a close eye on the taters as they near the 9 minute mark to avoid a pan of potatoes that are only fit for mash!
Before popping the tray in the oven make sure your potatoes are well coated in goose fat to really maximise the potential crispiness of your potatoes, can you tell that we judge how good a roastie is on how crispy it's edges are? If you hold the same trait as an important marker don't be tempted to move the potatoes around too much as they're cooking either; we know it's tempting to keep turning them to get that lovely brown colour but turning them once halfway through will be enough. Oh, and if you were on the braver side when it came to your boiling time be extra gentle with your tongs as you're turning them to stop the potatoes from crumbling halfway through.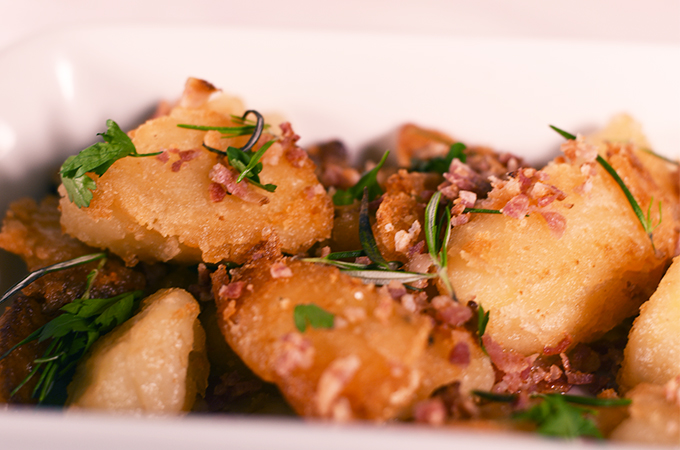 We know there's lots of competition out there for the best roast potato, but we think we may have cracked it with this one. The bacon and herb topping makes it that extra little bit more special for the Christmas lunch, and the flavours work beautifully with the caramelised apple to create a truly delicious roast potato side dish that everyone will be asking you for time and time again. If you're looking for more festive recipes we recommend our Pigs in Blanket Wreath, a great starter before the main event!

2

kg

Maris Pipers

2

tbsp

plain flour

5

Gala apples

150

g

goose fat

4

rashers

smoked streaky bacon

2

sprigs

rosemary

(leaves picked)

½

bunch

fresh parsley

(chopped)

2

tbsp

sea salt
Preheat the oven to 200°C. Peel and chop your potatoes into small chunks (the bigger your chunks the longer they'll take to cook).

Add your potatoes to a pan of salted boiling water and cook at a boil for 9 minutes until nearly cooked.

Drain them, toss and leave to steam before returning them to the pan. The more edges the potatoes have the crispier they'll be.

Sprinkle with the flour and sea salt and toss gently to avoid them falling apart.

Add the goose fat to a large roasting tin and place in the oven until it's melted and spitting.

Add the potatoes to the pan (they should sizzle), making sure they're well coated in fat and place into the oven to roast for 50-60 minutes.

After 20 minutes of cooking add the apple wedges, and then turn the apple and potatoes halfway through the remaining cooking time.

While the potatoes and apple are cooking line a tray with foil, lay your bacon rashers flat and cook for 25 minutes turning once. Once cooked remove from the oven and chop finely with a sharp knife.

Remove the potatoes and apples from the oven, transfer to a serving dish and top with the chopped bacon and fresh herbs before serving.