When we came across Gizzi Erskine's recipe for this delicious Pigs in Blankets wreath we knew we just had to give it a go ourselves. It looked absolutely incredible and the bit that grabbed us the most? It's simplicity. We love nothing more than finding a recipe that looks the part whilst tasting amazing, and takes minimum skill level to recreate at home! It should be noted that although we're writing this with the intention of it being a vital part of your Christmas spread this year, this is actually so easy to make we think you'll be making this all year round.
If you're serving a larger party we think it would be fun to layer up your wreaths, making each one smaller as you go and placing your cranberry sauce on a raised platform in the centre to make your nibbles a real talking point that nobody will be able to miss. First they'll be marvelling at the pyramid of Pigs in Blankets but we're sure conversation will quickly turn to just how delicious it is too.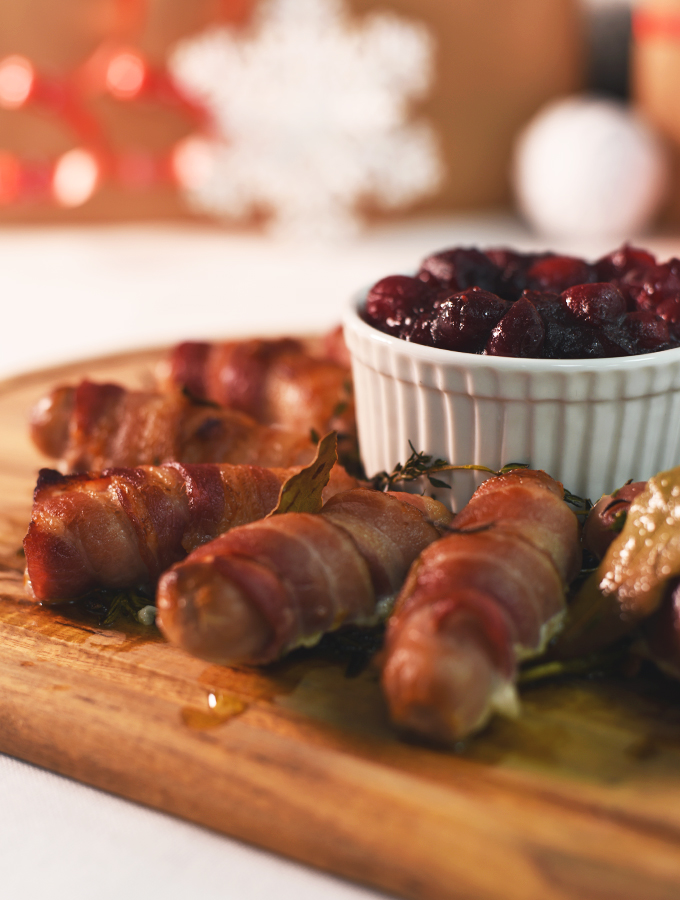 We have served this dish on one of our acacia carving boards which is the perfect size to hold our 12 pigs in blankets, arranged around one of our ramekins filled with a homemade cranberry and port sauce. You can take a look at Gizzi's original recipe here.
If you're looking for more festive recipes, how about our delicious roast potatoes? We think we may have finally cracked it, the perfect roast potatoes… let us know what you think!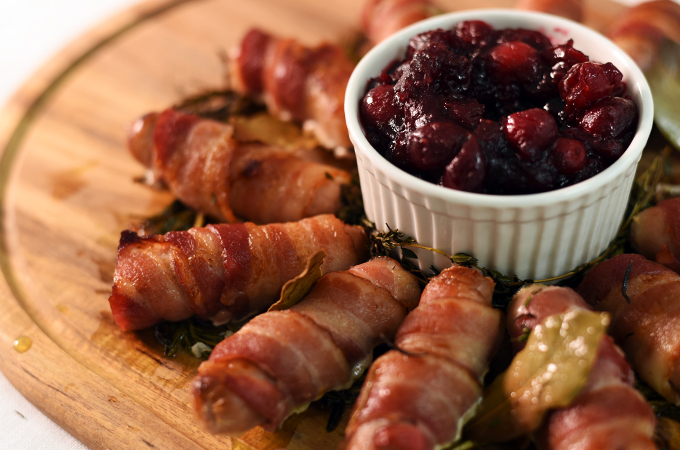 For this recipe all you need is a large baking tray, a side plate to draw around, an oil pourer and some cocktail sticks to hold the sausages together. Yes, it really is that easy! Check out our how-to video below, and don't forget that all of our recipes are printable making them perfect to save, print and use in the kitchen without needing to wash your hands every two minutes to tap a tablet or phone screen.

12

chipolatas

12

rashers

smoked streaky bacon

1

handful

bay leaves

5

sprigs

rosemary

1

handful

thyme

1

tbsp

olive oil (to drizzle)
Pre-heat your oven to 200°C before drawing around a side plate on a piece of greaseproof paper placed on top of your baking tray.

Wrap each chipolata with 1 bacon rasher, leaving the ends of the sausage exposed. Place around the drawn circle with the join of the bacon underneath the sausage to stop it from coming loose.

Once you have formed your circle, use a cocktail stick to piece the ends of three sausages at a time to help keep the circular shape as they cook.

Add a bay leaf between every two sausages, and weave a rosemary sprig around every few sausages until you have worked your way all the way around the wreath. Take your handful of thyme and bend around to form a circle in the centre, almost like a bird's nest, to house your ramekin of cranberry sauce in the middle.

Drizzle with olive oil paying particular attention to the herbs so they don't dry out and place in the oven to cook for 35 minutes.

Remove the cocktail sticks from the sausages and serve either warm or once cooled.