We all sing about them during the festive season, but have you ever actually made roast chestnuts? If not, we think you should give these a try and no, there's no need for an open fire to do so. We're delving back into the ProCook archive with this one and sharing with you our take on this Christmas classic.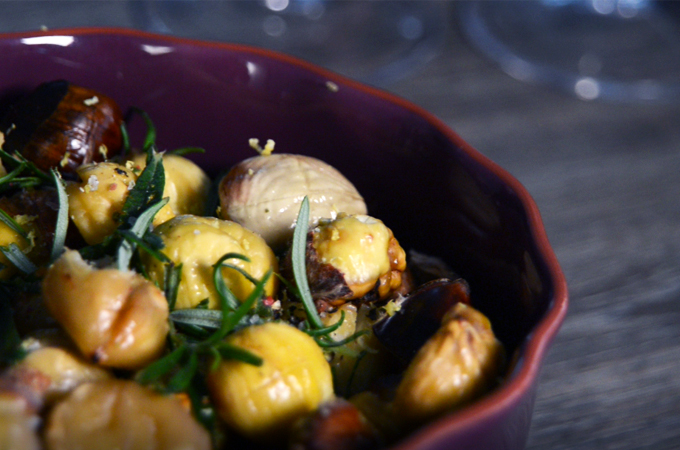 There is much dispute as to why we started snacking on these nutty treats during the festive period, but when they're roasted their raw, bitter flavour sweetens which may help explain why they began being consumed around Christmas; generally people tend to indulge in sweeter treats at this time of year and it's clear that this isn't a recent trend, there's evidence we've been doing it for centuries! Whatever the reason may be, we're glad they did as chestnuts are low in fat, high in fibre and packed with minerals and vitamins making them a healthier choice than you may expect.
Shop the post
These are much simpler to make than you may think, and the smell of chestnuts roasting couldn't be more reminiscent of chilly nights spent at Christmas markets perusing all of the gifts and tasty treats on offer and is sure to fill your home with Christmas spirit. Roasted in a saute pan rather than over an open fire, they're then topped with a rosemary, black pepper and salt sprinkle made in a pestle and mortar and that's all there is to it! We think these make a great snack for young and old alike, and think they look great served in a simple paper cone to add that special festive touch.
Looking for other festive recipes? Our Pigs in Blanket Wreath is a great starter to serve party guests, or how about our Roast Potatoes for the main event?
350

g

chestnuts

olive oil

(to drizzle)

1

lemon

(zest)

1

handful

rosemary

1

pinch

black peppercorns

1

pinch

coarse salt
Score a cross into the fat, round side of the chestnuts carefully with a sharp knife.

Add to a saute pan and drizzle with oil, cooking until the shells split open.

While they're still hot, peel the shells and set aside.

Top with the zest of a lemon and then add the rosemary, pepper and salt to a pestle and mortar and ground to a crumb.

Sprinkle the rosemary mix over the top of the chestnuts and serve either in a bowl, or in a paper cone for a festive touch.