As the weather turns colder, we love to indulge in some good old fashioned comfort food and a classic Boeuf Bourguignon always hits the mark. This rich, beef casserole favours red wine instead of stock to give you the signature flavoursome gravy and wonderfully tender meat that no casserole should be without.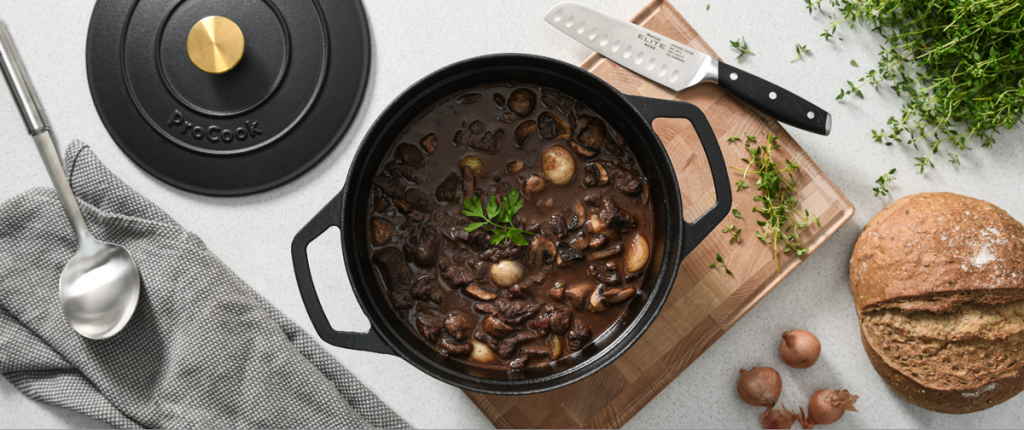 To make your Boeuf Bourguignon you will need
To achieve that melt-in-the-mouth beef, you'll need to cook everything low and slow… we promise it's worth the wait! The best way to cook our Boeuf Bourguignon is using our cast iron cookware; cast iron cooking delivers exceptional heat distribution ensuring your ingredients cook evenly but also reduces washing up as our casserole dishes can go from hob to oven to table with ease. Just be warned that this dish is incredibly moreish so you may need more than one serving!
We used shallots in our recipe for a milder and slightly sweeter taste, but these can easily be swapped for pearl onions for a deeper and more intense flavour if you prefer. Whichever you opt for, when chopping it's important to keep the root intact to hold your onions together during cooking. Although an intricate job we think this fiddly step is worth the extra prep time to keep everything neat, tidy and uniform. We recommend using a paring knife for this step as it's perfect for handling the smaller cuts and slices that this task calls for.
When it comes to enjoying your Boeuf Bourguignon we think pasta bowls are the perfect vessel for serving. The dish pairs well with creamy mashed potatoes and seasonal greens but if you'd rather something a little lighter, a salad with a mustard-based dressing will complement the beef beautifully.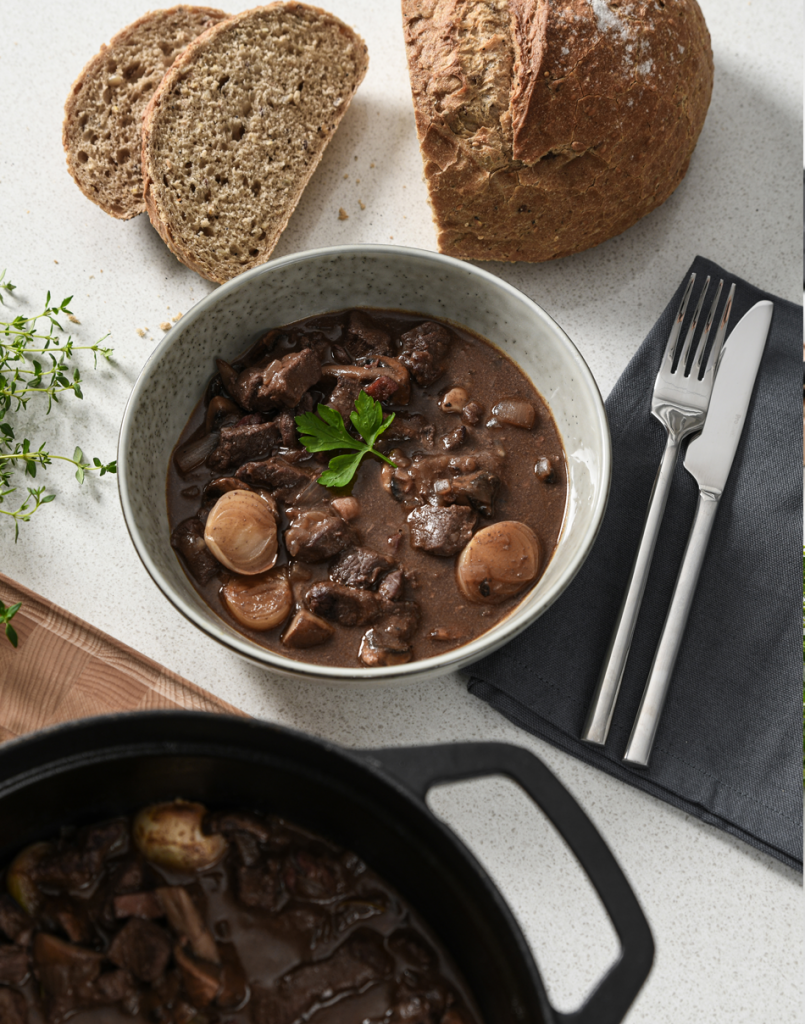 If you still have room for dessert after enjoying your Boeuf Bourguignon, our delectable Pear and Blackberry Crumble is a great way to finish a meal or perhaps our indulgent Caramel Apple Pie? You can find lots of great dessert ideas by heading to the recipe section here on our blog.
For more recipe inspiration you can check out our recipe section filled with lots of great dishes that you can make at home.
This recipe has been adapted from this one by BBC Good Food.
Spiced Apple and Plum Chutney
We love it when autumn rolls around as it's a great excuse to pull out our favourite knitted jumpers, enjoy crisp morning walks amongst the leaves and get busy in the kitchen making our favourite autumn-inspired preserves.
Ingredients
1

kg

Bramley apples

1

kg

plums

500

ml

cider vinegar

1

bulb

garlic

(peeled)

1

piece

fresh ginger

(peeled)

2

large

onions

(peeled)

3

star anise

1

cinnamon stick

1

tsp

nutmeg

1

tsp

cumin seed

1

tsp

mixed spice

1

tbsp

salt

450

g

golden caster sugar
Instructions
Sterilise your jars following the instructions in this blog post.

Thinly shred your ginger and slice the garlic and onions before adding to a shallow casserole dish or large saucepan.

Peel, core and chop the apples and add to the pan with all the spices, vinegar, and salt.

Bring the pan to the boil over a medium heat, stir, replace the lid and turn down the heat. Simmer for 30 minutes.

Stone and quarter the plums and add to your pan, mixing well with the cooked apples. Stir in the sugar and leave to simmer uncovered for another 30 minutes. Stir regularly until the plums are cooked.

Remove the cinnamon stick and star anise before decanting into the jars you sterilised earlier.

If kept unopened in a cool place this will last for up to a year, but once opened keep in the fridge and use within a month.