It's hard to know where to start when you are looking for a new cookware set but luckily we know just what to consider when you are replacing or upgrading your pans. Here we share some basic tips to help get you started on choosing a cookware set.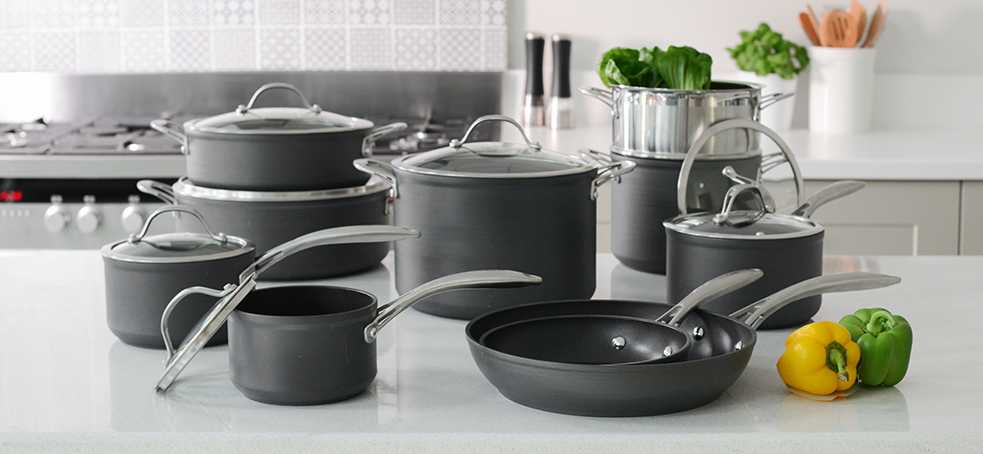 Uncoated or non-stick?

The technology for non-stick coatings has improved greatly over the last few years, ensuring the very best cooking experience in non-stick cookware. ProCook has a huge range of cookware offering a range of superior non-stick coatings, but for those people that prefer uncoated metal saucepans we also have plenty to choose from – we have something for everyone!
If you aren't sure of the differences between the two types of cookware, we've put a handy guide together that explains all the features of both non-stick and uncoated cookware to help you decide which type of cookware is best suited to you and your cooking needs.
How do you cook?

When choosing which pieces to include in your cookware set think about the meals you like to cook and the pans you tend to reach for regularly, then base your set around those core items. If you're not sure, then going for something like this 6-piece Professional Stainless Steel set with 3 saucepans, a frying pan, a casserole and a stockpot should cover all bases.
One of the most important things to consider when you are choosing cookware is your hob type. Many of us have learnt through experience that not all pans work on induction but with ProCook you don't need to worry, all our cookware ranges are suitable for all hob types – including induction!

Factors to consider
The weight. Do you prefer a lighter or heavier frying pan? Aluminium pans tend to be lighter whereas cast iron is much heavier, so bear this in mind when you are choosing a cookware set. It's easier to judge the weight of a pan if you have it in your hand, so why not pop into your local ProCook store get a good feel for yourself what works best for you.
Dishwasher safe. Did you know that all our ProCook core cookware ranges are dishwasher safe? This makes mealtimes easier when you've got lots of pans to clean up.
Strain and pour. Our Gourmet ranges feature a convenient strain and pour design, which means that all the saucepans have vented lids and a spout for pouring. This makes draining vegetables much easier and is particularly handy for those who struggle to drain heavy pans through a colander.
Style, quality and price. Let's face it, for some of us it's all about style and when you are investing in items for your kitchen it's important that you are happy with the look you are going for. ProCook have nine quality ranges of cookware with different features and styles, so you can rest assured that there will be a look to suit you. There are also a wide range prices to suit every budget, from Gourmet Stainless Steel and Gourmet Non-Stick right up to our premium luxury ranges, Elite Tri-Ply and Elite Forged.
Expert advice

Nothing beats the exceptional service you get with an in-store salesperson advising you, so for all your cookware questions head into your nearest ProCook store for very best advice on purchasing cookware.
Whilst a good quality cookware set will last for years and years, it's always good to know you are covered if your cookware set becomes faulty due to a manufacturing default, so consider choosing a cookware set that comes with a guarantee. All ProCook cookware comes with either a 10 or 25 year guarantee for that extra peace of mind.