As the nights draw in a little earlier and the temperatures begin to drop, embracing autumn can be tough as summer starts to fade away. Don't let the changing seasons get you down by focussing on all the great things that September and October have to offer – golden brown trees, piles of leaves just asking to be played in, a wardrobe full of cosy jumpers and some delicious seasonal flavours. We always find ourselves turning to hearty comfort food at this time of year and with its versatility, depth of flavour and ease of preparation it is easy to see why butternut squash becomes firmly planted on so many menus.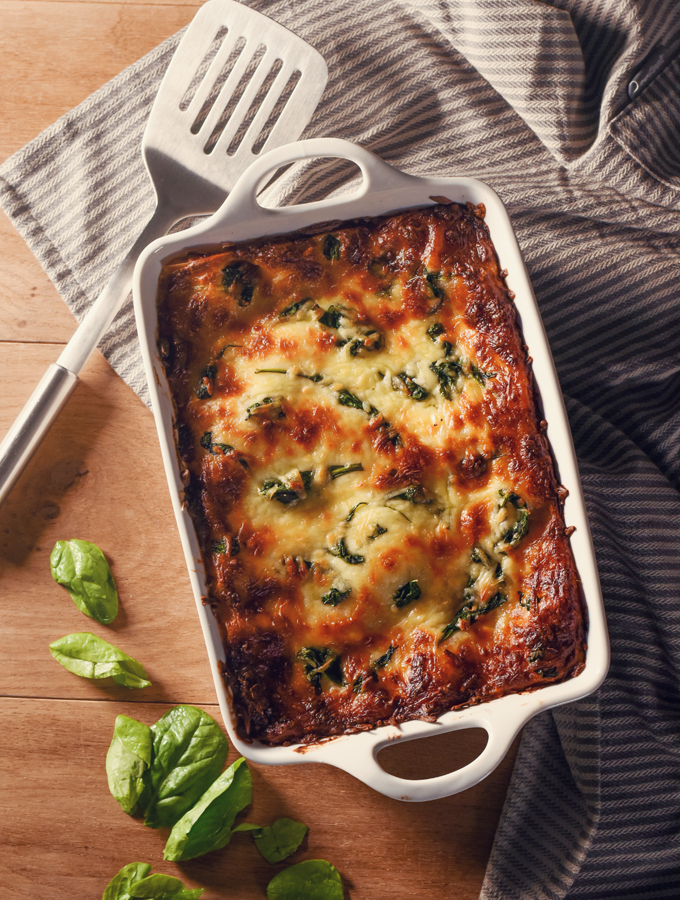 Butternut squash is harvested from early September through to November, so autumn truly is the best time to make the most of this humble vegetable. Not one for the faint-hearted, we love the butternut squash's deep nutty flavour in this cheesy vegetarian lasagne and think it's best served with a side of salad or potatoes with some caramelised roasted vegetables.
We put this Butternut Squash and Spinach Lasagne to the test and found it a hit with vegetarians and meat-eaters alike, so it's a great one to have in your repertoire for when you find yourself catering for both diets and need something to keep everyone happy. Be prepared that there are a few stages to this recipe, but each stage is easy to follow and constructing the final dish takes hardly any time at all. Plus, there is something strangely therapeutic about layering sauces, cheese and pasta sheets!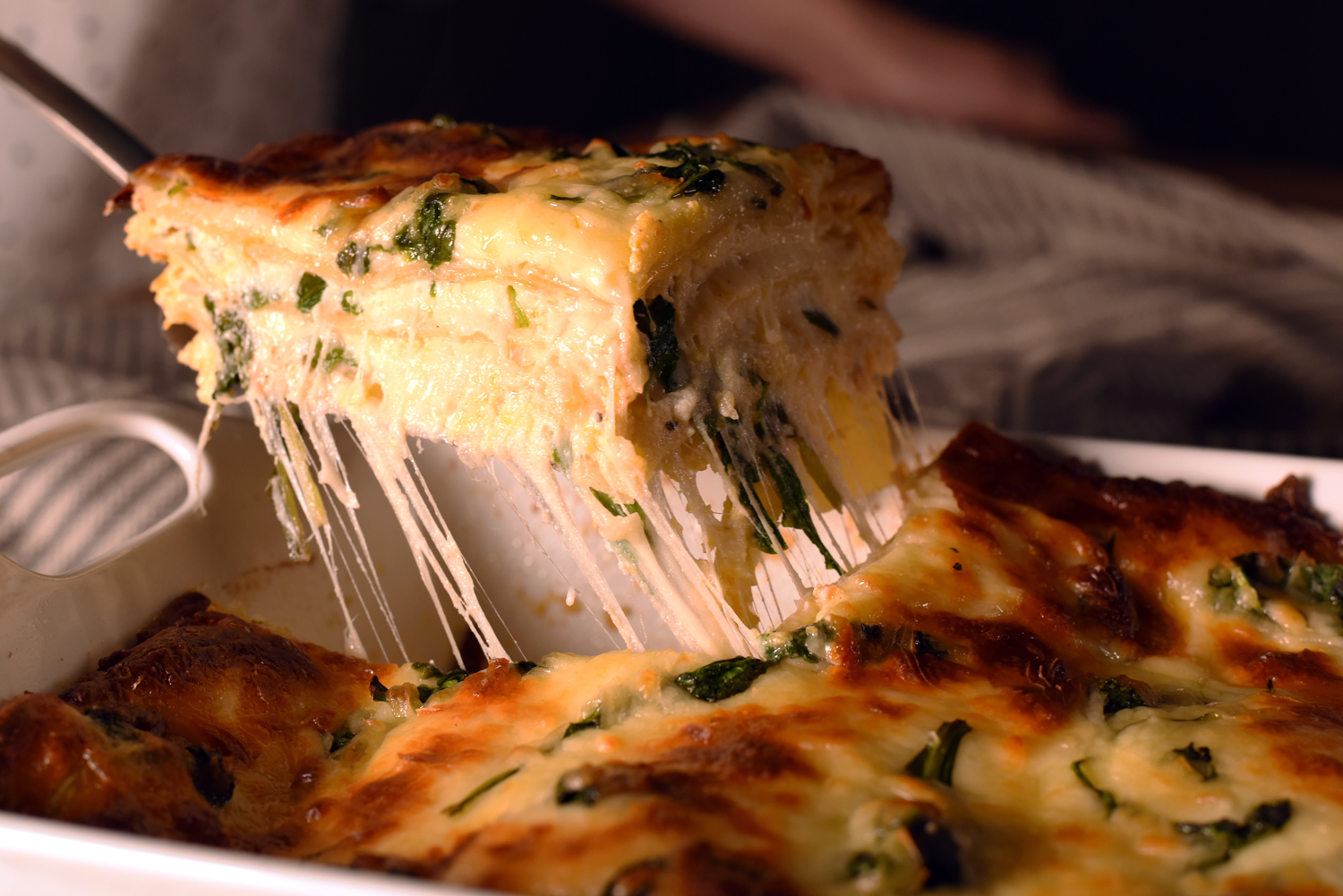 10 minutes before this had finished baking we added some extra wilted spinach to give it those lovely dashes of green on the surface, but if you would prefer why not try some halved cherry tomatoes or caramelised red onion instead? Simply uncover and place under a grill for 5-10 minutes to brown off the cheese and give it that lovely golden finish. If you want to skip the ricotta and spinach mix, our basic white sauce recipe could be used in it's place.
To make this Butternut Squash and Spinach Lasagne at home, all you'll need is a frying pan, a baking tray, a food processor, an oven dish, a jug, scales, measuring spoons, a mixing bowl and a couple of spoons. We found that three layers was the perfect amount to fill our oven dish but you may need to alter this dependent on the size of your dish, and you may need to trim your lasagne sheets to ensure a snug fit.
If you're looking for other main course ideas, why not check out our recipes here?
*Original recipe can be found here.

Printable recipe
For the butternut squash purée
1

butternut squash

150

g

ricotta cheese

150

ml

semi skimmed milk

1

tbsp

olive oil

1

pinch

salt and pepper

(to season)

½

tsp

ground cinnamon

½

tsp

ground nutmeg
1

tbsp

olive oil

½

1

large onion

(diced)

3

cloves

garlic

(minced)

250

g

ricotta cheese

250

g

mozzarella

(grated)

4

handfuls

baby spinach
9

lasagne sheets

(will vary on your dish)

3

tbsp

mozzarella

(grated)

3

tbsp

vegetarian Italian hard cheese

(grated)
Peel and slice the butternut squash into 1" cubes

Place on a baking tray, drizzle with olive oil and season with salt and pepper

Cook for 30 minutes at 190°C then set aside to cool

Once cool add to a food processor and blend until smooth

Add milk, ricotta cheese, salt, pepper, ground cinnamon and ground nutmeg and blend again until smooth and thick
Heat the olive oil in a frying pan

Add the onion and cook for 2-3 minutes or until the onion is soft

Add the minced garlic and cook for one minute before adding the spinach

Cook until the spinach has wilted, remove from the heat and transfer to a mixing bowl

Once cool add the mozzarella and ricotta cheese and stir to combine
Optional - lasagne sheets
If your lasagne sheets need pre-cooking follow packet instructions
Brush your oven dish with olive oil to prevent sticking

Place your lasagne sheets in the bottom of your dish, overlapping if necessary

Drop 3-4 tbsp of the butternut squash purée onto the pasta and spread with the back of your spoon

Drop 3-4 tbsp of the spinach mix onto the purée layer and carefully spread with the back of your spoon

Sprinkle with 1 tbsp of Italian hard cheese and 1 tbsp of mozzarella

Repeat the process until the dish is full

Top with 1 tbsp of mozzarella and 1 tbsp of part Italian hard cheese before covering and placing in a pre-heated oven for 35 minutes at 190°C

Optional - remove from the oven and top with wilted spinach, halved tomatoes or caramelized onion. Place under the grill uncovered for 5-10 minutes until golden brown