Originating in Vietnam a Pho dish (pronounced "fuh") is a delicious, warming soup and although many choose to eat it in the colder months we think it's fresh flavours and bright colours make it a great dish to tuck into all year round. Traditionally you would cook your stock for around 6 hours boiling the bones to enhance the flavour as much as possible but if you're anything like us you probably want to get home, cook and enjoy your meals as quickly as possible so this is our take on the dish that makes a great version for cooking after a long day at work.
If you haven't ever ventured into the world of Vietnamese cooking before don't panic, this is a really simple dish to prepare that looks great when plated up. We recommend warming one of our ProCook Chinese Bowls in the oven to serve alongside a pair of chopsticks (ProCook ones are coming soon!), and our recipe makes enough for two. All you need to make this dish is a large saucepan (we recommend our ProCook Gourmet Steel 18cm Saucepan as it features a handy strain and pour design which will make separating your broth and solids a breeze!), a wok, a large bowl, a sharp knife, chopping board and a jug.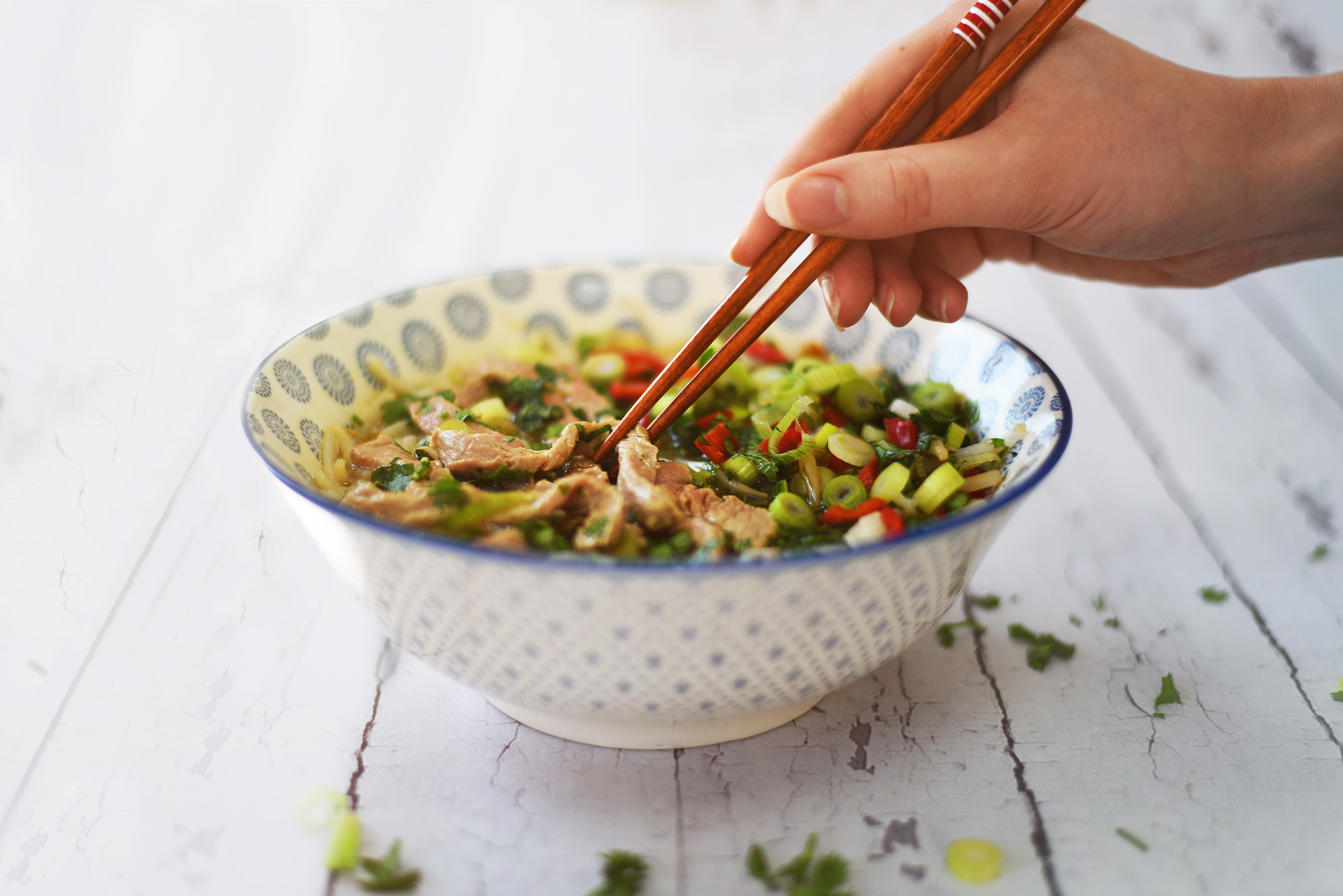 This Pho recipe calls for thinly sliced beef to placed on top of the cooked noodles raw, so to make sure you can easily cut it thin enough we suggest putting your piece of steak in the freezer for 20 minutes before slicing – it makes it much easier to get those clean, precise cuts necessary to ensure your meat is thin enough to cook through gently when topped with the hot broth. It is traditional for the meat in a Pho dish to be cooked in the broth just before serving, but if you're a little uncomfortable with using raw meat then you could sear your meat first and then add it to your dish to make sure it's cooked to your liking.

1

litre

beef stock

250ml

water

1

cm

fresh ginger

sliced

1

onion

sliced

1

clove

garlic

thinly sliced

2

star anise

1

cinnamon stick

1

tbsp

caster sugar

1

tbsp

fish sauce

1

tbsp

soy sauce
1

medium

beef fillet steak

100g

bean sprouts

200g

flat rice noodles
1

red chilli

thinly sliced

1

handful

basil (chopped)

1

handful

chopped fresh mint

1

handful

coriander

2

spring onions (sliced)

1/2

lime

cut into wedges
Put your steak in the freezer 20 minutes before preparing.

Place the ingredients for the broth in a saucepan. Bring to the boil, reduce heat, cover the pan and simmer for 20 minutes.

Remove the steak from the freezer, and slice as thinly as you can, going against the grain if possible.

Prepare the noodles according to packet instructions.

Strain the broth over a large bowl to reserve the soup and discarding solids.

Return the broth to the pan, cover and return to the boil.

Preheat some soup bowls in a low oven.

Divide the noodles between the bowls and top with the raw beef and beansprouts.

Pour over the broth (the heat will gently cook the meat).

Garnish with chilli, spring onions and herbs. Serve with lime wedges.