When people are looking to buy new cookware many are confronted with the same question – should they buy uncoated stainless steel pans, or ones with a non-stick coating?

There really is no one size fits all answer to this and much of the decision will come down to personal preference, but here we're going to talk you through some of the main differences you should be aware of and the pros and cons of both so you're able to make an informed decision on which is the best type of pan for you.

One of the very best things about using uncoated stainless steel cookware is its ability to create beautifully browned food during cooking through something called the maillard reaction. In its simplest terms the maillard reaction is a chemical reaction that occurs when amino acids and simple sugars in proteins are rearranged during the heating process resulting in a beautifully browed exterior such as the crust of baked bread, the lines on seared meat and the golden edges of toasted marshmallows. Uncoated pans are great at achieving this reaction as they can be used on a very high heat without fear of damaging a non-stick coating.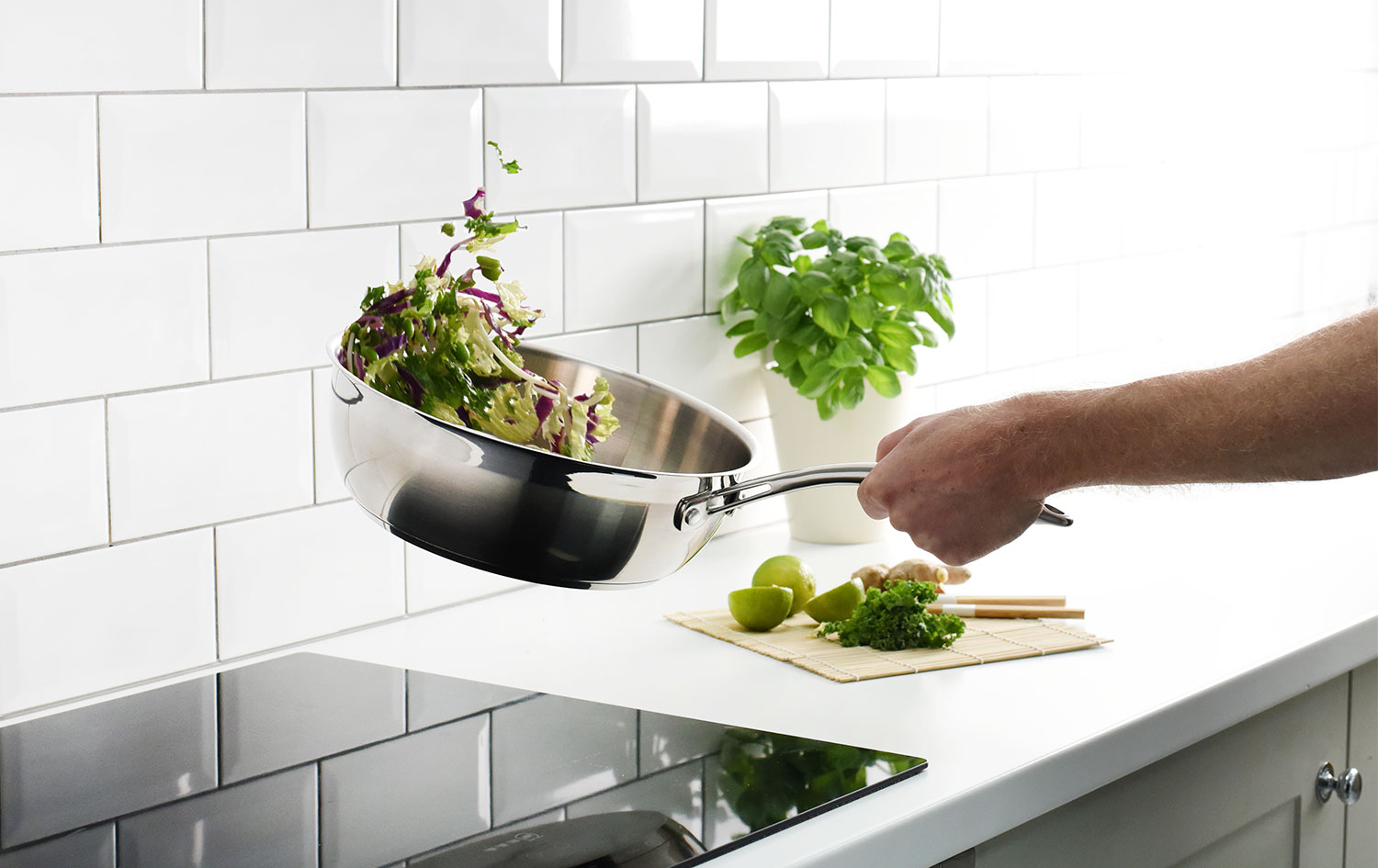 Have you ever watched a professional cooking show and noticed that most of the chefs are using uncoated stainless steel pans? It is argued that uncoated pans are a lot more durable than non-stick cookware, able to withstand heavier use and higher temperatures making them an ideal choice for a busy kitchen. They do require a little more TLC to keep them in tip top condition however, so make sure you wash your pans immediately to prevent discolouration and be warned that if you leave burnt bits in the pan, the longer you leave them the harder they'll be to remove.

If you know how to cook with uncoated cookware the simple answer is no, but if it is your first adventure in the world of uncoated don't panic if you are left with a few burnt tidbits left behind. If you act fast enough you can create a delicious deglazed sauce by loosening these with broth, water or wine! When cooking with uncoated pans make sure you only add your food to the pan once your cookware has already reached the desired temperature as doing it any earlier may encourage your food to stick. Be prepared to use butter, oil or lard to minimise chances of sticking and ensure all ingredients are at room temperature to help keep a steady heat. It's easy to be distracted whilst cooking and we've all returned to a dish to find it stuck to the base of a pan so we recommend you attend to your dish throughout cooking, but if you do have any accidents rest assured that all our ProCook uncoated pans are dishwasher safe.

---

Non-stick cookware has a number of attractive benefits including the fact it is easy to clean, requires little to no fat to cook with and is fantastic at preventing food from sticking.  Food will simply slide around the pan making it a great choice for those new to cooking and if you're cooking breaded or fried foods the non-stick surface helps prevent things from crumbling apart.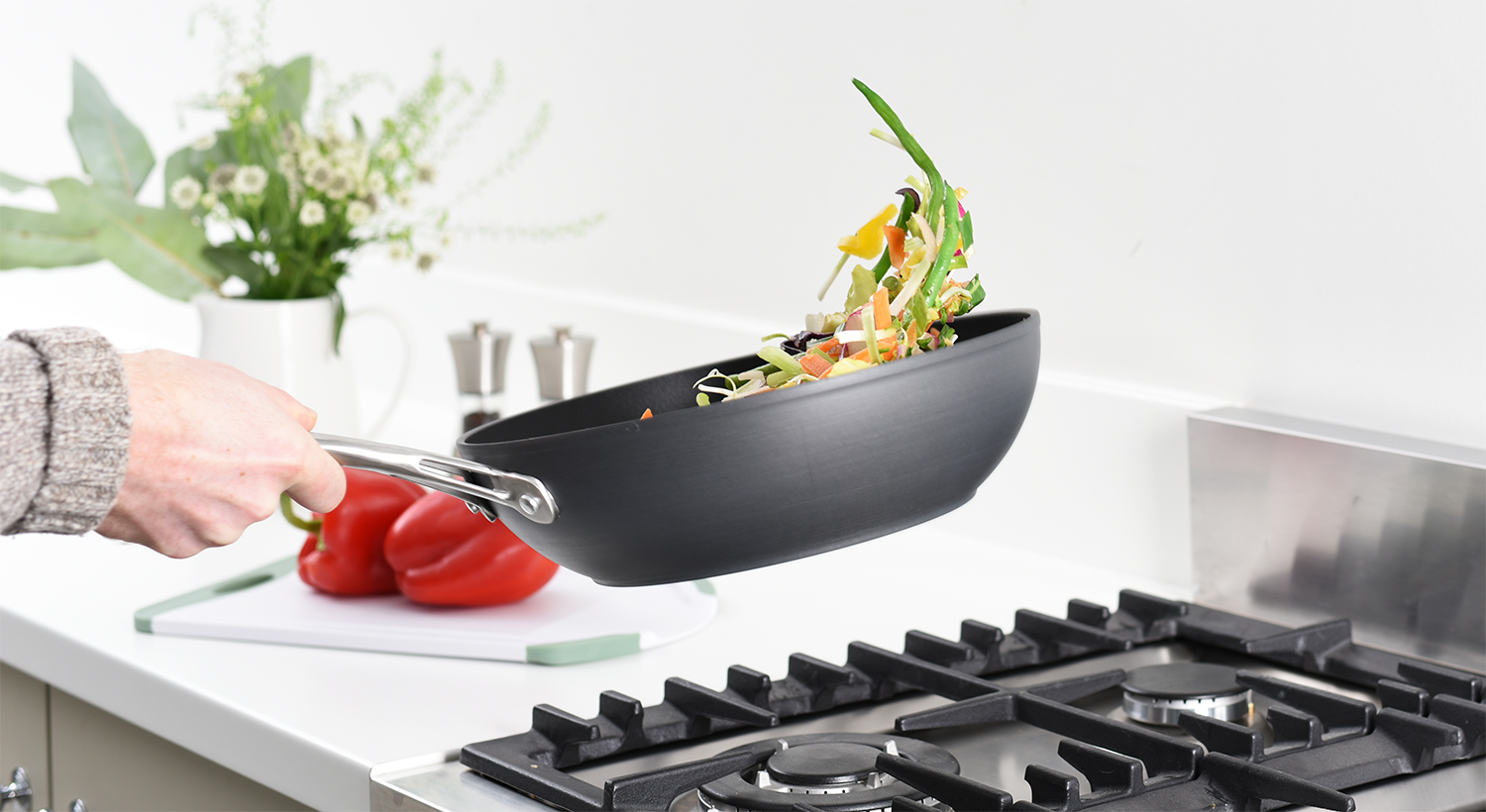 It's important to look after this type of cookware to protect the non-stick coating, heating the pan gently and ensuring you use utensils that will not scratch the surface. We suggest opting for silicone or wood options to minimise the chance of accidentally damaging the non-stick coating, but there's no need to be afraid of using ProCook non-stick cookware as all our non-stick cookware is oven safe up to 260°C (with the exception of our Granite range that is 180°C), is dishwasher safe and can be used on all hob types including induction.

Thanks to its smooth surface food is unlikely to stick to your cookware, so if you're hosting guests simply give your pans a quick rinse and leave to wash up at the end of the night without fear of any extra elbow grease. For those who are always on the go non-stick cookware offers superb even heat distribution meaning that your food cooks even faster than before but take care to keep your pan on a medium heat for a steady temperature than doesn't harm the non-stick coating.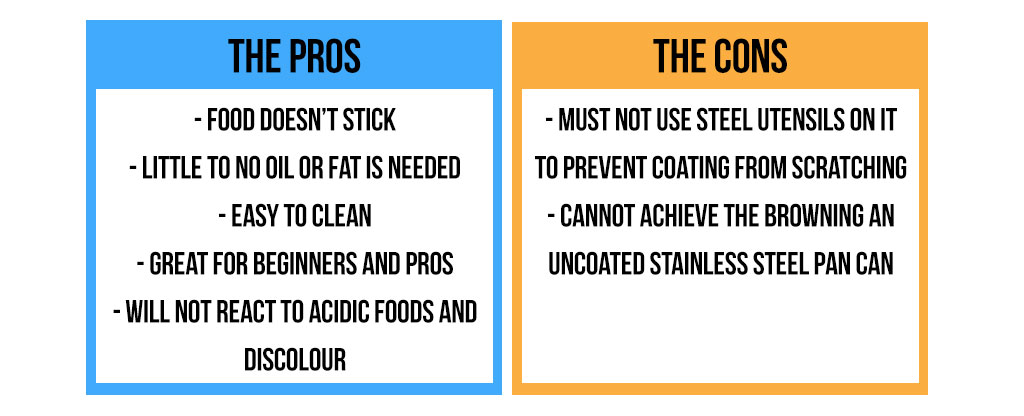 So should you buy uncoated or non-stick cookware? Well, we think the answer is both. There are some fantastic benefits to both types of cookware and we think that they're suited to different tasks. If you're making something and you want a beautiful brown colour to it then stainless steel is best suited to the job, whereas something that needs to be moved around a pan quickly like a stir fry is best suited to a non-stick pan. If you're making something that is going to require a lot of heavy mixing then a stainless steel pan is probably best thanks to its durability and ability to better withstand heavy use of hardy utensils, but a dish that is happy to bubble away with little movement is easiest to prepare in a non-stick pan.
There is no right or wrong answer to which you should buy and it ultimately comes down to which benefits and drawbacks best suit your cooking style and your personal preference. If you're still not sure why not pop into your local ProCook store and get a feel for the pans yourself? You can find your nearest store on our Store Locator.