Valentine's Day is a great excuse to treat yourself, your other half (or your galentine's!) to a well-cooked and somewhat indulgent meal in, and we've got everything you need to make sure your night goes without a hitch. Avoid the restrictive set menus and the queues at the door and choose your favourite dishes that usually you just don't have time for or have been meaning to try for ages and make them the focus of your evening, as we all know there's no quicker way to someone's heart than through their stomach.
Valentine's needn't cost the earth and we are strong believers in the age old motto of 'it's the thought that counts', and we're sure that your loved ones will agree when they walk in to a delicious meal on the table for you to enjoy together with a glass of bubbles or your favourite red, served alongside some tasty starters and fresh crusty bread.
Below you can see our top picks for the ultimate Valentine's night in…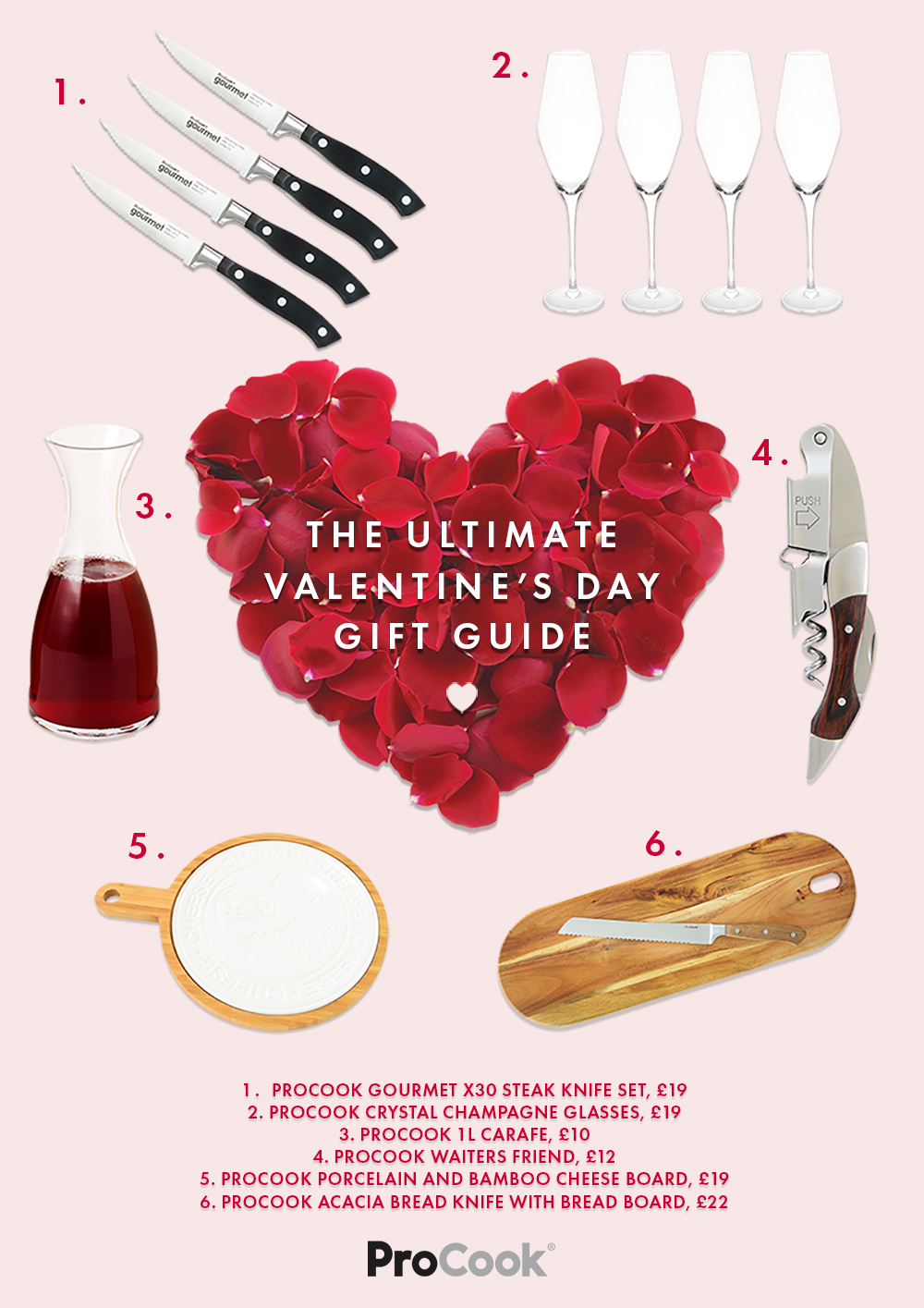 1. PROCOOK GOURMET X30 STEAK KNIFE SET, £19
The Gourmet X30 Steak Knife Set has strong and sharp serrated edges for cutting through thicker cuts of meat which makes tucking into a juicy steak a breeze, no more accidental slipping off the edge of your plate or flying sauce splatters staining your top ensuring you make only the very best impression this Valentine's.
Available to buy here.
2. PROCOOK CRYSTAL CHAMPAGNE GLASSES, £19
With smooth, slanted sides and long sophisticated stems the ProCook crystal champagne glasses will dress your table with elegance and sophistication, and what more could you want for a romantic meal for two? The attention to detail by choosing crystal glasses won't go unnoticed and with four in a box,  you'll have plenty on hand to keep the bubbly flowing if you're dining with friends.
Available to buy here.
3. PROCOOK 1L CARAFE, £10
If your choice of tipple on Valentine's is a bottle of quality red in place of the bubbly, we think you'll love our 1L carafe – it's offers the same touch of elegance as the champagne glasses and with it's reassuringly weighty feel you won't have to worry about your tipple, toppling. This carafe is also a great way to serve chilled water to save you getting up from the table time and time again, putting your guest at ease as they can easily help themselves without having to disrupt the evening.
Available to buy here.
4. PROCOOK WAITERS FRIEND, £12
If you're looking to impress this Valentine's, the last thing you want to show you up is a cork that just won't budge. The ProCook Waiters Friend has been designed to tackle even the toughest of corks and with a classic wood design partnered with a stainless steel contemporary twist, this piece looks stylish as well as being practical.
Available to buy here.
5. PROCOOK PORCELAIN AND BAMBOO CHEESE BOARD, £19
Perfect for entertaining, this round cheese board is a great way to indulge in an after dinner treat and we recommend buying a few cheeses you may not have tried before this Valentine's Day as it's a great way to start a conversation, have a giggle and bond over the cheeses you love (and the ones you'd rather forget!).
Available to buy here.
6. PROCOOK ACACIA BREAD KNIFE AND BREAD BOARD, £22
Whether you use this for cutting and sharing bread during your meal, or for serving charcuteries or nibbles to break the ice this bread board is a great size and shape to lay between you and your guest and once your meal is over, the board features a handy hanging loop making it easy to store away.
Available to buy here.
---
Stuck for what to serve for your Valentine's meal? How about our Heart Shaped American Pancakes or sticking with the classics and serving a tender and juicy steak?