We are looking for 4 truly deserving people to receive a non-stick cookware set free of charge to put to the test in their own home through a series of challenges, the catch? We just want you to film yourself taking part! Take a moment to read our T&Cs and Entry Criteria before you apply to join our review panel.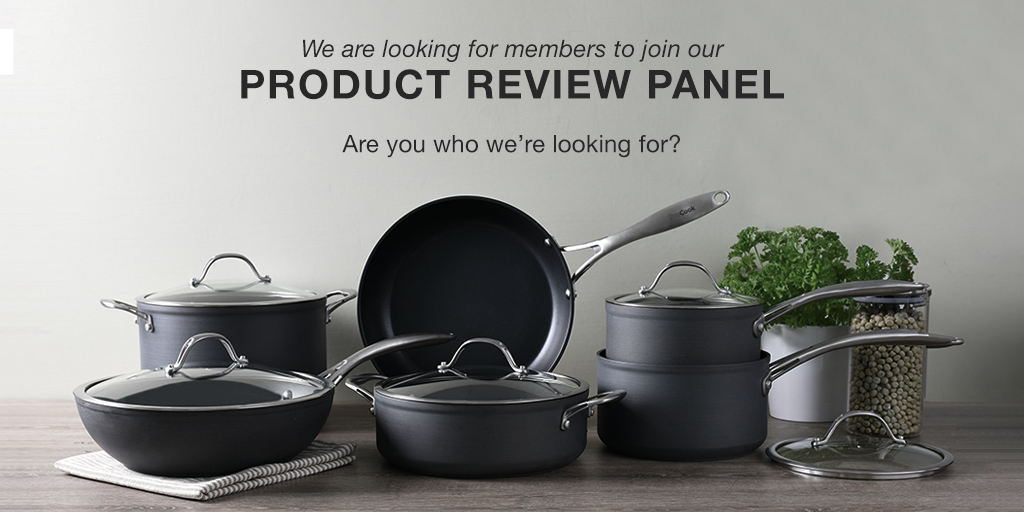 Review Panel: Terms and Conditions
The Promoter: ProCook (ProCook Ltd.), ProCook, Davy Way, Waterwells, Gloucester, GL2 2BY, (registered in England and Wales, registered company number 06639057).
This prize promotion is open to UK residents (England, Scotland, Wales and Northern Ireland) aged 18 years or over, excluding employees and their immediate families (spouse, parent, child, sibling, grandparent and/or "step" family), of The Promoter, associated agents or anyone professionally connected with the prize promotion.
Prize: ProCook Professional Anodised 4 Piece Sets for each of the four chosen panel members
Promotional Period: Wednesday 7th October 2020 until midnight on Wednesday 14th October 2020. Any entries received after this time will not be valid.
Entry Instructions: Like the post pinned to the top of either the ProCook Facebook or Twitter feed and leaving a comment on the same post with the reason you think that you or your nomination should be selected as a panel member.
Any entries that the Promoter consider (in our absolute discretion) to be dangerous, vulgar, offensive, indecent, illegal racist, copied, offensive, cruel or fraudulent, or infringe on the rights or copyright of others will be immediately disqualified.
Incomplete or late entries will not be accepted and proof of sending will not be accepted as proof of delivery or receipt. No responsibility can be accepted for entries that are incomplete, lost due to technical reasons, corrupted, delayed, wrongly delivered, or not received for whatsoever reason.
No third party or bulk entries. If the Promoter suspects that any individual or household is behaving dishonestly and creating multiple accounts, false identities, multiple reproduced or computer-generated entries these participants will be disqualified, and any prize entitlement will be void.
Choosing the panel members: The selection will be chosen randomly by a digital random generator from all entries that meet the criteria and regardless of platform entered on.
Announcing the chosen panel members: The Promoter will post on both Facebook and Twitter with the names of the chosen panel members, tagging where possible and the chosen panel members will have 7 days to respond before their position is forfeited and a new member selected.
It is the responsibility of the entrant to provide correct, up-to-date details when entering the prize promotion and acceptance of the prize. The Promoter cannot be held responsible for winners failing to supply accurate information which affects prize acceptance or delivery of their prize.
Promoter's decision is final and binding. Entry implies acceptance of these terms and conditions.
There is no cash alternative, in whole or part.
The Promoter reserves the right to substitute a prize of equal or greater value should circumstances outside its control make this necessary.
The Promoter reserves the right to verify winners and ask for proof of identity, age and address and to withdraw prize entitlement where there are reasonable grounds to believe there has been a breach of these terms and conditions.
You agree that if you are chosen as a panel member, you will take part in and co-operate fully with reasonable publicity and to the use of your name, photograph and any comments in such publicity without any fee being payable.
By entering the Promotion, each entrant grants the Promoter a world-wide, perpetual, irrevocable, non-exclusive, transferable, royalty free and sub-licensable right and licence to use reproduce, modify, adapt, publish or display (in whole or in part) any intellectual property contained in the content of their entry, without royalty, payment or other compensation. Each Entrant agrees not to assert any moral rights in relation to such use and warrants that they have full authority to grant such rights.
Entry into the Promotion is at the entrant's sole risk. To the extent permitted by law, the Promoter does not accept any responsibility for any damage, loss, liabilities, injury, costs, expenses or claims (whether in contract, tort or otherwise) suffered by entrants or any third parties arising out of or in connection with the Promotion and/or accepting a prize. The Promoter further disclaims liability for any injury or damage to entrants or any other person relating to or resulting from participation with this Promotion save that nothing in these terms and conditions shall act to limit or exclude the Promoter's liability resulting from its negligence or fraud.
If for any reason, the Promotion is not capable of running as planned for reasons (including but not limited to tampering, unauthorized intervention, fraud, technical failures or any other causes beyond the control of the Promoter which corrupt or affect the administration, security, fairness, integrity or proper conduct of this Promotion) the Promoter reserves the right to cancel, terminate, modify or suspend the Promotion.
If an act, omission, event or circumstance occurs which are beyond the reasonable control of the Promoter and which prevents the Promoter from complying with these terms and conditions the Promoter will not be liable for any failure to perform or delay in performing its obligation.
If any of these clauses should be determined to be illegal, invalid or otherwise unenforceable then it shall be severed and deleted from these Terms and Conditions and the remaining clauses shall survive and remain in full force and effect.
Participants must be able to fulfil the activity before the date agreed between the Promotor and the participant or their place on the panel will be forfeited and a new participant selected.
Participants must agree in writing that they will not share their content elsewhere, and will send it directly to the Promoter upon completion.
Contact: chosen panel members will require an email address to be shared with the Promoter for challenge instructions and care guides to be distributed to. Failure to provide will disqualify the individual from the process.
Entry critera: See below. Should this not be fulfilled by the selected panel members, their place will be disqualified and a replacement member selected.
Content: Participants agree that they will not share their content elsewhere, and will send it directly to the Promoter upon completion.
The Promotion and these terms and conditions, and any disputes arising there from, shall be subject to English law and the exclusive jurisdiction of the English and Welsh Courts.
Data Protection: Any personal information that entrants share with the Promoter will be kept secure and only used in line with these terms and conditions.
Entry Criteria
Participants must be UK residents aged 18 and over only.
Participants must be willing to film themselves and the challenges, and give permission for the Promoter to use this content within their marketing materials without fee (see more in the T&Cs above).
Participants must have access to a video recording device and have a good understanding of how to use it. We will need all footage to be in focus and in the correct aspect ratio (portrait/landscape).
Participants must have access to a hob in order to complete challenges.
Participants will require Internet access in order to communicate with ProCook and send all content captured upon completion.
Participants cannot be employees of ProCook, ex-employees of ProCook or family members of ProCook employees.
Participants must have a valid email address for communication purposes.