If there is one cake you need to master, it's the classic Victoria Sponge. As a British staple this cake can be wheeled out on any occasion and is guaranteed to receive a warm reception every single time. The simple base flavours make it the perfect cake to really experiment with, perhaps swap out vanilla for a chocolate and peppermint sponge or swap the whipped cream filling for a silky smooth chocolate ganache and really make it your own.
One of the great things about a Victoria Sponge is just how versatile it is; whether it is a birthday cake, an afternoon tea treat or dessert, the Victoria Sponge can be wheeled out on many occasions and once you've mastered it you can believe us when we say you'll be asked for it time and time again. There is nothing more satisfying than a well made Victoria Sponge after all!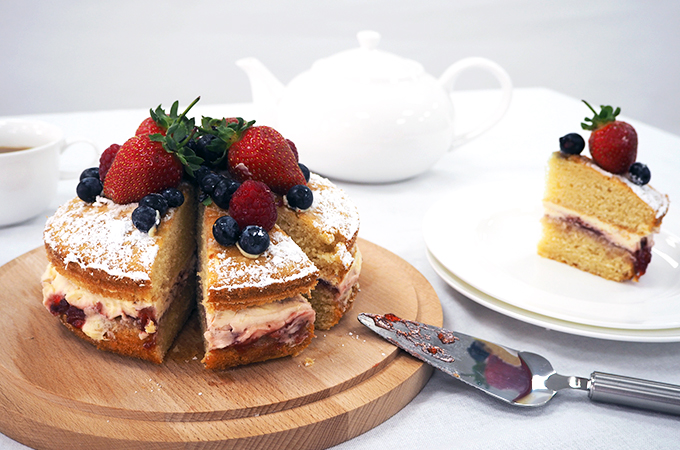 All you need to make this tasty afternoon treat is a mixing bowl, a whisk, a sieve, two cake tins, a palette knife and a flour sifter for your icing sugar. In the mood for baking but don't fancy making a whole cake? Our Chewy Chocolate Chip Cookies may be more to your taste, and we believe we have the recipe for the perfect amount of chewy gooey goodness.
225

g

unsalted butter

225

g

caster sugar

225

g

self-raising flour

4

free range eggs

1

tbsp

baking powder

1

tsp

vanilla extract

4

tbsp

raspberry jam

4

tbsp

whipped cream

1

handful

fresh raspberries

2

tbsp

icing sugar (to dust)

1

handful

mixed berries (optional)
Preheat the oven to 180°C, grease your cake tins with butter and line the base with a circular piece of greaseproof paper.

Add the butter and caster sugar to a large mixing bowl and beat together until smooth with a wooden spoon.

Add 1 egg, then 1 tbsp flour and mix well. Repeat until all the eggs have been used.

Sift in the remaining flour, add the baking powder and fold gently until it's incorporated thoroughly and you can see pockets of air. Add the vanilla extract and mix again, being careful to not overmix and taking the air back out from the mixture.

Spoon into your cake tins and bake in the oven for 25 minutes.

Remove from the oven and allow to cool on a wire rack before spreading the top side of one cake with the raspberry jam, smoothing with a palette knife. Then spoon on the whipped cream and smooth again before topping with the fresh raspberries.

Place the other cake flat side down onto the raspberries, before topping with icing sugar and fresh mixed berries (optional).