Whether it's for breakfast, lunch or brunch, there is nothing better than tucking into a hefty bacon sandwich on the weekend. We decided to spruce things up a little around here by adding grilled chicken breast, slices of avocado, lettuce leaves and slices of fresh tomato to create what we think is the ultimate bacon sandwich.
We're not totally adverse to the addition of sauces if you feel strongly that no bacon sandwich is complete without a splash of Ketchup or Brown Sauce, but we liked to keep ours feeling a little lighter with the avocado and bacon flavours taking pride of place. Once you have grilled your chicken, pop it into a pre-warmed oven (using a pair of tongs to prevent any burnt fingers) on a really low heat to keep it warm whilst you're cooking your bacon and prepping your other ingredients.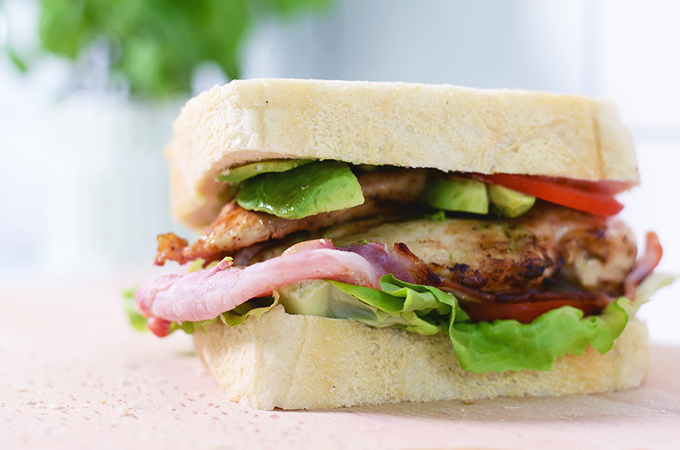 Simply use an avocado scraper and a sharp knife to make creating this dish as easy as possible on a Sunday morning. If you're not sure if your knife is sharp enough take a look at our piece about how to look after your knives to keep them lasting as long as possible.
If you're feeling particularly indulgent (and who isn't on the weekend?) you could even pop your slices of bread into the pan you cooked your bacon in to soak up a little of the fat and toast slightly.

1

chicken breast

3

slices

smoked bacon

½

avocado

1

beef tomato

2

lettuce leaves

2

slices

crusty white bread

1

tsp

mayonnaise (to spread)
Fry or grill the chicken breast until cooked all the way through.

Fry or grill the bacon until cooked to your liking (we'll let you decide whether it's still meaty or super crispy!)

Remove the flesh from the avocado and slice into small pieces. Slice the tomato into thin slices and set aside.

Thinly spread mayonnaise onto both slices of bread before adding lettuce leaves, sliced tomato and 2 of the bacon rashers. Top with the cooked chicken breast, avocado and add the final piece of bacon before finishing with your second slice of bread.