When we're fortunate enough to be graced with sunshine here in the UK we become a nation of BBQ enthusiasts and head straight to our local supermarket to stock up on bread rolls, sausages and salads. Corn on the cob is a popular choice and a delicious one at that, but this year we're stepping things up a level by adding a Mexican twist to this side dish that will leave you dissatisfied with regular corn on the cob forevermore. With a sweet smoky Paprika tang, a squeeze of lime, a melted butter glaze and a sprinkling of coriander we're sure you're going to wonder why you've never tried this dish before and we recommend making your life easier with using some of our ProCook Corn on the Cob holders coming soon.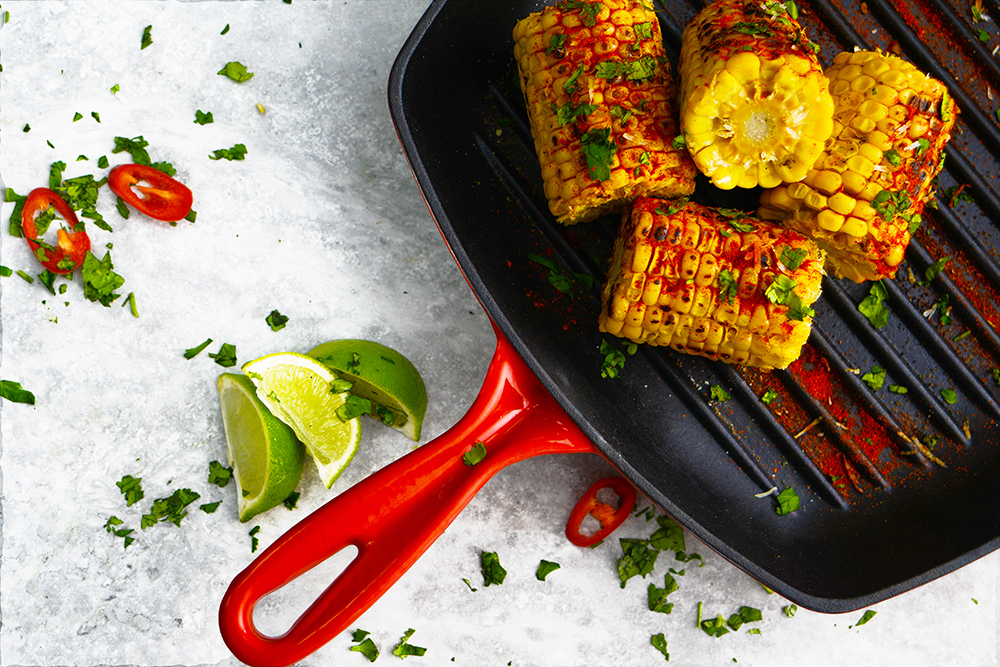 This recipe is perfect for even the most amateur of cooks, and can either be cooked on a BBQ or one of our ProCook Cast Iron Griddles which are perfect for when the weather takes a turn for the worst and your BBQ makes an impromptu relocation indoors. The only things you'll need are large pan (our Gourmet Stainless Steel range is perfect for this thanks to it's handy strain and pour design!), a pastry brush and a pair of tongs to whip up these tasty Corn on the Cob's, and we recommend serving with a couple of lime wedges for that final Mexican kick. For the ultimate BBQ spread we recommend our Spiralized Waldorf Salad and our Greek Souvlaki Pork for a feast drawing on the very best flavours from around the globe.
This is an adaptation of this Jamie Oliver recipe.
8

mini corn on the cobs

60

g

melted butter

2

tsp

smoked paprika

100

g

grated Pecorino Romana cheese

(you can also use Parmesan)

2

limes

(quartered)

2

tsp

chilli flakes

1

handful

chopped coriander

2

pinches

salt

2

pinches

black pepper
Fill a large pan with water and bring to the boil. Carefully using tongs add your pieces of corn to the pan taking care to place them in carefully to avoid any splashes of boiling water.

Leave to simmer for 15-20 minutes until the corn has softened.

Drain the water from the pan using the strain and pour lid before allowing the corn to dry.

Using a pastry brush paint the corn with ta little of the melted butter and sprinkle with salt and pepper.

Preheat a griddle to a high heat and using tongs carefully place the corn onto the griddle, turning occasionally until lightly toasted.

Pour the remaining melted butter into a shallow bowl or high-sided plate and place the cheese on a side plate. Gently roll the toasted corn in the melted butter before sprinkling with paprika and chilli flakes and then roll in the cheese.

Serve topped with coriander and a wedge of lime.