Souvlaki is a popular Greek dish where meat (traditionally pork) is skewered, grilled and served with pitta or grilled bread. We've made this tasty dish a little lighter by serving it in a wrap with some blackened peppers and Tzatziki. Alternatively for a heavier evening meal try serving your Souvlaki with sautéed potatoes instead of a wrap.
There's no need to keep this tasty dish reserved just for warmer summer weather either, we love the fresh flavours of Souvlaki and Tzatziki all year around and think this healthy wrap is a great choice for a lunch box meal. Simply fold up one end of the wrap before folding both of the remaining long sides over the top of the filling and wrapping it up in tin foil. There you have it – a healthy and delicious lunch that'll make you the envy of everyone in the office… soggy sandwiches don't sound quite so appetising now, do they?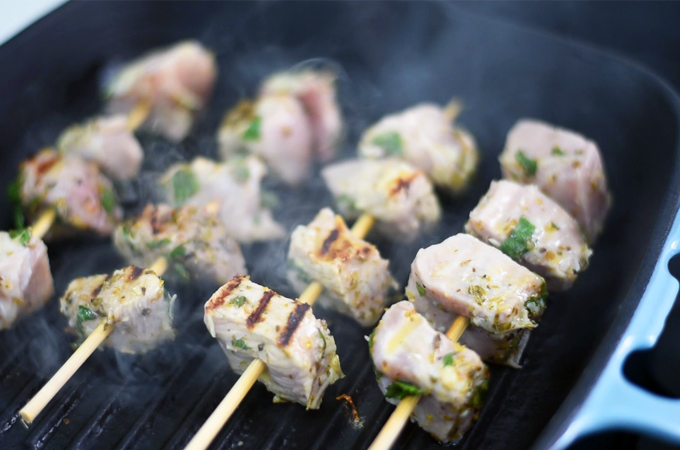 All you need to make this Greek dish is a large mixing bowl, some skewers and a griddle!
Looking for light summer dishes? Then we recommend our Spiralized Waldorf Salad or Veg, Lemon and Pasta broth that both boast a healthier set of ingredients but are still packed full of flavour.

800

g

leg of pork

1

tbsp

chopped fresh mint

1

tbsp

dried oregano

1

lemon (juiced)

100

ml

olive oil

2

cloves

grated garlic

1

tbsp

red wine vinegar

1

handful

rocket leaves

4

tbsp

tzatziki

2

large

Romano peppers (blackened and sliced)
If using wooden skewers cut to the size of your griddle pan and soak in water to stop them from burning.

Add all of the ingredients to a large bowl and mix well. Cover with cling film and leave in the fridge for 30 minutes.

Pre-heat a griddle pan on a high heat. Pierce the pork cubes with your skewers leaving space between each piece to aid even cooking.

Cook for 8-10 minutes, turning often. When the skewers look just about ready warm up your wraps.

Add the rocket leaves to the centre of the wrap if wanted and top with a spoonful or two of Tzatziki.

Add the meat from one skewer and top with the blackened Romano peppers (optional).

Fold the bottom of the wrap up first, then fold the two sides over and into the middle for a tight wrap that's easy to enjoy!