Pancakes shouldn't just be enjoyed on Shrove Tuesday, we think they're a tasty breakfast all year round and lend themselves to being topped with a whole host of delicious ingredients to make these a delightfully indulgent weekend treat. We're dipping into the ProCook archive for these tasty pancakes, but we are firm believers in the idea that some recipes stand the test of time and this is certainly one of them! We've topped them with blueberries and runny honey in our video, but another favourite of ours is maple syrup and beautifully crispy bacon for a more authentic American take on pancakes, or why not try chopped banana and peanut butter? The options are endless and we would love to hear what your go-to toppings are for these thick and fluffy American style pancakes.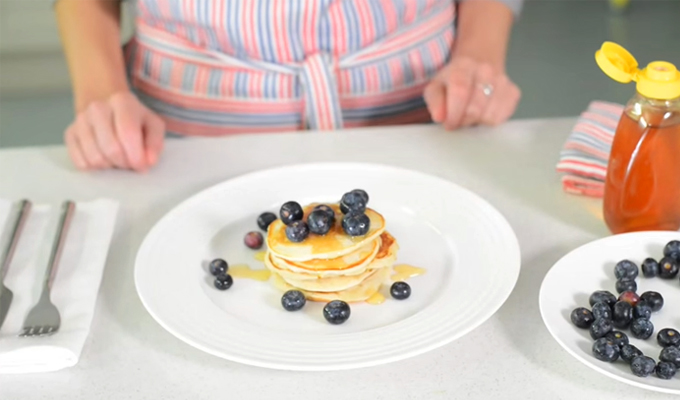 Easy to make and a perfect indulgence on the weekend for lazy mornings, we're confident our American Style Pancakes are sure to be a hit in your home. All you'll need is a frying pan or crepe pan, a sieve, a large mixing bowl, a whisk, ladle and a turner, it's as easy as that! These are a great recipe for getting little ones involved and they'll love to help decorate them at the end, just make sure they are kept clear of hot pans during cooking to avoid any burnt fingers. You could try adding blueberries to the batter before cooking, or dropping them into the poured mix while the first side is cooking, just remember that when you flip them they may cooking a little faster and burn so keep an eye on them to avoid spoilt
If you have a craving for pancakes but these aren't quite grabbing your fancy, you may be interested in our Nutella Stuffed Pancakes that take indulgence to the extreme.
280

g

plain flour

450

ml

buttermilk

2

free range eggs

2

tbsp

sugar

75

g

melted butter

3

tsp

baking powder

1

pinch

salt
Sift the flour and baking powder into your large mixing bowl before making a well in the centre and cracking in the eggs

Pour the buttermilk and melted butter into the well and whisk until a smooth batter is formed

Grease your crepe or frying pan with an oiled kitchen towel and then add four ladles of batter to the heated pan

Allow to cook for 1-2 minutes until bubbles appear before flipping and cooking for a further 30 seconds

Serve straight away with the toppings of your choice