Mince pies are a yuletide tradition enjoyed up and down the country, but with so many options on the shelves nowadays it can be tricky to pick your favourite. There are so many elements to a great mince pie – crumbly pastry, plenty of filling and being just the right size for an afternoon treat, but why spend your time trawling the shops when you can enjoy the perfect mince pie without even leaving the house*?
*Okay, you may have to leave the house… but only for a handful of ingredients!
Eager to get baking? Jump to Recipe.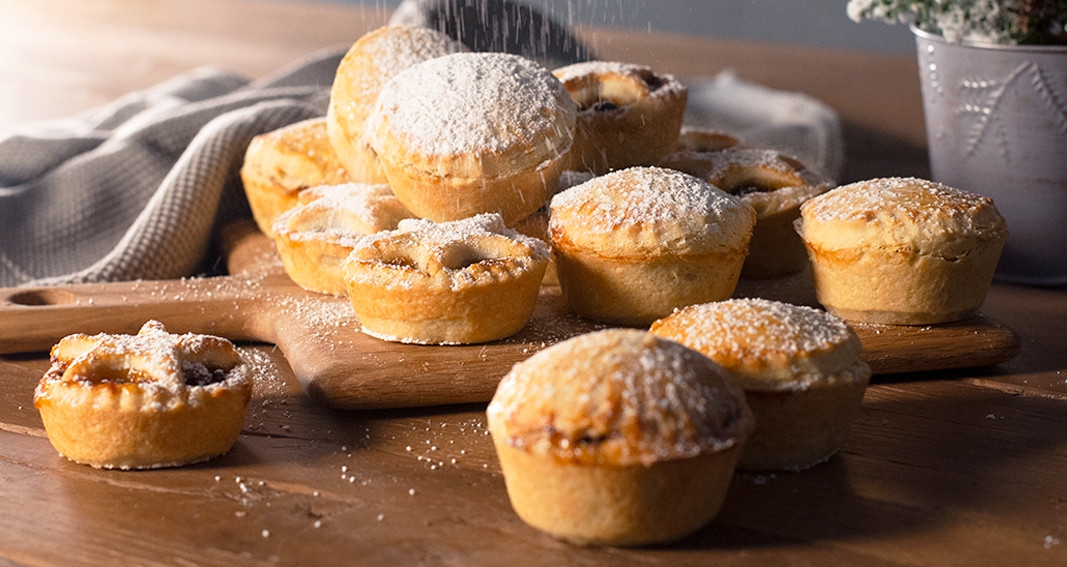 History of mince pies
Here in the UK we've been enjoying mince pies for hundreds of years, but they haven't always been the delicious festive treat that we know and love today. For many years, the humble pie didn't feature beautifully buttery pastry, or the delicious spiced mincemeat filling – instead it was more of a tasteless flour and water based dough that was wrapped around a filling with the sole purpose to keep it moist whilst in the oven. As time went on, the pie began to evolve but even when fat was added to the pastry, it was still far from the buttery pastry we expect today.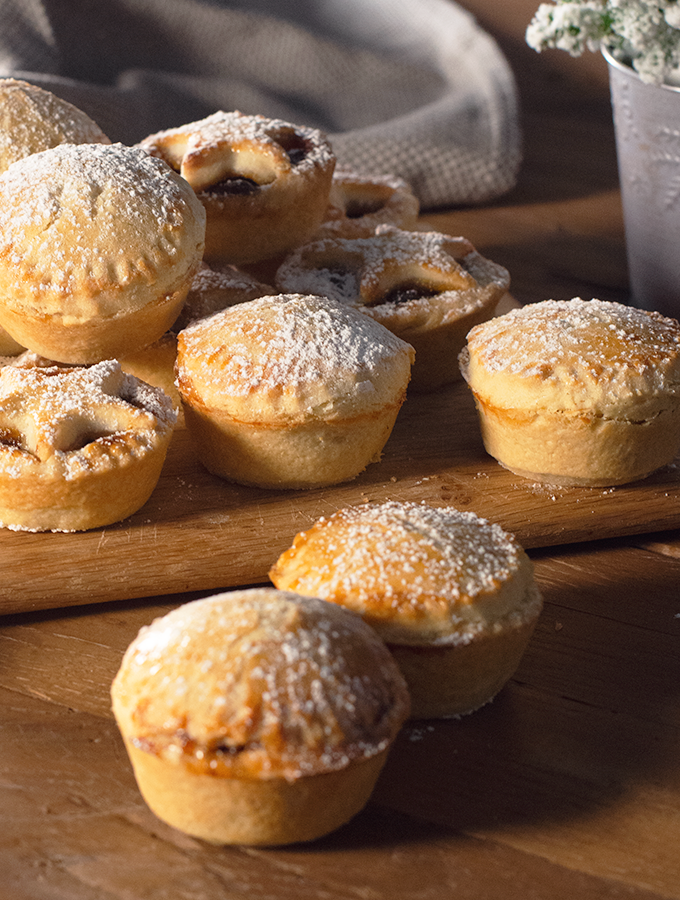 The first recorded recipe for the pie was in the 1390 British cookbook, A Forme of Cury but don't be fooled – this recipe is still a long way from the mince pie you'll find in the shops today. Hard-boiled eggs, cheese and ground pork are all on the list alongside a mix of sugar, saffron and spices. By 1615 however, the pie had begun to evolve into something slightly more familiar, dropping the eggs and cheese for currants, raisins, dates and orange peel. Interestingly, the meat was also changed – Gervase Markham's recipe (found in The English Huswife) swapped the ground pork for mutton.
So when did the mince pie drop the meat content and become firmly based in the sweet camp? The exact year is difficult to pinpoint, but in a recipe dated 1747 meat is listed as an optional extra and so could mark the start of the transition from a meat pie to a sweet dessert. As time went on, sugar became easier to get hold of and perhaps more importantly, much cheaper. As a result the sweet pies grew in popularity and by the Victorian era, it was hard to find a mince pie that still contained meat. Nowadays much to the confusion of any foreign visitors, our mince pies no longer contain any meat but are instead filled with a delicious blend of fruits and spices and if we're being honest, we much prefer them this way!

Making mince pies
Making mince pies is a great tradition to share with your loved ones, and even the tiniest of chefs will be able to help out with the rolling, stamping and filling of these sweet treats. We recommend leaving the mince pies to cool in the baking tray once you take them out the oven, so if you are baking these with small children make sure to keep these out of reach as they cool. This recipe has been adapted from a BBC Good Food recipe found here.
What you will need
How we made our mince pies
Printable recipe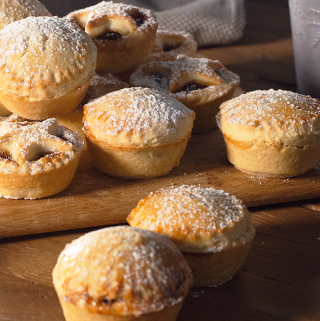 Deep-Filled Mince Pies
Ingredients
Pastry Ingredients
400

g

cold butter

(cubed)

700

g

plain flour

200

g

golden caster sugar

2

medium

egg yolks

4

tbsp

cold water

2

tsp

nutmeg

(optional)

1

beaten

egg

(for egg wash)
Almond Paste Ingredients
100

g

ground almonds

100

g

golden caster sugar

2

medium

egg whites

1

tsp

almond extract
Instructions
Making the pastry
Add the butter and flour to a large mixing bowl and rub together using your fingertips until it resembles fine breadcrumbs. You can also do this in an electric food processor.

Pour in the golden caster sugar and the nutmeg and mix well before making a well in the centre. Add the egg yolks and 1 tbsp of cold water and mix with a knife.

Keep adding a little water until the mix resembles a dough. Bring together to form a ball, split into two and wrap in cling film. Refrigerate.

Heat oven to 200°C/fan 180°C/gas 6.
Making the almond paste
Add all the almond ingredients to a medium mixing bowl and mix well with a wooden spoon to create a paste. Set aside.
Cutting the pastry
Unwrap one of your dough batches, and place between two lightly floured sheets of parchment paper. Roll out until approximately 3mm thick.

Lightly flour a fluted cookie cutter larger than the size of your tray, and stamp out 12 circles.

Lightly flour a smaller fluted cookie cutter and a small star cookie cutter and stamp out six of each.
Constructing the mince pies
Place your 12 larger circles into each hole in your baking tray, gently pushing to the edges.

Place 1 tbsp of mincemeat in each pie, taking care not to overfill your pies. Using a pastry brush, paint the edges of all of your pies with egg wash. Add ½ tbsp of almond paste to six of your pies.

Place your six smaller round circles on top of your pies filled with almond paste. Place your six stars on the remaining pies.

Using a fork, gently crimp the edges of your almond mince pies to seal.
Baking the mince pies
Pierce your almond mince pies twice with a sharp knife to allow the steam to escape during baking. Paint the tops of all your pies with egg wash before placing in the oven for 25 minutes until golden brown.

Remove from the oven and allow to cool in the baking tray before removing to a cooling rack.

Repeat the process with your second batch of dough, or freeze in cling film for up to 1 month. When defrosting the dough transfer to a fridge and allow to thaw for 1 full day before using.