This post is in partnership with Doughlicious
Sometimes we all need to indulge in a little sweet treat, and these Millionaire Cookie Bake Bites are the perfect size to satisfy anyone's sweet tooth. Made with a delicious chocolate chip cookie base in place of the traditional shortbread, the soft and chewy nature of these make them feel even more indulgent so we suggest putting them out of sight once baked… it's difficult to stop at one!

What you'll need to make these millionaire cookie bake bites
You could make your own cookie dough base for this recipe, but we used the incredibly tasty Doughlicious ready-to-bake cookie dough as not only did it mean that we could enjoy our chocolate-y bites of goodness even faster, but it's also gluten free with the same mouth-wateringly chewy consistency of a normal cookie – something that isn't always easy to achieve when omitting gluten. We used their Chocolate Chip cookie for our base but we think any of their cookies would make for a good base for this recipe, especially their Peanut Butter or Double Chocolate dough.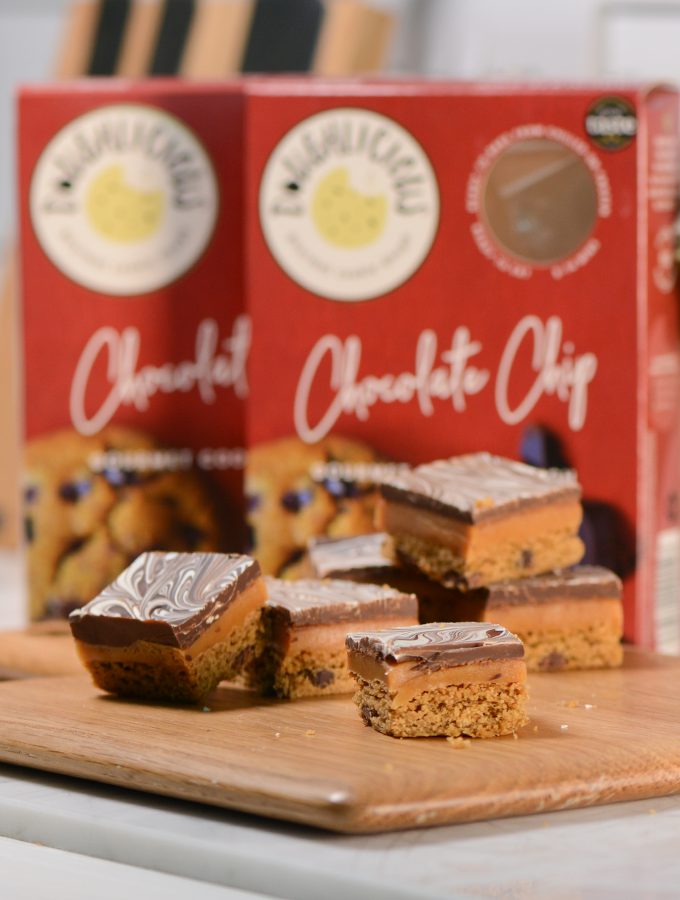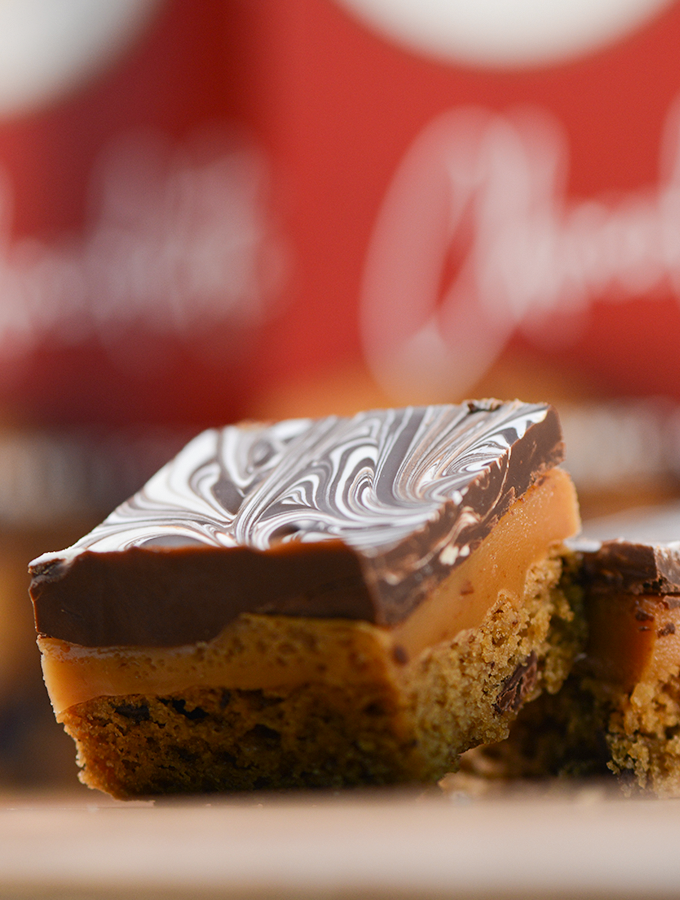 Ingredients
12 Chocolate Chip Cookie dough balls, at room temperature
1 x 397g can condensed milk
150g unsalted butter
150g soft brown sugar
3 tbsp golden syrup
200g dark chocolate
100g white chocolate
Method
Preheat the oven to 180ºC and line your tin with greaseproof paper
Bring all 12 balls of dough together before rolling out on a floured surface. Trim to fit the size of your tin and gently place the dough inside
Prick with a fork before baking for 12-15 minutes until golden brown. Set aside and leave to cool
Add the butter, sugar, condensed milk and golden syrup into a pan and heat gently until combined
Bring to the boil, before reducing to a simmer and stirring continuously for 10-15 minutes until you have a thick caramel
Pour the caramel over the cooled cookie base – take care as this will be very hot. Leave to cool completely, it should take a couple of hours
Melt the dark chocolate in a glass bowl over a pan of simmering water, stirring constantly. Pour over the set caramel and spread with a palette knife
Melt the white chocolate in the same way and pour over the dark chocolate. Draw a cocktail stick through the white chocolate to create a pattern
Leave to cool before placing in the fridge for a minimum of 4 hours (or overnight if you can)
See how we made them