Staying hydrated and drinking plenty of liquid each day is often at the bottom of people's agendas, but as we know that it is paramount for our health we started to wonder how we could turn drinking ordinary tap water into something much more exciting. It didn't take us long to realise that the answer is simple, tasty infusions that blend delicious fruity flavours with aromatic herbs for a drink that we just can't get enough of!
Not only do these recipes encourage us to stay hydrated with each flavoursome sip, they are also packed full of health benefits too – result! Our infusions are sure to brighten any garden party, BBQ or picnic but we think they're also great in cooler months when you crave that fruity taste of summer. One of the best things about these infusions is just how simple they are to make, all you need to do is chop up your ingredients as per the recipe instructions, pop them into a carafe, top with water and leave in a cool place to infuse for a minimum of two hours. For a more powerful flavour place your carafe into the fridge overnight and let your infusion work its magic, remembering to serve with ice the next day.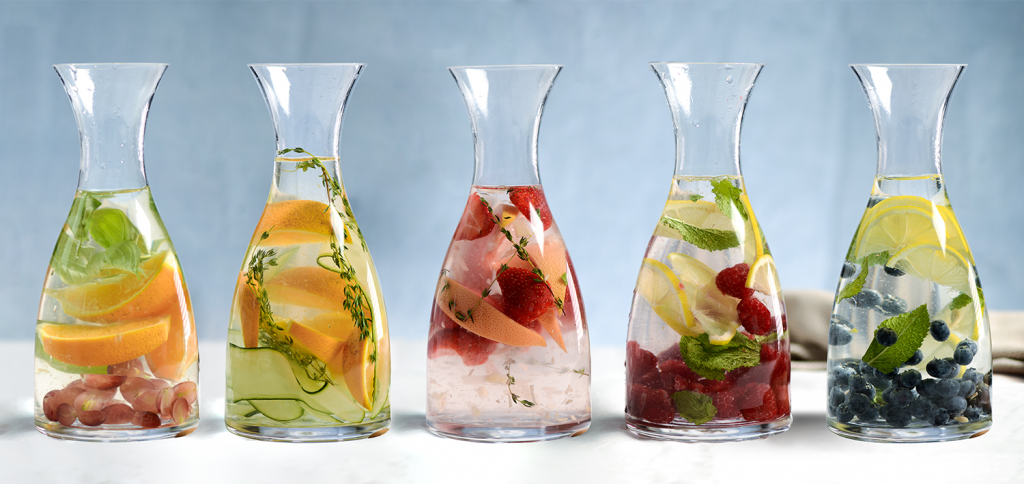 What you will need to make your fruit infusions
Check out some of our favourite infusion recipes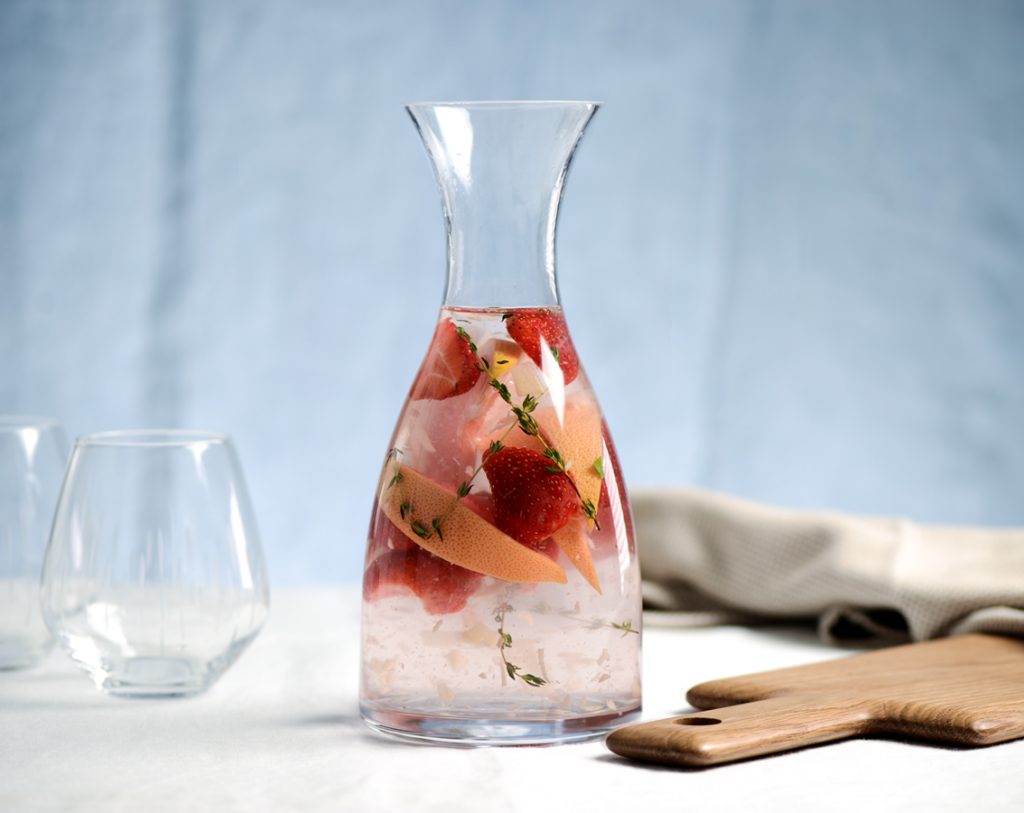 GINGER, GRAPEFRUIT, STRAWBERRY + THYME
The delicious combination of ginger, grapefruit, strawberry and thyme is a great way to quench your thirst during warmer weather. Ginger brings a real kick to this infusion, while the strawberries, particularly whist in season, bring a much-needed sweetness – be sure to look out for local producers or even pick-your-own!
60g sliced, raw ginger
1/2 grapefruit into wedges
45g strawberries, hulled and halved
2 sprigs of fresh thyme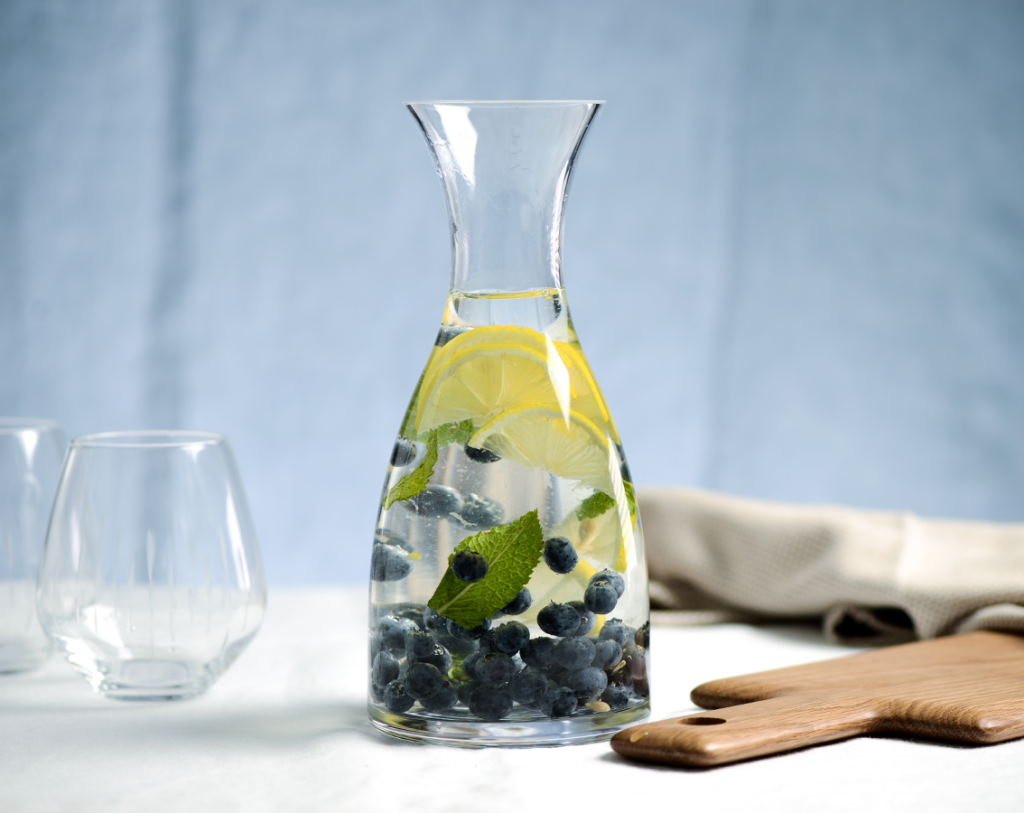 BLUEBERRY, LEMON + MINT
The perfect start to your day, this simple but effective mix of blueberries, lemons and mint will be sure to lift your morning mood. Not only that but this invigorating infusion also offers some brilliant health benefits too with blueberries being a powerful antioxidant known for their ability to boost the immune system. 
1/2 lemon, thinly sliced 
4 sprigs of mint
100g blueberries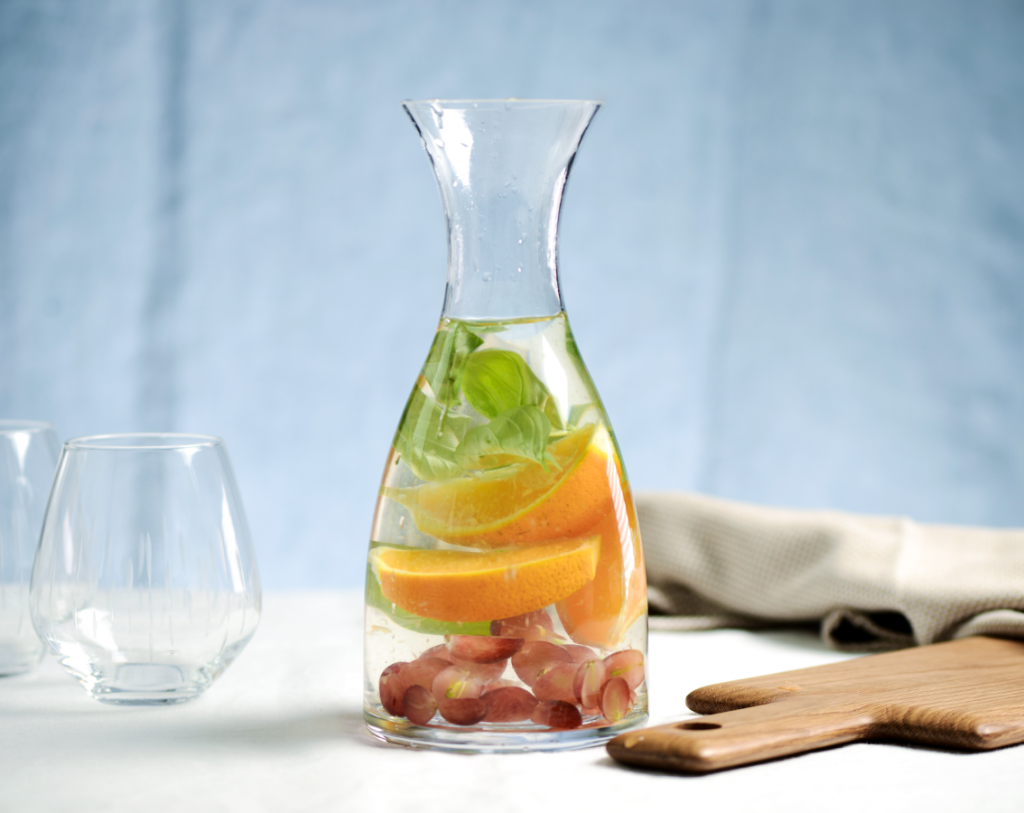 ORANGE, GRAPE + BASIL
This colourful medley of fruit and herbs is a fantastic way to elevate and uplift your summer dining table. Perfectly balancing the sweetness of grapes with the citrus flavour of orange, this delightful infusion makes for a wonderful afternoon refreshment. Try using sparkling water instead of still for a pick-me-up in place of sugary carbonated drinks. 
3 slices of orange
10 red grapes, halved
6 basil leaves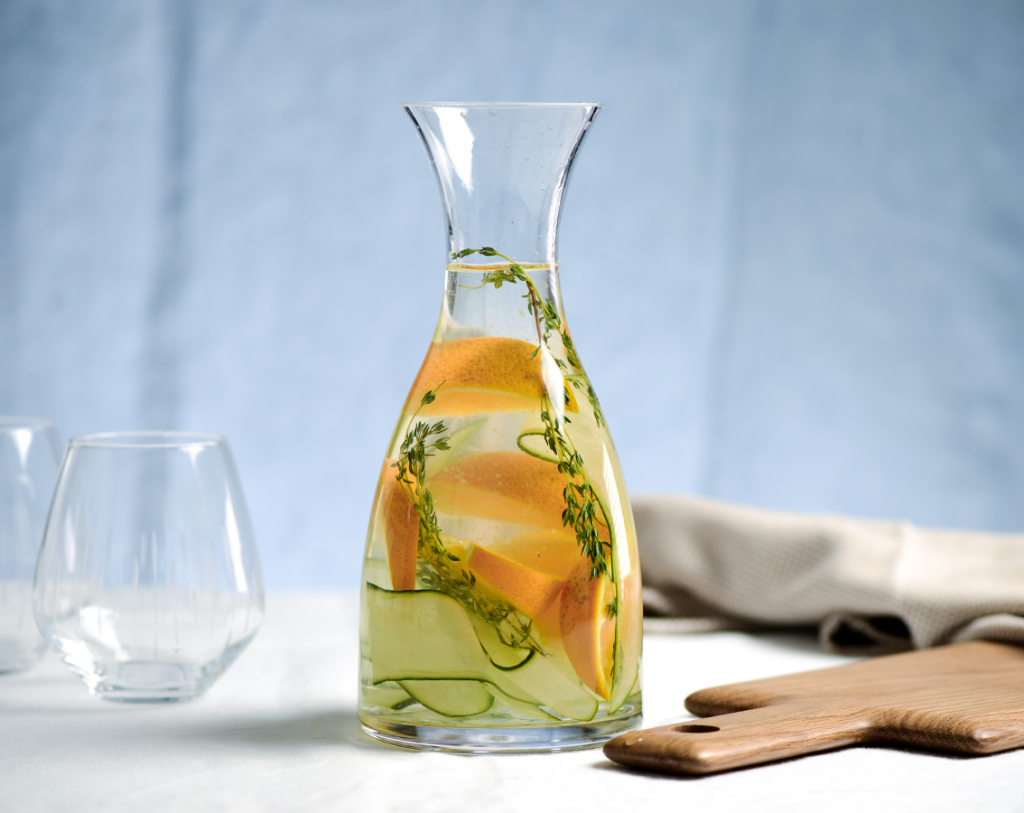 CUCUMBER, ORANGE + THYME
Take classic cucumber water to the next level with the addition of tangy orange and aromatic thyme. A wonderfully refreshing and relaxing drink, this new twist on the original will be sure to transform you back to the spa.
An incredibly popular infusion for good reason, cucumber offers sought-after antioxidant and anti-inflammatory properties. The inclusion of orange provides a healthy dose of vitamin C, whilst thyme is believed to have calming effects.
5 ribbons of cucumber
4 slices of orange
2 sprigs of thyme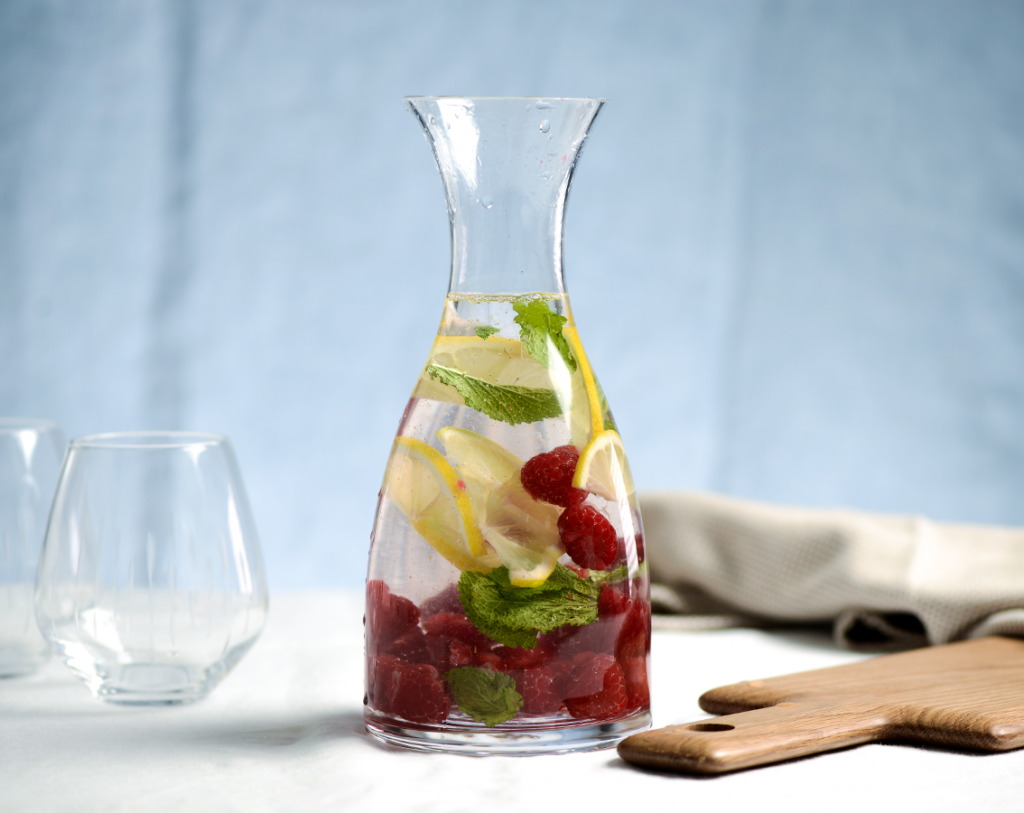 RASPBERRY, LEMON + MINT
Synonymous with summer, this fantastic infusion is a must-have on a warm, sunny day. Combining flavours of tart raspberry, sweet lemon and fragrant mint it is sure to excite the taste buds! If you're feeling like you want to further enhance these fruity flavours, try muddling your raspberries before adding to your carafe.
1/2 lemon, thinly sliced
100g raspberries (half muddled, half whole)
4 sprigs of mint
And of course, feel free to eat the fruit once you have finished drinking your delicious infused water!