We are passionate about encouraging people to cook at home, but we also know that life can sometimes get in the way. Finding simple recipes that take little time to prepare is a great way to stay inspired and the less there is to wash up at the end, the better. We think a pie is a great one pot meal all year round and the lack of finesse required when making this filo version makes it even quicker! Want to get straight to it? Jump to Recipe.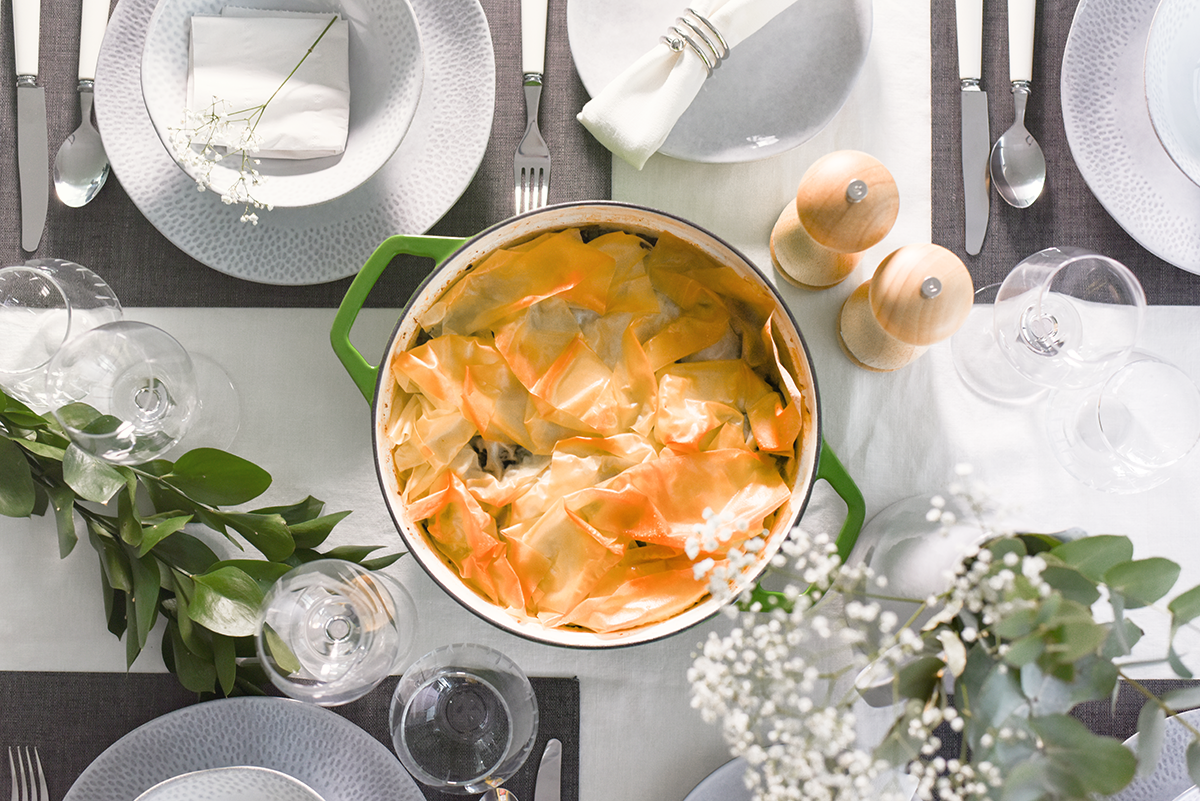 This easy recipe requires little effort beyond chopping vegetables and mixing your ingredients together, so it is perfect when you're looking for a tasty dish to serve friends with little notice. We think the light and fresh flavours of this pie make it perfect to enjoy in spring, but you can add different seasonal vegetables to make a great pie at any time of year.
By removing the heavy pastry often associated with pies in place of thin filo pastry, not only adds a delicious crunchy texture to the dish but is great when the temperatures begin to rise and we crave lighter and healthier dishes.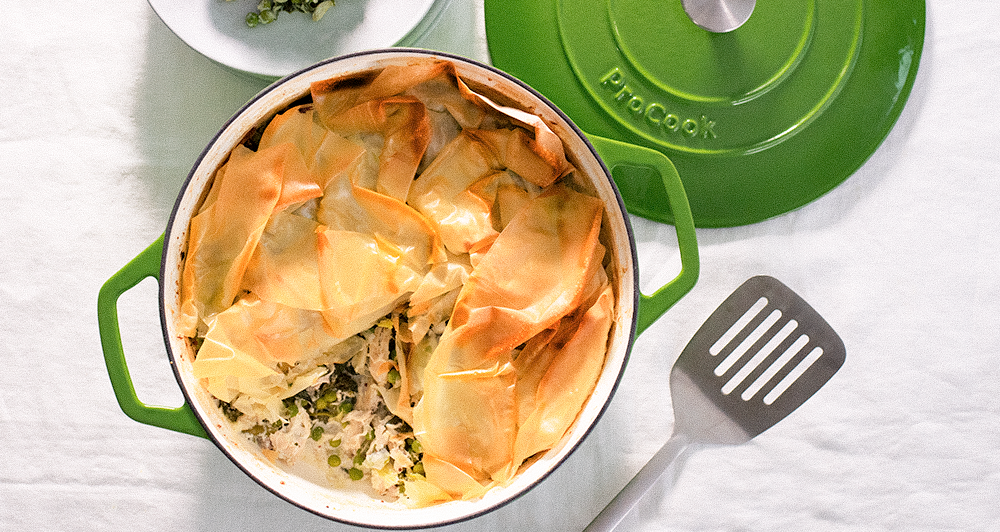 To make this pie you will need
Historians believe that the 'pye,' as it was originally referred to, was first created in Ancient Egyptian times where pastry was used to encase a filling to keep it moist and flavoursome. Although the fillings enjoyed by the Ancient Egyptians may not be quite the same as we're tucking into today, we love that all these years later new and exciting flavour combinations are still being created and may go some way to explain why the humble pie has fared the test of time so well.
Original recipe: BBC Good Food.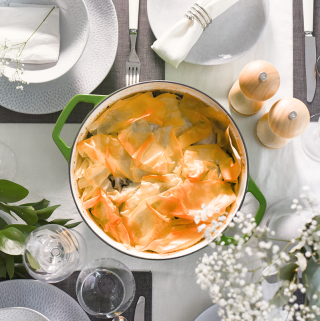 Chicken and Spring Vegetable Pie
Ingredients
2

tbsp

olive oil

1

bunch

spring onions

250

g

fresh spinach

400

g

cooked skinless chicken thighs

(shredded)

320

ml

chicken stock

(hot)

½

tbsp

wholegrain mustard

500

g

frozen peas

200

ml

crème fraîche

1

bunch

parsley

(chopped)

3

sheets

filo pastry
Instructions
Preheat oven to 200°C/180°C fan.

Slice the spring onions into 3cm pieces.

Heat the oil in your pan over a medium heat before adding the spring onions. Fry for 3 minutes until they begin to soften.

Add the spinach and cook for 2-3 minutes until it begins to wilt and reduce in size.

Pour the shredded chicken into the pan and stir through the hot stock and mustard.

Simmer and cook uncovered for 10 minutes.

Stir in the peas, crème fraîche and parsley before removing from the heat.

Scrunch the three filo sheets over the mixture, brush with oil and bake uncovered for 20 minutes or until golden brown.