If you're hosting a Halloween get together this year food is probably not far from your mind; snacks and nibbles are one of our favourite things about Halloween but what do you do if you're catering for vegan diets and all the sweet treats you've prepared/bought aren't suitable? Fear not – these vegan chocolate mousse graveyards are the perfect dish to prepare for these guests and are so delicious your non-vegan guests will love them too! The great thing about these mousse's is that you could even personalise the gravestones to make sure each guest has their very own mousse preventing anyone tucking into two… although we suggest making more than one per person as these spooky treats are bound to be a hit!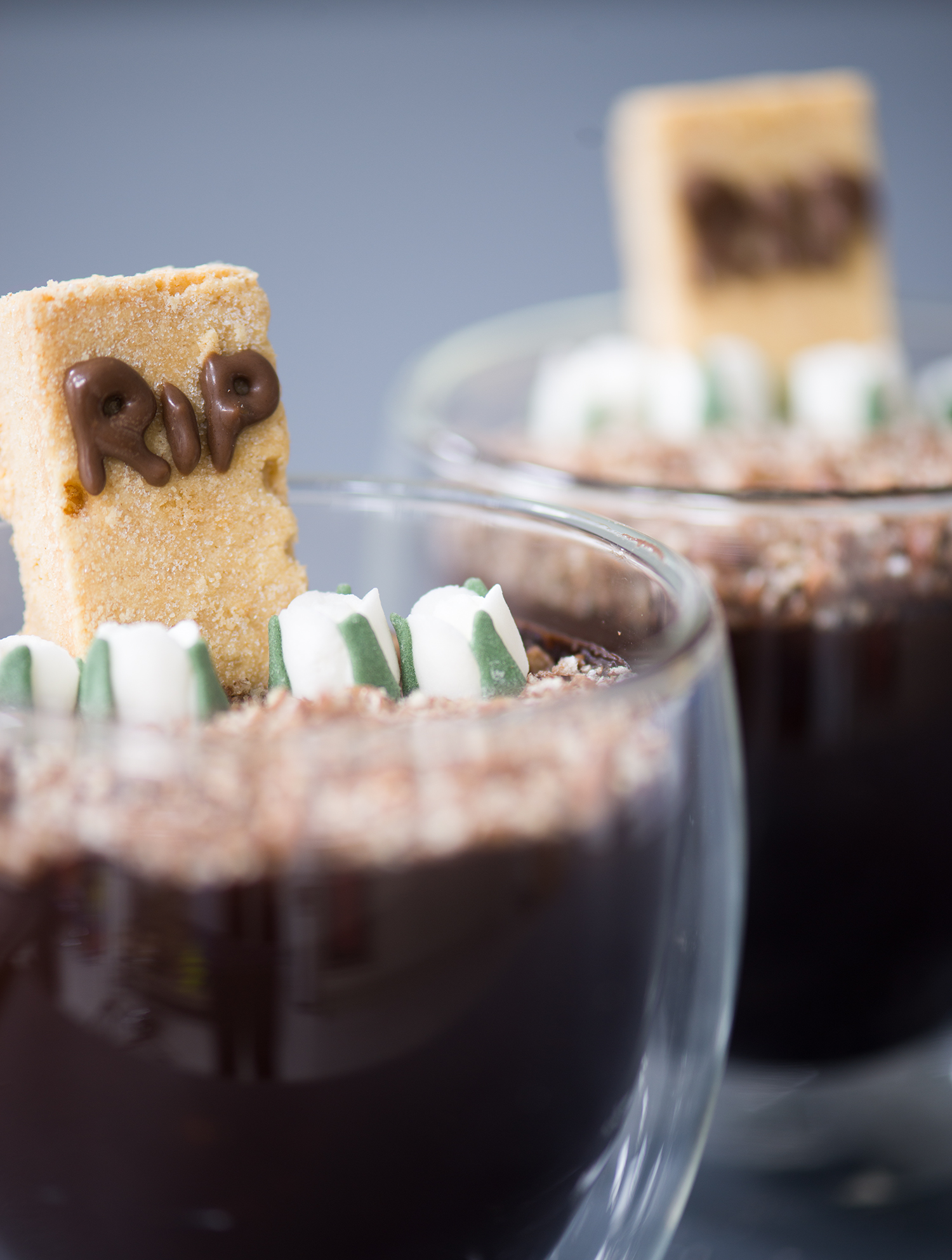 Using everybody's favourite fruit of the moment as a base, this avocado and cocoa mousse is thick and creamy just like the non-vegan variety and has a delicious, rich taste that works perfectly with the crumbly gravel coating. If you are catering for vegan diets make sure to double check ingredients lists, many products that we think should be vegan involve non-vegan additions during processing rendering them no longer vegan so to be on the safe side we recommend checking the packaging of all ingredients before you purchase them. It's becoming increasingly easier to cater for vegan diets and we managed to find all of our ingredients in our local supermarket not containing non-vegan ingredients.
To make these chocolate mousse graveyard's all you need is a mixing bowl, glasses for serving, a jug and a rolling pin to crush your coco cereal krispies. If you're looking for something a spooktacular light bite instead, our Devilish Deviled Eggs may be a better suit or for something really striking our Poison Apples are an easy snack to prepare in advance too.
Scroll down for an easy printable recipe and our how to video, and most importantly don't forget this Halloween to eat, drink and be scary.
We adapted this recipe from here.

2

avocados

8

tbsp

cocoa powder

8

tbsp

vegan maple syrup

120

ml

almond milk
4

vegan shortbread fingers

1

tube

vegan chocolate piping icing

1

pack

vegan iced flowers

150

g

vegan coco pops
Add the avocado and 4 tbsp of cocoa powder to a bowl and mix.

Pour in half of the milk and stir.

Add 2 tbsp cocoa powder and the maple syrup to the bowl and mix.

Add the remaining milk and cocoa powder and mix.

Spoon into serving glasses taking care to leave a little space at the top.

Place in the fridge for at least 30 minutes to chill.

Pipe gravestone messages on to the shortbread and set aside to harden.

Remove glasses from the fridge and top with crushed coco pops to represent mud.

Gently push your shortbread fingers into the mix so that they stand upright and surround with the iced flowers.