We are really excited to share with you our delicious Quorn dog recipe that we've made using Quorn's vegetarian sausages and having put these to the test, even the non-vegetarians in ProCook HQ loved them! Whether it be for environmental, ethical or health reasons many of us are turning to a vegetarian diet but just because we stray away from meat products it doesn't mean we have to forgo indulgent treats altogether. By simply checking that all your ingredients are vegetarian friendly you'll be surprised just how easy it is to serve delicious vegetarian treats, and these Quorn Dogs should definitely be on your radar as they taste just like ones you get in the States.
Quorn's aim is 'to bring people delicious and exciting food that is good for them and good for the planet' [1] and with over 100 Quorn products available there really is no need to sacrifice your favourite meals if turning to a vegetarian diet.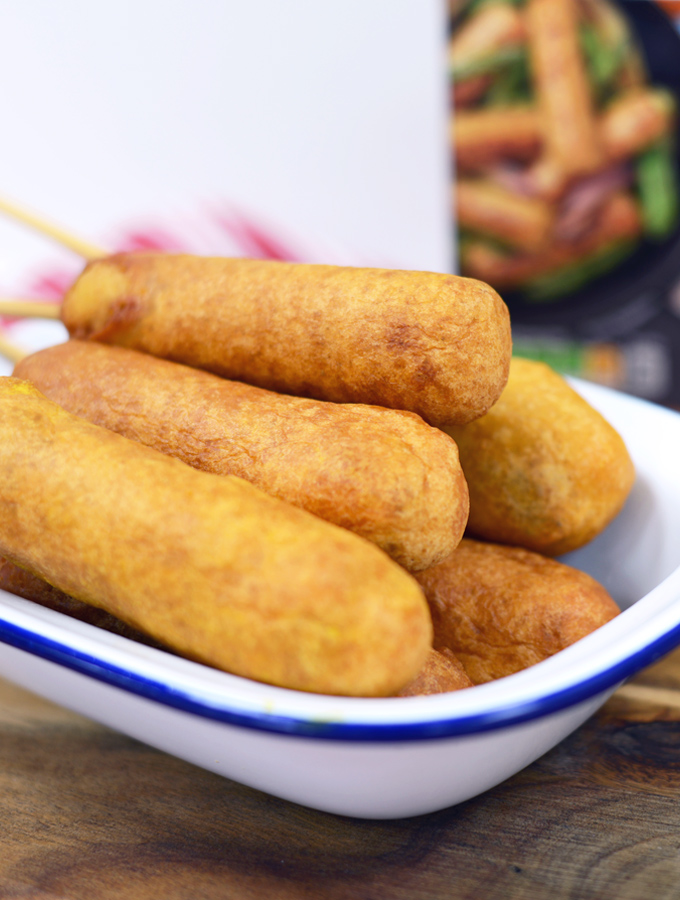 We've seen corn dogs pop up in our favourite films and TV shows for years and finally decided it was time we tasted the infamous corn dog for ourselves. With some of the team having already tried them on holidays and trips to the USA we knew we had to impress but we decided to switch things up a bit and serve a vegetarian variety instead. The verdict? We loved them! They're easy to make and taste beautifully indulgent, especially when dipped into American mustard or tomato ketchup.
To make Quorn dogs at home all you'll need is a pack of wooden skewers, a mixing bowl (this one has a handy pouring spout!), a jug, a deep pan, a thermometer and a cooling rack. Make sure your sausages are completely cool before dipping into your batter to prevent it from sliding off your sausages when placed into the oil, and make sure to keep little ones well clear of the pan when making these as the oil must reach 180°C and could cause serious injury if tipped over.
Scroll down for our easy to follow how-to video and a printable recipe you can use at home.

[1] Quorn, October 2018

12

Quorn sausages

130

g

cornmeal

130

g

plain flour

30

g

granulated sugar

1

egg

1

pinch

salt

4

tsp

baking powder

240

ml

semi skimmed milk

2

litres

vegetable oil
Cook your Quorn sausages following the packet instructions. Once cooked set aside to cool.

Add cornmeal, flour, salt, sugar and baking powder to a bowl. Stir in the milk and egg.

Pour the batter into a tall jug and place in the fridge to chill for 30 minutes.

Fill a deep pan halfway with vegetable oil and heat to 180°C.

Skewer the cooled Quorn sausages and dip into the batter, ensuring that they are evenly coated.

Gently place into the oil and fry for 2-3 minutes on each side.

Drain on paper towels and serve with mustard and ketchup.