Not only do these Pistachio and White Chocolate doughnuts look great, they taste it too. Their crunchy texture and deliciously sweet white chocolate make for a taste sensation you won't want to miss, and the best bit? They couldn't be easier to make! You may need a little elbow grease to grind the pistachios but the hard work is totally worth it for the tasty treat waiting for you at the end.
We bought ready-made ring doughnuts for this little project (all the fun is in the decorating after all) which made the length of time between concept to mouth as short as possible, but should you want to make your own doughnuts leave plenty of time for this little ring of delicious-ness as you need to melt some chocolate and grind some pistachios to make this tasty treat.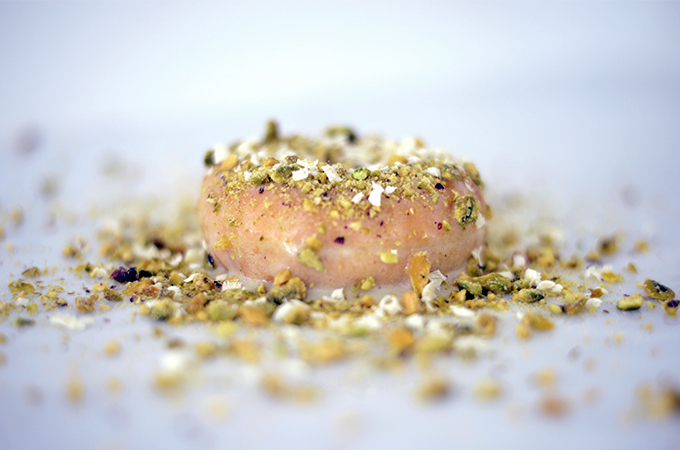 All you need to make this topping is a pestle and mortar, a heatproof bowl and a saucepan, it really is as easy as that!
If this has got your taste buds tingling why not take a look at some of our other indulgent doughnut toppings? Don't say we didn't warn you though, they are called indulgent for a reason…

100

g

shelled pistachios

200

g

white chocolate

150

ml

milk

160

g

icing sugar

2

ring doughnuts
Place the pistachios into a pestle and mortar, grind into small pieces and set aside.

Grate 10g of white chocolate into curls and set aside.

Place 190g white chocolate and all of the milk in a heatproof bowl and place over a saucepan of simmering water. Stir continuously until the chocolate has melted.

Remove from the heat, pour in the icing sugar and mix until smooth.

Dip your doughnut 2/3 of the way into the mix and allow the excess to run off before placing onto a flat surface. Sprinkle with the crushed pistachios and white chocolate curls.