When it comes to Halloween many of us turn to multi-pack bags of chocolates and sweets to give out to any trick or treaters that come knocking, or to serve as nibbles at Halloween gatherings. Although the night is one filled with much glee and excitement from little ones (and grown ups alike!) it got us wondering whether there was something healthier we could be serving this year, so we took to our beloved Pinterest for inspiration.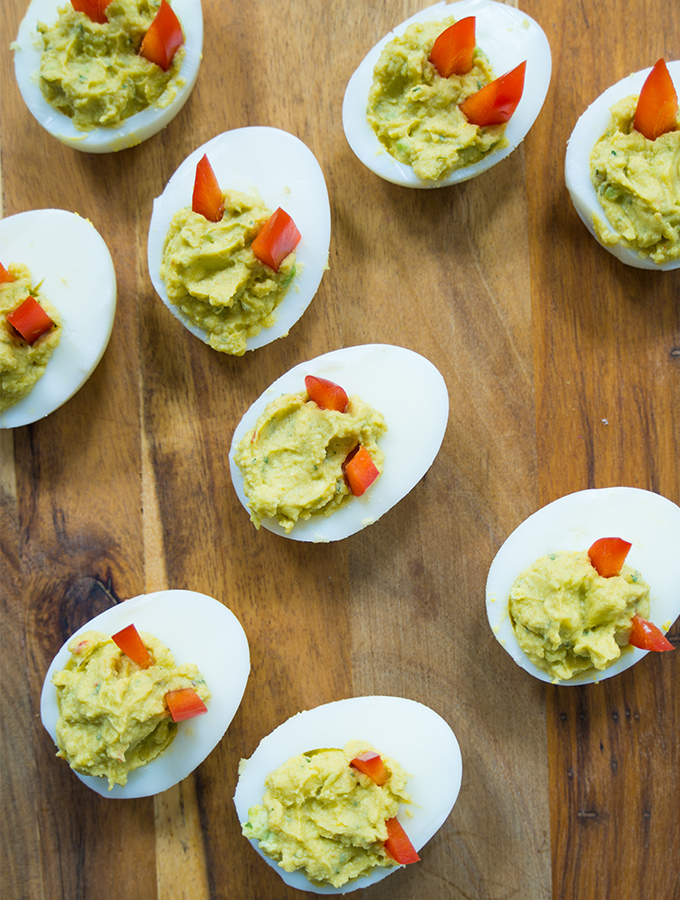 After a short search on the site, it didn't take long for us to come across these fun little deviled eggs that take on a whole new meaning of the term 'deviled' with sweet little horns and a hot fiery kick in the centre. Not only do these look adorable their avocado, egg and hot sauce filling is delicious and is perfect if you're hosting friends this Halloween. They're great finger food and are a delicious way of providing a healthier alternative for those who may not want to tuck into chocolate, sweets or other sugar-laden snacks.
These are incredibly easy to make, and are great for getting little ones involved as there is no great need for detail or tidiness with these. If you do choose to make these with infants keep them clear of the pan whilst boiling your eggs. Pans can be accidentally pulled down by mini over-eager cooks in the making so we recommend boiling your eggs and allowing them to cool in advance to keep potential hazards at a minimum.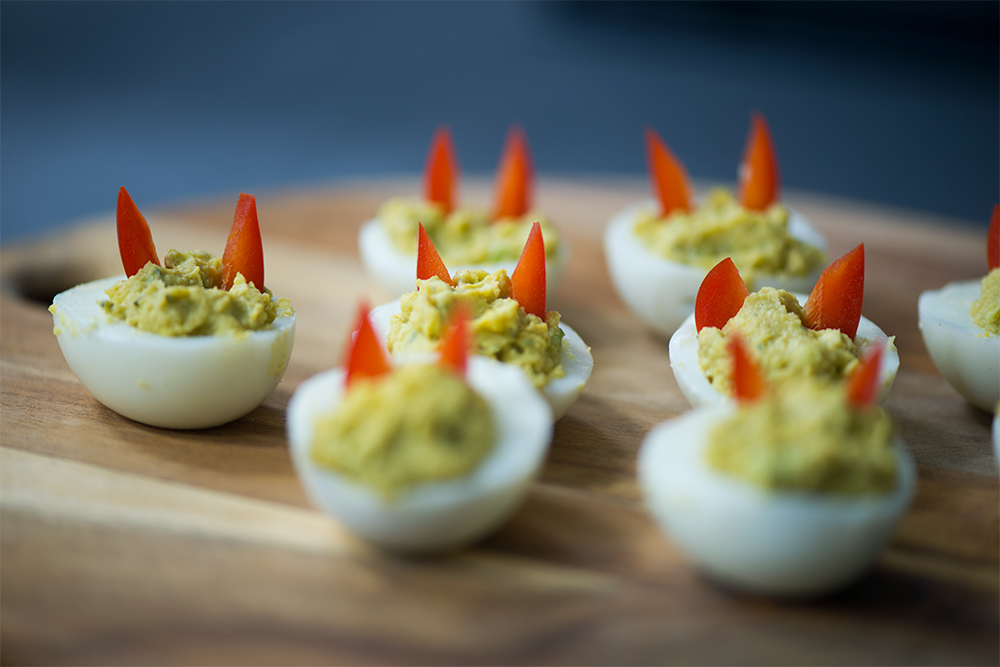 All you'll need to make these Devilish Deviled Eggs is a saucepan, spoon, mixing bowl, sharp knife and a chopping board. Food is an important part of Halloween celebrations so if you're looking for what else to serve alongside this Devilish treat how about our Graveyard Avocado Mousse or Poison Apples? Both are just as easy to make and taste great too!
Scroll to the bottom of this page for a printable version of the recipe, and you can watch the video below for a step-by-step guide on how to create these tasty, spooky treats.
We used this recipe for this spooktacular treat.

6

free range eggs

2

avocados

½

lime

(juice)

½

tsp

hot sauce

1

pinch

salt

½

red pepper

1

tsp

dried coriander
Hard boil your eggs in a deep pan of boiling water. Set aside and allow to cool.

Slice your eggs in half and scoop out the yolks. Place the yolks in a medium mixing bowl and set aside the egg halves for later.

Add chopped avocado to the bowl and using the back of a spoon mix together.

Add the lime juice, hot sauce and pinch of salt and mix until smooth.

Add the coriander and mix again.

Spoon the avocado mix into the holes in each egg.

Slice red pepper into thin strips, and using the pointed tips of your slices add two to each egg to resemble devil horns. Serve immediately.