We are strong believers in tucking into a shortbread biscuit when you fancy a sweet mid-afternoon treat, and they just don't come any better than when they are homemade. Shortbread originates north of the border in Scotland and actually began as quite a different biscuit to what we recognise as shortbread today.
Shortbread actually began as an afterthought once loaves of bread had been made. The leftovers were taken and placed into an oven to dry out until it hardened and resembled more of a biscuit (did you know that biscuit means twice cooked?) but this still had some way to go before it became the treat we recognise today. Over time tweaks were made to the recipe until one day someone decided to swap the yeast in the dough for butter and this was when shortbread as we know it was born and although it is widely available today, it was reserved as a special treat only for the most important occasions due to its costly price tag. Weddings, Christmas and New Year were when you would be most likely to see the sugary treat on offer, with many still opting to indulge in shortbread at New Year and Christmas today.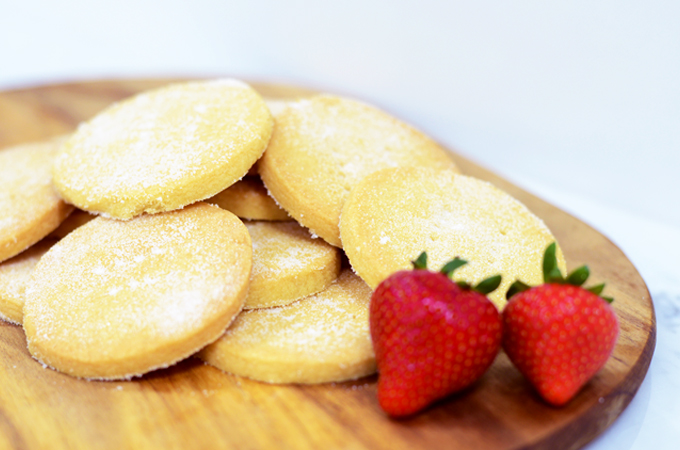 One of the things we love most about shortbread is just how easy it is to make – it's a great one for getting little hands involved in – and whether you're a pro baker or just a beginner, by following our recipe you are sure to end up with a batch of delicious, golden shortbread biscuits that taste just as good as when Grandma made them!
It is important for this recipe that your butter is at room temperature before you begin, so we recommend taking it out of the fridge an hour before you begin. It shouldn't be warm or melted, but when you press your finger on the surface it should leave an indent. If your butter is too hard it won't mix thoroughly meaning that you'll end up with lumps of butter in your finished biscuits ruining your shortbread entirely.
To make these tasty treats all you need is a large mixing bowl, a baking tray, circular cookie cutters, a wooden spoon and a sieve.

150

g

caster sugar

300

g

salted butter

(room temperature)

400

g

plain flour

50

g

cornflour
Preheat your oven to 180°C (160°C for a fan assisted oven).

Add the butter and sugar to a large mixing bowl and cream together using a wooden spoon or electric mixer until it's light, smooth and fluffy taking care to remove any large lumps of butter.

Gently sieve the flour and cornflour into the bowl and mix to form a dough. Use your hands to bring the mixture together before placing onto a lightly floured worktop.

Knead until smooth and flour a rolling pin.

Roll out until around 1cm thick and using a floured circular cookie cutter stamp out your biscuits.

Transfer to a non-stick baking sheet and prick each biscuit a couple of times with the prongs of a fork.

Place in the middle of the oven for 10-15 minutes until the biscuits have turned golden brown on the edges.

Remove from the oven and sprinkle with caster sugar. Allow to cool for about ten minutes before removing to cool down entirely.

Tap off any excess sugar and enjoy.