There's a reason this simple, seasonal favourite has lasted for so many years, and we're yet to meet a child (big or small) who doesn't love making and eating their Easter egg nest cakes. Once you're done keep your eyes peeled for any leftover Mini Eggs as they have a sneaky habit of disappearing…
Our recipe uses cornflakes, but you can use any cereal to form the nest – Rice Krispies and Shredded Wheat work particularly well. The beauty of this recipe is it's simplicity, and if you don't have any plain chocolate in the house a melted Mars bar works a treat for an extra gooey cake, or you could even try using dark chocolate for a slightly more grown up take on this timeless treat!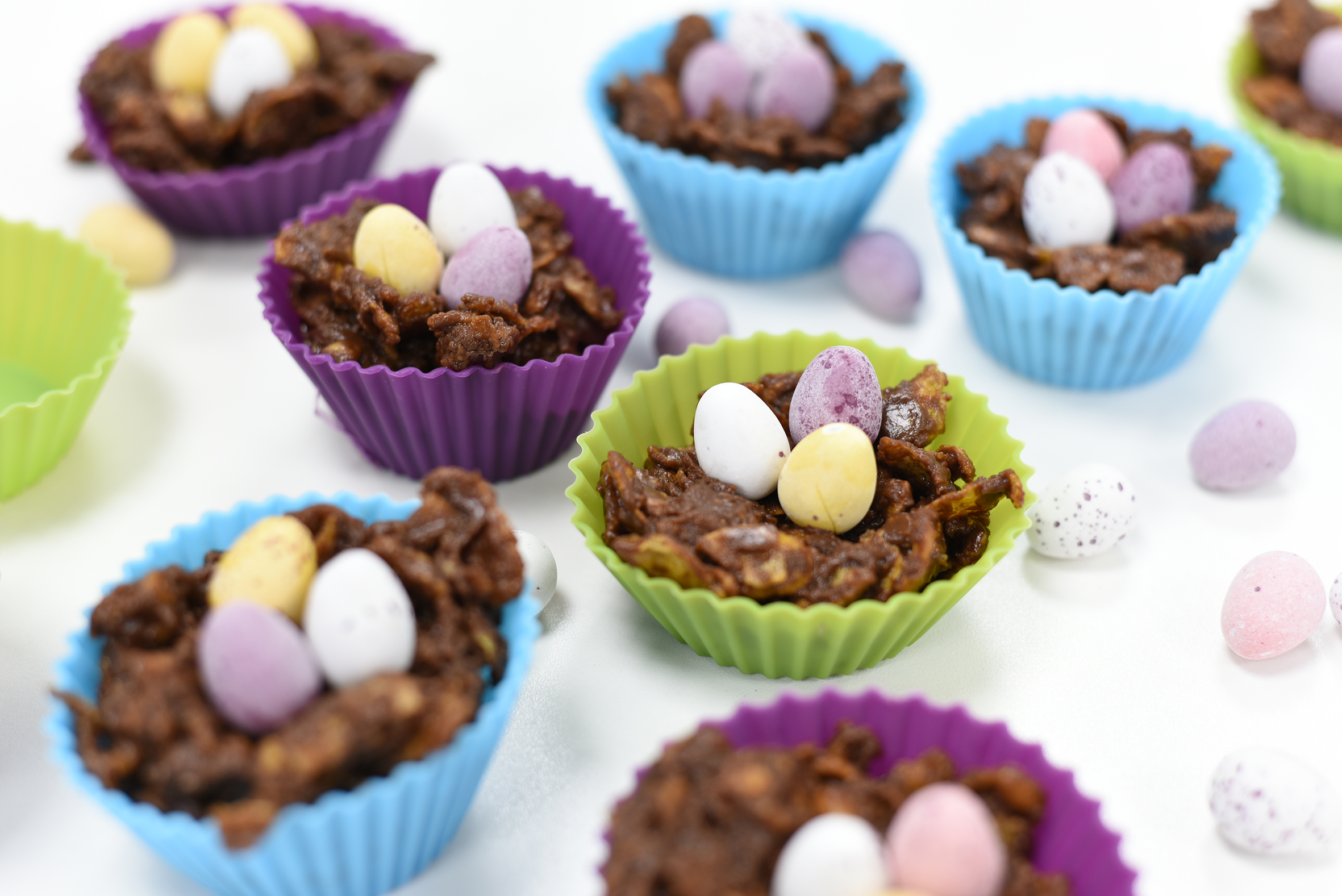 All you need for this recipe is a saucepan, a heat-proof bowl, a wooden spoon and some cupcake cases – oh and the expectation to get a little messy and these little cornflake cakes are pretty sticky! Easter is a great time to get in the kitchen and this recipe is perfect for getting even the littlest of hands involved, just make sure to keep them a safe distance away from the pan when you're melting the chocolate as the water will be extremely hot and if accidently spilt could cause real harm. The best time to get the help of your little ones is when you have removed the bowl from the heat and you're pouring the cornflakes into the chocolate – the chocolate will cool quickly so once you're happy with the heat of the bowl the kids will love mixing the cornflakes together and spooning into the cases.
We love these warm and gooey but pop them in the fridge for an hour to set for a firmer finish (that is much easier to eat!).

225

g

plain chocolate

broken into squares

2

tbsp

golden syrup

50

g

butter

75

g

cornflakes

36

mini eggs
Lay out 12 silicone cupcake cases on a baking sheet, or line a 12 cupcake tray with paper cupcake cases.

Fill a saucepan with a few centimetres of water and heat until simmering.

Using a bowl that sits comfortably over the pan without touching the water, melt the chocolate, golden syrup and butter until smooth, stirring as you go.

Turn off the heat and set the bowl on a stable surface (use a damp dishcloth to steady it if young children are helping).

Gently stir in the cornflakes until they are all coated in the chocolate mixture.

Fill each cupcake case with the chocolate cornflake mixture, ensuring the mixture is divided equally.

Top each nest with 3 mini eggs.

Eat your cakes warm for gooey yum-factor, or chill in the fridge for 1 hour to serve fully set.