When you're looking to shake up your style at home, dressing up your dinner table is a great place to start. You can create a fresh look by just by adding in a few key items or completely revamp your whole dinner service – the options are endless and the finished look will refresh your space and create a new atmosphere. Whether you prefer easy meals or fine dining, we've put together 5 top tips to inspire you.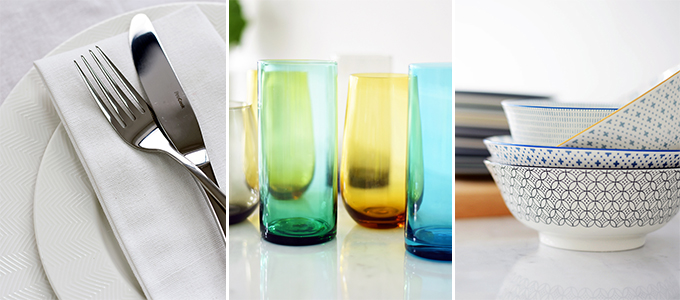 1. Coloured Glassware
A great way to add depth and interest to an otherwise plain table setting is by including some coloured glassware. With so many shades and hues to choose from there is a colour for every occasion; keep it chic with smoked glass tumblers or mix and match for a beautiful bejewelled look.
2. One Colour Table Texture
A completely white table can look a bit too formal, but you can introduce texture to break it up. Layering different textiles with table cloths, table runners and napkins, and mixing gloss and matt finish tableware will create a classic yet casual look. From cheeseboards and dipping bowls through to full dinner sets, ProCook have a huge range of white tableware to choose from.
3. Hygge Happy
You can't go wrong with natural materials when dressing a table. Wood, glass, linen and porcelain are a great way to create a table setting with a hygge vibe that never dates. Mix greys and neutral dinnerware with wooden serving platters and amber and clear glassware for a warm and welcoming look.
4. Crystal Clear
To smarten up a table setting use the full trio of a water glass, a white wine glass and a red wine glass. Where you place your glassware on a table differs according to which 'expert' you ask, but generally the water glass should be placed just above the knife and the wine glasses to the right of it. For a simple setting, you always include a water glass and then whichever wine glasses you wish to the right.
5. Buffet Style
Entertaining is super easy when you serve up buffet style, and can still look stylish with the right choice of tableware. Stack patterned bowls and contrast with linens and colourful oven to table dishes for serving.