There is nothing worse than finally finding the perfect gift for the foodie in your life, only to find that it won't be delivered in time for the big day. We've all been there so this year we're letting you know our Christmas delivery dates in plenty of time. Don't forget, we are now offering an extended returns policy so you now have until the end of January to return any items bought online or in store.  

Treat your loved ones to something they really want this Christmas with a gift from ProCook, we really do have something for everyone. Star baker in the making? Our non-stick bakeware will be a welcome surprise under the tree. Know a coffee aficionado in desperate need of some new kit? One of our stainless steel cafetieres is a great present, especially with a set of gorgeous mugs. Even if you're just looking for a little stocking filler, our gift guides are filled with ideas that will truly spark joy this Christmas. 
To avoid disappointment this Christmas, where possible we recommend ordering gifts and presents with a few extra days grace to ensure they arrive with you and your loved ones on time.  
Posting gifts could be the new norm for many of us this year so factoring in Christmas delivery dates is essential. Although we set out our guide to delivery dates at ProCook this year below, please note that any delays caused by couriers are beyond our control.  
Christmas delivery dates for your diary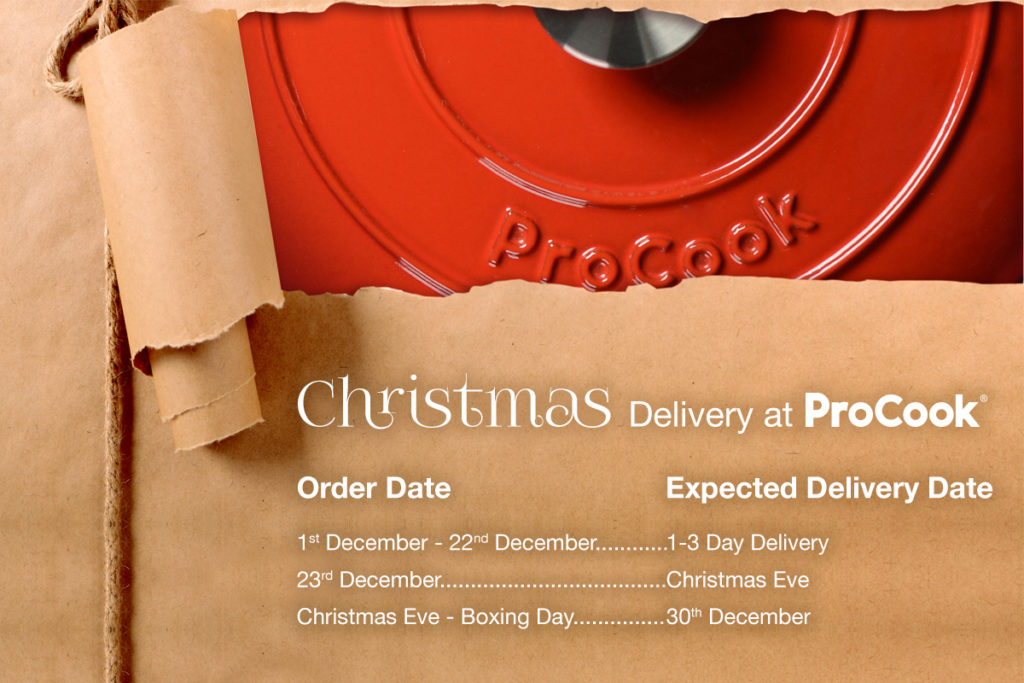 Has all this talk of Christmas got you starting to feel festive? You can find a whole host of recipe ideas in the Christmas section of our blog and it may be a few weeks until Christmas yet but should you wish to indulge in one of these recipes early, we wouldn't blame you!  
A gift guide for everyone on your list
f you're finding yourself hosting Christmas for the first time this year it may feel a little overwhelming. Fear not, we've got lots of great tips to keep the festive season fun and enjoyable for all. Whether it is carving the turkey, moving celebrations online or going green this Christmas, we have you covered.  
How to carve a turkey
Take all the stress out of carving the bird this year with our handy step-by-step guide for perfectly sliced turkey.
Planning a very merry green Christmas
There are lots of ways to have a more environmentally friendly Christmas this year without sacrificing any of the fun
Hosting a cocktail party on Zoom
Christmas parties may be a no-go this year but why miss out on the fun? Go digital this year and avoid the taxi fare home!