There are a whole host of reasons as to why uncoated stainless steel cookware could be the right choice for both the home and professional chef. Whether it's durability, the speed of heating or the easy maintenance we're going to share with you all the reasons why we love uncoated stainless steel cookware to help you decide whether it could be the most-suited range for your cooking style.

Reach high temperatures, fast
Without a non-stick coating to care for, stainless steel cookware can be used on much higher temperatures and will heat up quickly and evenly which is great if you're wanting to sear, brown or char your favourite meat, fish and vegetables, producing delicious caramelised flavours and aromas.
Cooking the perfect steak is simple with uncoated cookware as the high heat will seal and sear the outside of your meat whilst ensuring that the inside stays beautifully tender and soft. By adding a little oil to your pan you can cook vegetables with a delicious crunchiness and restaurant-standard charred appearance, our favourites are asparagus and French beans!
Top tip: only add your food to the pan once your pan has reached optimum temperature to prevent food from sticking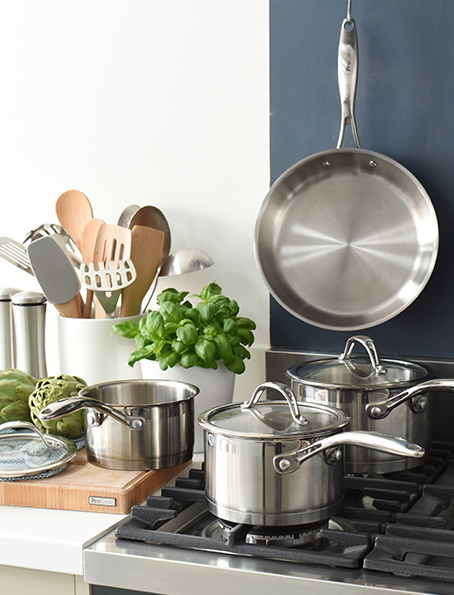 Strength and durability
Uncoated stainless steel cookware is incredibly durable and is often favoured by professional chefs as it can withstand frequent heavy use in busy kitchens and is virtually indestructible. For a bit of theatre in the kitchen they can even be used to flambé food as the flames won't damage the pan and you don't need to worry about it warping.
It is easy to care for and can be washed in the dishwasher but if you find your pans have some debris left behind that is proving tricky to get off, allow your pan to cool before placing it in a bowl of warm soapy water and any stubborn areas will lift off with ease.
Sauces and glazes
Did you know that the tidbits that get left behind at the end of your dish could be the start of a delicious sauce or glaze? Before you place your pans to soak you can loosen those stubborn patches with a broth, water or wine and create a glaze to rival those of professional chefs who use this very practice to add even more flavour to their dishes.
If you are a lover of creating your own sauces from scratch, the deep curved sides of our uncoated stainless steel frying pans are perfect for reducing mess such as splashes from mixing your favourite spaghetti sauce.