We hope you're enjoying Afternoon Tea Week as much as we are!
Afternoon tea is a quintessentially British pastime and requires the most British of cakes. Introducing, our delicious Devonshire Scones (baked in Gloucestershire!).
Using simple ingredients and requiring minimal preparation time, these delicate cakes will be a resounding success at your tea party.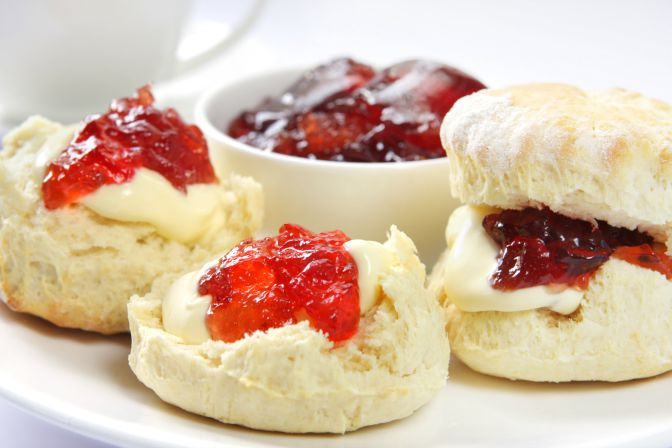 Servings

Prep Time

8

5

minutes
Servings

Prep Time

8

5

minutes
Mix flour, salt and baking powder in a bowl.

Add butter (which has been cut into cubes) then mix with your fingers.

Once it looks like crumbs, add sugar.

Heat milk in microwave until warm.

Beat the eggs and add to the milk until it measures 300ml – save 2 tablespoons of the mixture for glazing later.

Add the mixture to the dry ingredients to create a soft dough.

Ensure the scones are wet and sticky – it will rise better in the oven.

Put dough on a lightly floured chopping board and flatten with a rolling pin, to a thickness of 1-2cm.

Use a fluted cutter to stamp out sections of dough, and keeping the cutter straight.

Grease two baking trays and heat the oven to 220C/Gas 7.

Spread the scones across the baking trays and brush the remaining egg/milk mixture across the top.

Bake for 10-15 minutes until golden coloured and risen.

Allow to cool and serve fresh.

Cut in half and spread generously with jam and cream.