This sausage casserole is full of vegetables to keep the winter cold at bay! Made with thick butchers' sausages, and allowed to slowly cook in a tagine or casserole dish, sausage casserole is a hearty, traditional meal for all the family.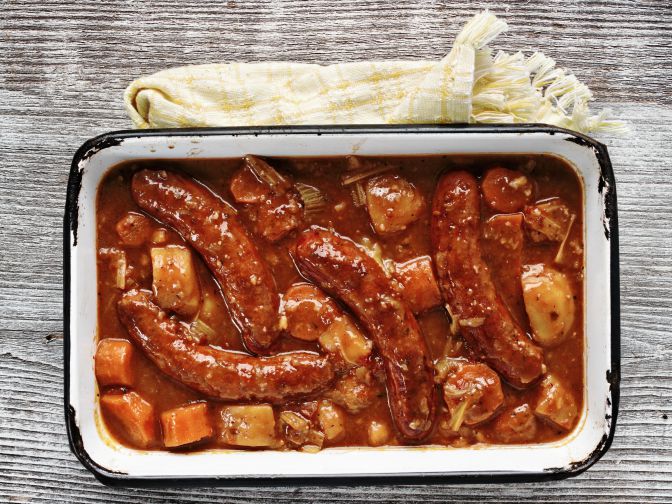 Servings

Prep Time

2/3

people

20

minutes
Servings

Prep Time

2/3

people

20

minutes
Pre-heat the oven to 170C.

Finely chop the onions and garlic.

Chop the potatoes, sweet potatoes, carrots and leeks into larger cube pieces, roughly 1 inch in length.

Fry the sausages on a low heat until browned.

When browned, remove and put in a casserole dish. Replace with the vegetables and fry until coloured.

Add to the casserole dish and add some stock and/or white wine.

Add salt, pepper, bay leaves and 750ml of chicken stock to the casserole. Put in the oven to cook for 75 minutes.

In a large bowl, add 2 tsps of baking powder, 1 tsp of salt, finely chopped parsley and sift 9oz of plain flour.

Create a hole in the centre in which milk can be added. This will help create a doughy consistency.

Roll the dumplings in your hand.

After 75 minutes, take the casserole out, add the dumplings and replace for an additional 30 minutes. Ensure the lid is on the casserole.

Remove the lid after 30 minutes, increase the heat to 220C and cook for an additional 10-15 minutes until the dumplings have coloured.