As the weather gets a little warmer and we enjoy long, balmy evenings we often find ourselves yearning for something refreshing, delicious and most importantly – chilled. A fresh fruit juice could do the job or perhaps a glass of flavoured water but what we are really after is a fruity cocktail to quench our thirst and that is where the English Garden cocktail really comes into its own. Blending quintessentially English flavours together such as elderflower, cucumber and mint with apple juice and a little freshly squeezed lemon it leaves you dreaming of rolling orchards and country gardens littered with wild flowers, so it is easy to see how the cocktail got its name. We think it is perfect for a summer get together or pre-dinner tipple due to it's refreshing flavours and relatively low alcohol content.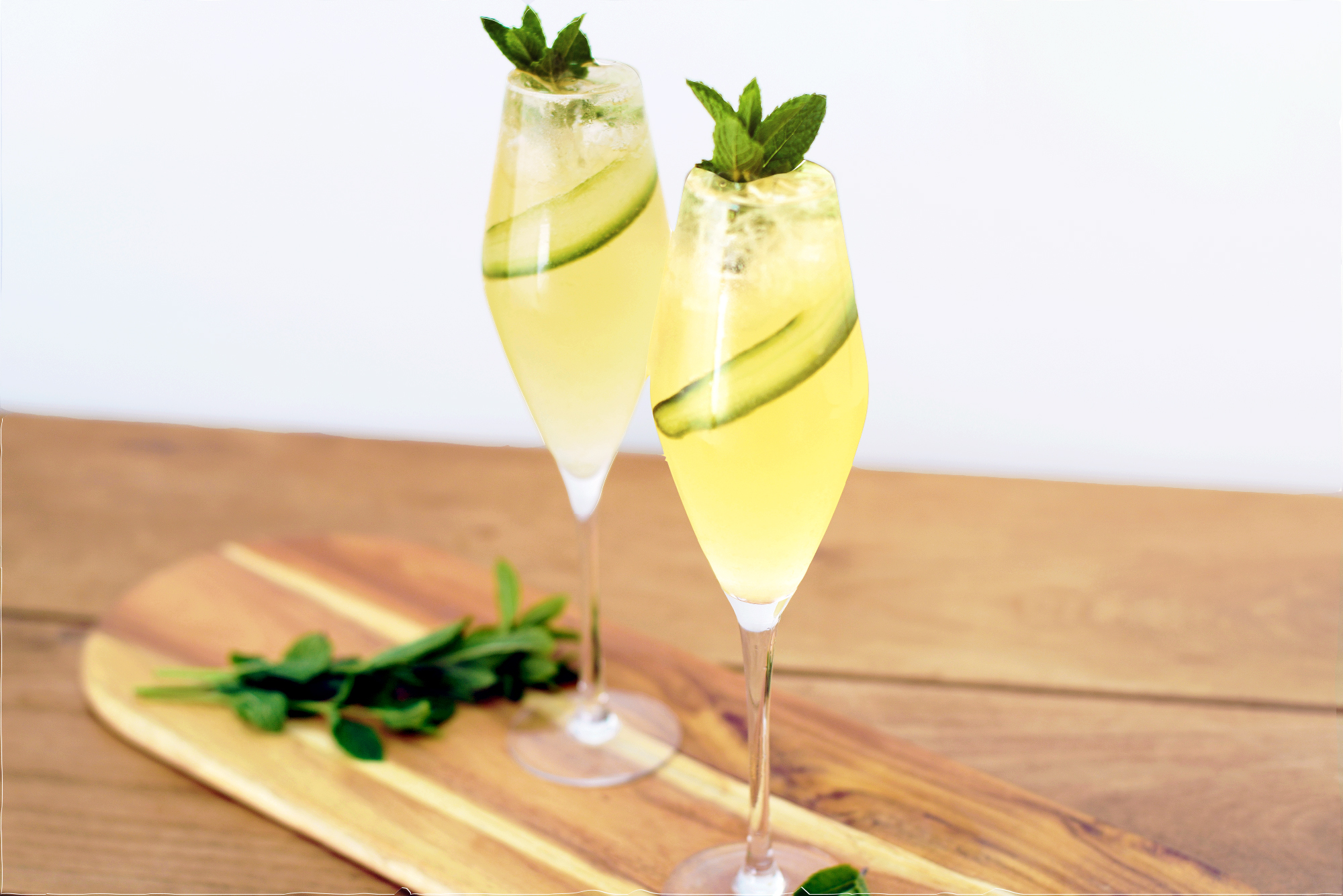 What adds to the allure of this cocktail is that try as we might, we can't seem to find anything about the drinks origin anywhere suggesting that this tipple may have become popular so rapidly that jotting it down was an afterthought! The air of mystery adds a little something to the drink but this one stands out on its own accord – the English Garden cocktail doesn't need to rely on an extensive history with flavours as delectable as these.
We garnished each of our English Garden cocktails with a sprig of mint and a cucumber ribbon and served in champagne flutes for a real wow factor, but you could serve these in high ball glasses if you prefer. If you're looking for a cocktail recipe but this isn't quite taking your fancy, how about a Classic G&T or a Tom Collins instead?
75

ml

Gordon's London dry gin

100

ml

elderflower cordial

150

ml

apple juice

50

ml

lemon juice

(freshly squeezed)

1

scoop

ice cubes

(to mix)
2

scoops

crushed ice

(to serve)

2

sprigs

mint

2

ribbons

cucumber
Shake all of the cocktail ingredients together with the ice cubes before disposing of the cubes.

Pour the crushed ice evenly between two champagne flutes and pour in the cocktail mix.

Carefully drop one end of the cucumber ribbon into the glass and gently twist the glass so the cucumber wraps the edge of the flute.

Top with a sprig of mint and serve.