Easter is a great time of year to get everyone together, and whether you are celebrating for religious reasons or not these adorable Easter Bunny Cupcakes are perfect for adding a pop of colour to your Easter spread. They're simple to make, fun to decorate and taste great too plus we're sure lots of giggles will by had by any little ones tasked with making bunny bottoms!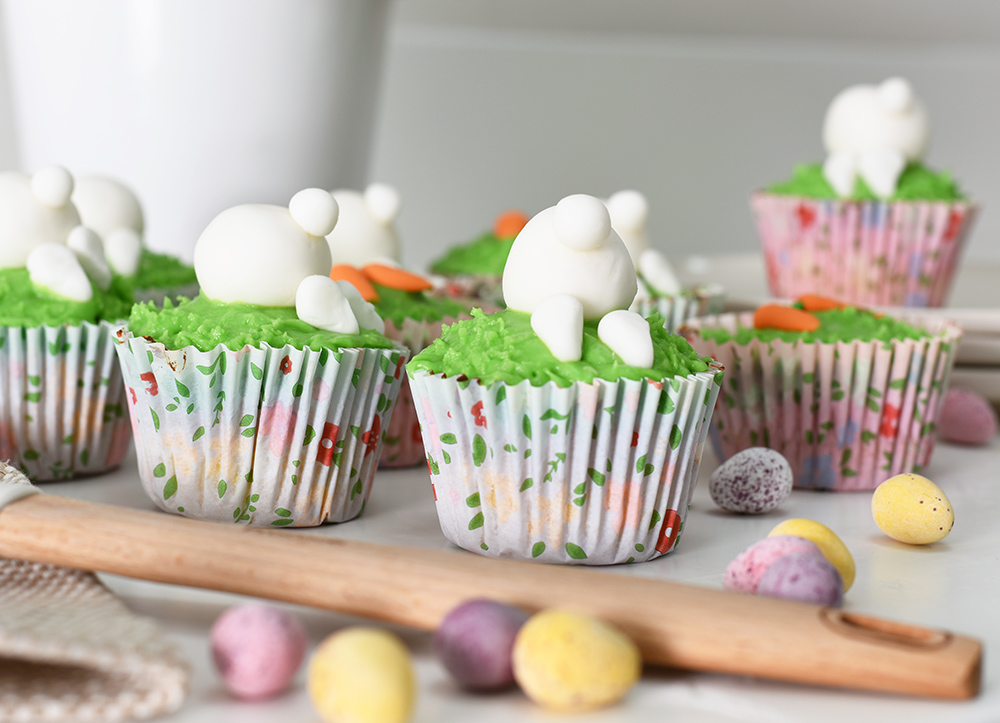 We chose to make our bunny's with their tails in the air as they burrow for tasty carrots to snack on, but the best thing about this recipe is that you really can let your creative juices flow and create any topping you like! Perhaps an intricate model on a real rabbit will top your cupcake, or maybe a sweet 2D bunny face is more to your taste? Whatever you choose to top your cupcake with, make sure your hands and surfaces are clean when working with fondant icing to prevent any dirty marks or discolourations.
If you choose to make these sweet bunny bottoms in the same way we did, all you need to do is roll one larger ball for the body, one smaller ball for the tail and two small bowls flattened into ovals and pinched to make the feet. To stick your tail to the body simply dip one side of the tail in water and this will form as a glue when gently pressed against the body.
To make for a more colourful display we topped some of our cupcakes with the carrots our bunnies are digging for, and these can either be made from fondant icing dyed with food colouring or can be bought ready-made from most supermarkets in the baking aisle.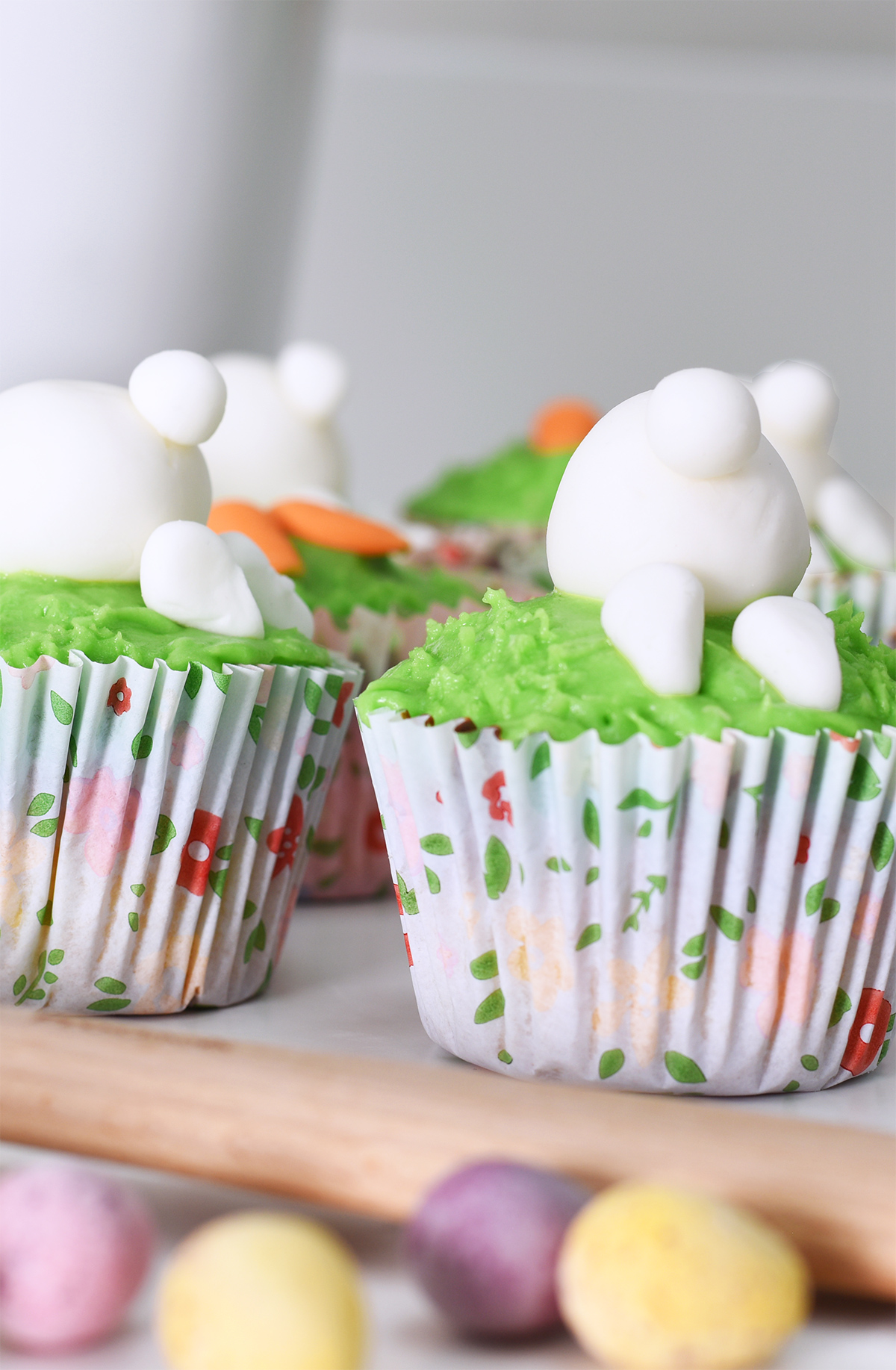 To make these adorable Easter Bunny Cupcakes all you will need a mixing bowl, a wooden spoon, a grater, a bun sheet, cupcake cases and a piping bag set.
We used a piping bag to create the green fields on most of our cupcakes, but for those without a piping bag set we experimented with a spatula to spread the icing on the cakes, gently running a fork through the icing to create a grass effect and we think it looks just as good!
If you're looking for other Easter recipes how about our Hot Cross Buns, Mini Egg Cheesecake or Roast Lamb recipes?
*This recipe was originally found on BBC Good Food.

185

g

self-raising flour

120

g

Golden caster sugar

120

g

butter

(softened)

100

g

natural yoghurt

1

lemon

(zested)

2

eggs

250

g

fondant icing
85

g

unsalted butter

(softened)

2-3

drops

vanilla extract

200

g

icing sugar

green food colouring

(to your preference)
Heat oven to 190°C and line your bun tin with cupcake cases.

Put the flour, sugar, butter, yogurt, lemon zest and eggs in a bowl and mix until smooth in consistency. Spoon into the cases, bake for 20-25 minutes until golden and set aside to cool on a wire rack.

For the frosting beat the butter, vanilla extract and icing sugar until the mixture is pale and creamy and completely combined. Add a few drops of green colouring and beat it in, the fewer drops the lighter shade of green you'll have. If piping, spoon into your piping bag and pipe stars all over the surface of your cupcake. If you're not piping, use a spatula to gently cover the top of your cupcake with icing and gently run a fork through the icing to mimic grass.

Roll the fondant icing into small balls for the bunnies' bottoms, and smaller balls to make tails. Add these to your iced cupcakes using a drop of water to stick the tails to the body.

Make the feet by rolling two more small balls for each bunny and shape them into ovals. Rest these at one end of the ball so they look like feet.