Serve the perfect vegetable appetisers at your festive gathering! Packed full of flavour, these baked veggie samosas are the ultimate addition to any finger buffet.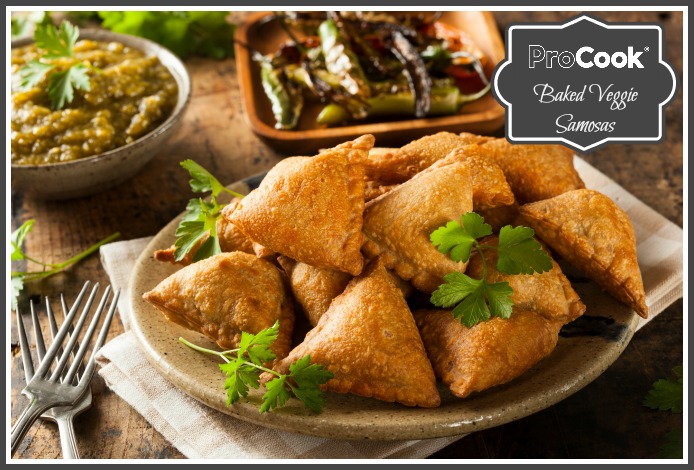 Servings

Prep Time

20

people

30

minutes
Servings

Prep Time

20

people

30

minutes
Mix the baking powder, flour, ajwain seeds and flour in a large mixing bowl.

Add 120ml of oil until the mixture looks like breadcrumbs.

Pour in 150ml of water and use your hands to create a dough.

Dust another bowl with flour and add the mixture to the new bowl. Cover and leave to set for 30 minutes.

Peel & dice the potatoes into small pieces (roughly 2cm) before breaking the cauliflower into similar sized pieces. Boil the potatoes in a pan of salted water for 10-12 minutes. Add the cauliflower to the water after 3 minutes and add the peas 1 minute before the end. Drain immediately.

Peel and grate the ginger. De-seed and finely chop the chilli. Peel and finely dice the garlic and onion.

In a large frying pan, fry the onion and cumin for roughly 8 minutes until softened. Stir in the garlic, chilli and ginger.

Using a pestle and mortar, grind the fennel seeds to a powder before adding to the frying pan with the coriander and garam masala.

Remove from the heat and slowly add the boiled veg. Gently crush the mixture with a potato masher. Lightly season with lemon juice and leave to cool.

Halve the dough and roll out on a floured surface. Each piece should be roughly 3cm thick.

Using a pastry cutter, cut the dough into circles before rolling into rounds. Cut in half before brushing with water.

Mould into a cone shape and bring the edges together and press to seal.

Slowly add the filling before brushing the dough with water. Fold over and seal.

Put on a baking tray and use a pastry brush to lightly add some oil and cook for 45 minutes until golden. Serve immediately.