We all know the value of a home-cooked meal especially when it comes to our children, and here at ProCook we truly believe family comes first. It's often easier to prepare meals on your own, but increasingly research shows that when children are encouraged to cook at home they reap the benefits in later life, so we've come up with 5 great reasons to get cooking with the kids:
ONE
Health… for life
There is endless data out there that backs up the fact that meals cooked from scratch are better for your health than processed food and ready meals, which often contain preservatives and are high in both fat and sugar. Less illness and more energy are just a couple of benefits of diet of healthy, nutritious home cooked meals.
TWO
Self sufficiency
One of the best gifts we can give our children is to teach them bit by bit how to look after themselves as adults.  Give your children a head start in life by teaching them how to cook their own home cooked meals. If they've already learnt how to cook the basics by the time they leave home you can give yourself a pat on the back.
THREE
Family First
Cooking and eating with your children is a fantastic opportunity to spend quality family time together, time that is especially precious in our modern busy lives. Even better, the Children's Food Trust say immediate family members are the strongest role models for influencing children's healthy eating habits – so cooking with the kids is a win-win.
FOUR
Screen Breaks
While the kids are in the kitchen getting their hands dirty they having a much-needed break from their gadgets. Cooking is a wonderfully absorbing activity and time will fly – screen free!
FIVE
Cooking is fun!
…not to mention relaxing. There is no doubt that spending some time in the kitchen creating a lovely meal will have a positive effect on every body's mood – just make sure you clear up who is doing the washing up before you get started!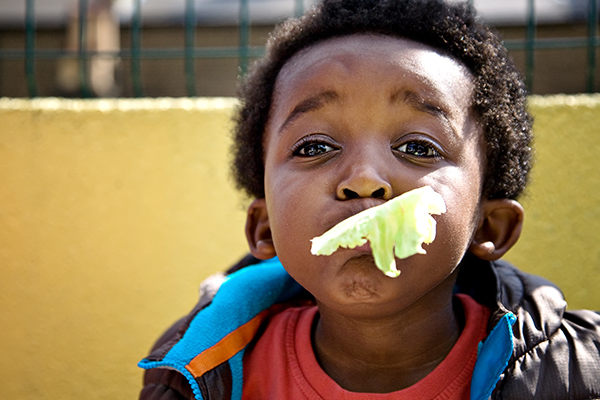 If you're looking for inspiration our cookbook More Please: Tasty Recipes Children Will Love is a great place to start.  Published in conjunction with the Children's Food Trust (all profits from sales go to the charity), this pocket-sized gem has something for all the family. It is split into four sections – breakfast, lunch and snacks, dinner and side dishes and desserts – and has a fantastic selection of recipes, from Sweet Potato Pancakes to Mexican Beany Bites and Chocolate and Banana Pizzas, even your fussiest family members won't be able to resist getting involved.
If you'd like to know more about the Children's Food Trust you can go to their website where you'll find out about all the amazing work they are doing in the UK to encourage families to cook at home and create the healthier adults of tomorrow.
To give you a little insight into the book so we've produced a couple of how-to videos showcasing recipes written by the Children's Food Trust with children in mind. Take a look below – Happy Cooking!